Seth C. Akins, a 14-year-old Boy Scout in Troop 436, recently dedicated a new Little Free Library at LASA (the Living Access Support Alliance) located at 8956 Gravelly Lake Drive SW in Lakewood. Seth chose to build a Little Free Library as his Eagle Scout project because of his passion for reading books.
Seth explained that he thought LASA was the perfect location for his Little Free Library because "it could provide free education to the people there and it could allow them to read a book that can create a comfort zone for them to escape to during their challenging moments."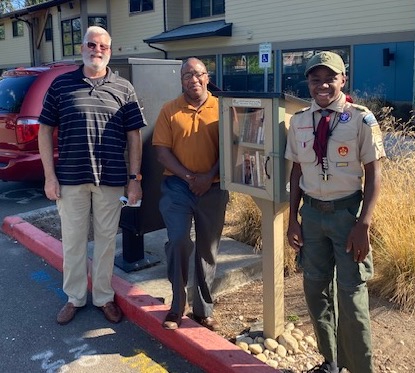 Seth added, "My goal for the Little Free Library was to collect 200 young adult books. The reason I targeted that age for reading is that education and opening the imaginations of teenagers can help change the world. The world needs bright thinkers with creativity and nothing can be better than a kid reading a book."
LASA Director Janne Hutchins said, "It is exciting to see the reception the little library has received. Seth met his goal of 200+ books, which will be empowering to those who use his Little Free Library. We are so grateful to Seth."
Seth also added his thanks to the many folks who supported him in his Eagle Project. "I couldn't have done this without the unwavering support of my parents. My Mom was the master planner and she really pushed me all the way through to the end, and my Dad was also there in providing logistical and financial support in getting the things I needed for me to succeed."
Seth's thanks did not stop there. "I want to sincerely say thank you to my fellow Scout Troop for helping me on this Project. I also want to thank my friends and family members off of Facebook for donating financially and to also the neighborhoods that donated the books. I would like to offer a special thanks to Mrs. Curry for coaching me along the way for my Eagle Project and also Mr. Bega for providing me with all the help I needed when executing the project. Most of all, a great special thanks to Mrs. Janne, the leader of LASA, who approved my project to be installed on their grounds."
Seth is a rising 9th grader at Curtis Junior Middle School in University Place. His Boy Scout Troop 436 is located in Lakewood at the United Methodist Church.
Little Free Library is a book-sharing movement with registered libraries around the world. Their motto is "Take a Book, Share a Book." For more information on Little Free Libraries, go to littlefreelibrary.org.