Recently on-line I signed up for "Classic TV and Film – Free No Subscription." The first thing I watched was an old, old classic staring John Wayne (as guitar picking and warble throated Singin' Sandy). As you may have already guessed this is a fifty-two minute black and white film from the early days before he had become "Duke." "Riders of Destiny" had bad edits, and missing scenes (I'm being kind) . . . and you had to fill in the blanks of some sort of storyline, but on the whole, it was . . . with a chuckle or two, watchable. The next day I chose another John Wayne film, "Winds of the Wasteland."
"Winds of the Wasteland" was Wayne's first film by Republic, which would eventually make him a star. – imdb.com/title/tt0028510
Storyline: John Blair (John Wayne) and his friend Larry Adams (Lane Chandler) have just lost their jobs as Pony Express riders. Never mind that they are both too big and bulky to have ridden for the short term Pony Express mail delivery organization. Another rider losing his job was Jim (Jon Hall). Hall would later gain fame as the creator and star of the "Ramar of the Jungle" television series which ran from 1952 to 1954. John and Larry pool their money as they begin looking for a future in the west and take four of the ponies who lost their jobs, too; with the closing. Without knowing much about business, they spend a thousand dollars from their Pony Express savings and final bonus for one third down on a stage coach line. They relied on a printed book for information about the town where they bought the franchise and head out to make a go of it. They figure a town of 3200 people should have enough customers for them to make a profit. When they arrive at the town they find not thirty-two-hundred people, but just two.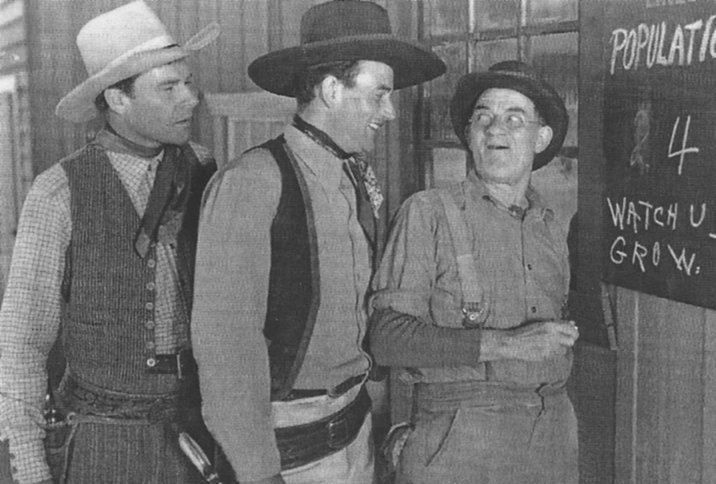 The ghost town only has two residents. We meet Dr. William Forsythe (Sam Flint) and the mayor and every other town leader in Rocky O'Brien (Lew Kelly). Kelly often played a comic relief type character. He appeared in more than 200 films between 1928 and 1944. When John and Larry are determined to make their stage line work, Rocky erases the population sign showing the number "2" and adds a "4" along with the remark that they doubled the size of the population in just one day.
Well, of course there is a love interest, one-upmanship, and a dramatic stage coach race. But, what makes the film work for me and Peggy is that John and Larry follow a classic course of entrepreneurism. They remain calm, they meet people, they share their plans and needs, and they let people know what they are doing. They are hard working, honest and straight-forward.
Here is a review of the film by a fan: My Favorite John Wayne B-Rater
"This is my favorite B-Rater from the 30's of John Wayne!!!!! I love this movie, and the COach race and all, action pack john wayne 54 Minute movie that will keep u interested all through the movie! I have the pleasure to Own the VHS Copy of this movie and all its B-Rating Oater Glory right now!!!!!! John Wayne is my favorite actor of the 30's always have been and always will be. And for who ever doesn't like this movie or John wayne, then you really don't know good from bad!!!!!"
Un-credited in the film was Yakima Canutt as Smokey. If you love westerns and don't know Yakima Canutt, you need some "larnin'." – en.wikipedia.org/wiki/Yakima_Canutt
"Winds of the Wasteland" is a fun film to watch for the comedy, the stunts, and for the development of John Wayne as a film legend. You can watch the film on IMDB.com, Classic TV and Film, and Youtube.