On Christmas Eve during the First World War, one of the most unexpected yet heart warming events occurred on the Western Front: French, British, Scottish and German soldiers settled on a cease-fire, exited their trenches, met each other in no man's land and celebrated Christmas together. They talked, showed photos of their loved ones to each other, exchanged food and drink, sang carols together, gave each other the opportunity to bury their dead and even participated in friendly games of football. It's one of the most surreal and sweet occurrences not only in the history of war, but in the history of Western Civilization. Joyeux Noel, the film based on that occurrence, is a sometimes overly sappy but well executed adaptation of the Christmas Truce and its aftermath, and is an all around solid holiday and anti-war film.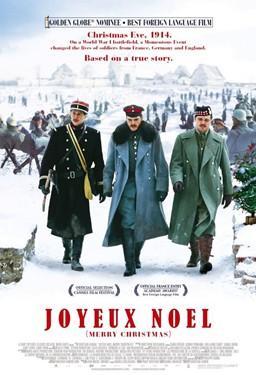 I used the phrase "Christmas Truce" in singular form, but there were multiple truces in the early period of World War 1 that we are aware of through letters written by soldiers and wartime documents. Joyeux Noel doesn't adapt a specific Christmas Truce, but tries to capture the spirit of all of them with its own slightly fictitious one. All of the characters in the film are invented, but they feel like they could have existed. Lieutenant Camille René Audbert (Guillaume Canet) has a pregnant wife who he had to leave behind in the occupied part of France, and Father Palmer (Gary Lewis) is a stretcher-bearer whose beliefs in decency and humanity over violence are ironically rejected by war hardened members of his own religion. And Lieutenant Hortsmayer (Daniel Brül) is a outwardly cynical Jewish German who can't help but be touched by the armistice, to the point of offering shelter to the French and Scottish allies after he learns that their trench is about to be bombarded on Christmas Day. I'm pretty sure that counts as treason, but what the hey, it's Christmas!
The only characters who I feel are slightly out of place and hard to swallow are Private Nikolaus Sprink (Benno Fürmann) and his fiancée Anna Sørensen (Diane Kruger), who sneak out of a private party put together by Crown Prince Wilhelm (Thomas Schumauser) in order to sing for the soldiers on the front line. How convenient for the soldiers that they get to listen to a miniature Christmas concert as sung by a tenor and a mezzo-soprano! Otherwise, the audience would have to listen to a dirty version of "Jingle Bells, Batman Smells" as sung by a drunken Scottish sniper who got a bit too merry with his newfound German pals. I joke, but Fürmann's and Kruger's singing voices, as done by Rolando Villazón and Natalie Dessay, are absolutely beautiful, and I wouldn't dare suggest they be cut from the movie, even if their respective characters feel slightly manufactured.
Of course, the movie must address the sad truths of the Christmas Truce. Not only was it temporary, but many of the participants of it were demoted, chastised or ended up dying in the war later. Many of the soldiers were sent home or to another regiment because they couldn't pull the trigger anymore. How could they? After all, the person they were shooting at was a person they had called friend just last night. And that's where the Christmas spirit shines through the most in the film. On one night in one of the most brutal wars in human history filled with poison gas, razor wire and dead friends, two opposing sides chose friendship and kindness over hatred and violence.