Published on December 19, 1843, A Christmas Carol by Charles Dickens has been a holiday classic for 146 years. All editions were sold out by Christmas Eve; it has never been out of print. It has appeared in hardbound and paperback editions, and numerous plays everywhere from grade school productions to professional and many grand plays and movies, some latter ones reflecting a more horrific look at the ghost story.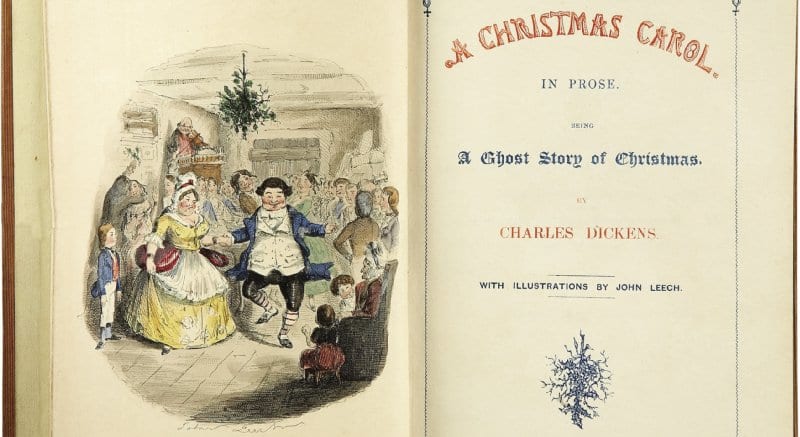 The challenge for a new production is to present the story in an interesting way, to bring new insights into the tale for the contemporary audience. Scott Severence had adapted it for children's production and made it contemporary with the kids dressing and acting as kids do – a completely new version. However, in this adaption, there are no gimmicks; he has kept the ethos and heart of the story with new production values.
Scott Severence, adapter and manager, considers it a spiritual story. Scrooge is not a villain, but a victim of his hard and lonely past and greed. It's a story of dark and light, warmth and cold. He becomes transformed by Marley's ghost and the ghosts of Christmas Past, Present and Yet to Come. As Severence says it, "God opens his arms and welcomes him home to faith and joy. He becomes a saint." He's given a homage to his granddad who appears as in a character in the production.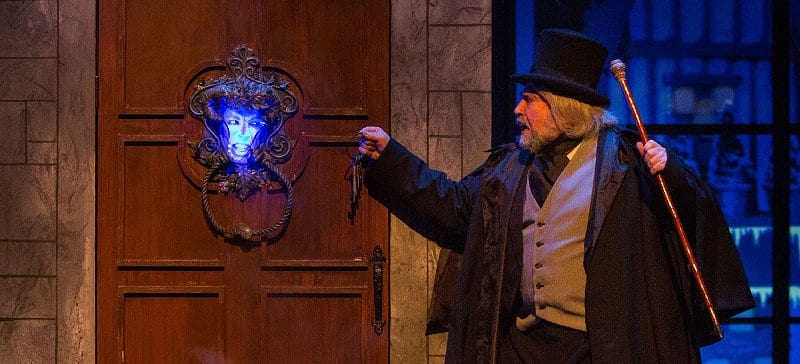 The Ghost of Christmas Past (look for a change in her classical dainty, white look and demeanor) shows him his past life when he treated as a son by his former employer Fezziwig and his wife, his beloved sister Fan, and Belle, his sweetheart. Belle cancels their courtship when she realizes he loves money above all else. In closing, we see Belle with her large and loving family on the Christmas Eve Marley dies.
The Ghost of Christmas Present shows the Cratchit family's happy Christmas but also lets him know that the seriously ill but merry Tiny Tim will soon die.
The Ghost of Christmas Yet to Come shows Scrooge his own death and his neglected grave.
Severence grew up in New Hampshire, declaring himself a college theater major at 18. He's always been an actor, writer, juggler; always drawn and painted; always seen himself as a creative person. He's worked as an actor, director, producer and writer. He's been in or worked on 400 shows over the years, an average of ten shows a year. He jokes that he doesn't have any other marketable skills but, "I'll always have a shelf life." He's 61 now and making a living with an empty wallet and a full heart. He loves variation.

Using "Easter eggs" or surprises, such as the change in the Ghost of Christmas Present, he's surrounded fully one quarter of the production in Dickens' era carols, the traditional carols Christians have sung for years.
The production employs a 24' x 12' rear projection screen for the back drops, using 26 special effects to show the movement of weather, fog, haze, snow, the banging of Marley's staff and flying away, and the changes of time and costume. The lighting effects are similarly used.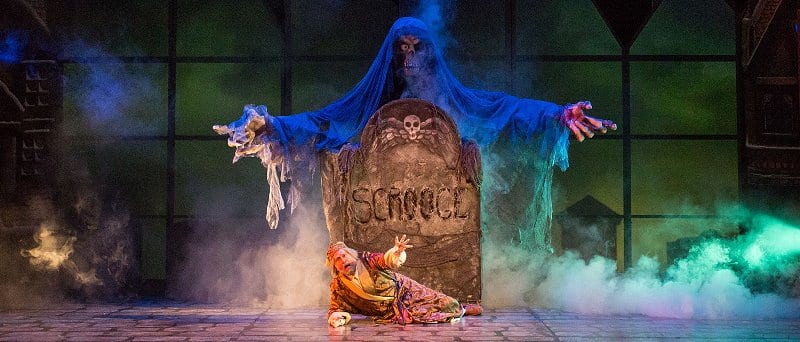 Since there are only three female parts, he's introduced three Cockney women around a burning barrel outside Scrooge's house who discuss Marley's hard heartedness, miserly ways and miserable death.
Severence has been managing the traveling troupe for the last five years and this is the first time it comes to Washington. In the past the tour ended near Vail, Colorado, but traveling in the wintry mountains to go home is scary, so this year they changed the last venues.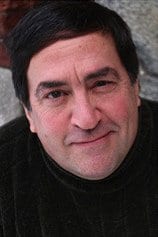 The cast and crew travel in two large SUVs and a 26' truck. I talked with him as they were driving through Georgia on their way to the first performance in Shreveport, Louisiana. They'll do 23 productions in 18 days; many days they just drive. "The cast and crew are a handy group with gypsy souls. They love seeing the country and spreading joy."
Washington is the end of their travels with five shows. A Christmas Carol plays at the Pantages on December 21 with a matinee and evening performance. They end in Longwood, Washington, 90 miles north of Portland, where the cast flies out Christmas Eve. He rests a day or two and begins the long drive to New Hampshire.
Tickets start at $19. Go to the Pantages website at tacomaartslive.org for tickets.