Cabaret is a riot of color, excellent music, sexy women and studly men belting out songs or quietly moaning, dancing, swinging their hips and whatever else moves. Such energy is exhibited that you can't sit still and I sat through the whole show with a goofy smile pasted on my face.
The audience is a mixture of young and older people, probably many friends and family of the cast and a number of different sexual orientations. All are well dressed and appreciative of the cast. This theater has a good chance at continuing success because of the almost if not sold out house with a diverse audience.
The dancers are an interesting lot. As part of the Seattle Gilbert and Sullivan Society's theme to Challenge the Canon the dancers are all ethnicities and body shapes. Lead Tanesha Reed as Sally Bowles is a luscious young black woman. Two of the women dancers can be described as zaftig, the Yiddish word mean that means juicy. The Kit Kat Boys range from petite to certainly tall.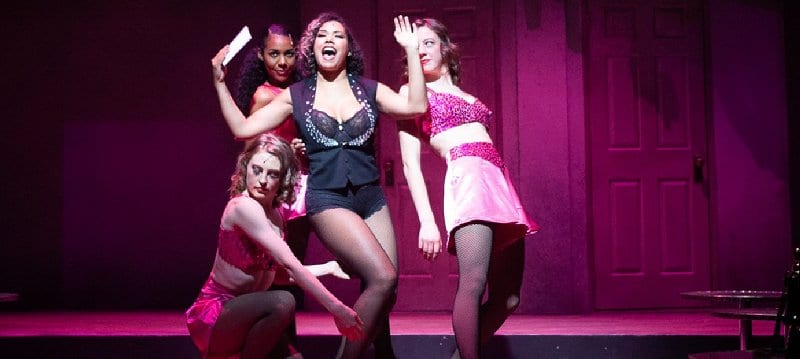 The story begins in Paris as American writer Cliff Bradshaw gets on a train for Berlin and meets German Ernst Ludvig who offers to help him find a cheap room and a job. Cliff is a semi-successful writer but looking for inspiration after trying London and Paris.
Ernst takes him to Fraulein Schneider's boarding house and she allows him to stay, lowering the price from 100 Marks to 50 because, after all "50 Marks today is 50 more than I had yesterday".
That evening Ernst takes him to the Kit Kat Club. The Emcee begins the familiar Wilkommen and we are off. He introduces the stunningly beautiful Sally Bowles, she belts out Don't Tell Mama in a beautiful in a black lace outfit that leaves her curvaceous body evident. Sally calls Cliff on the table phone and entices him to meet her. They chat and Cliff is smitten. Thus begins their romance. She is fired by the management and rushes to Cliff's room and he takes her in. Cliff begins his career as a smuggler transporting luxury goods from Paris to Berlin for Ernst.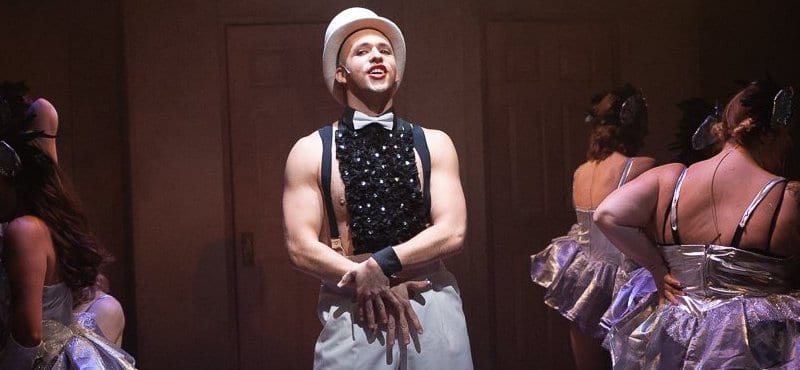 Fraulein Schneider greets boarder Herr Schultz (Mark Rabe), a gentle Jewish greengrocer and lonely widower who often brings her a few apples or pears, once overwhelming her by bringing her an outrageously expensive pineapple. They continue to fall in love.
A boarder, Fraulein Kost (Callie Williams) is berated by her outraged landlady when she tries to smuggle a sailor (introduced as her brother) out of the house. When Schultz comes out of Schneider's room, Kost challenges her double standard and battles back that if she moves there will be less money and her money comes from the sailors. Schneider compromises by demanding Kost keep them out of her sight.
Sally becomes pregnant and says she'll get an abortion. Cliff is delighted by the event, even if he's not the father; he convinces her to at least think about keeping it. He wants to take care of her. She sings the poignant Maybe This Time, searching for stability and someone to actually care about her.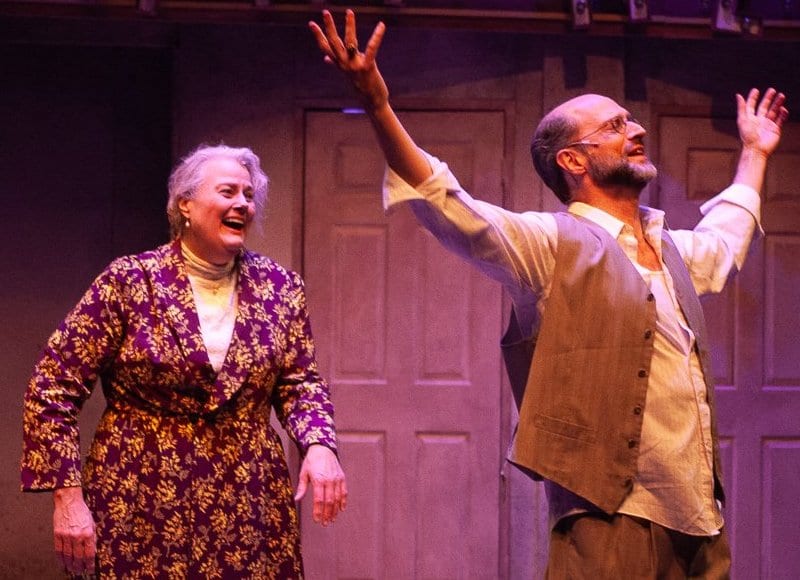 At their engagement party, Cliff shows up and gives Ernst the package and gets paid. When Ernst takes off his coat we are shocked that he sports a Nazi armband. In spite Kost tells Ernst that Schutlz is a Jew which horrifies him. He rushes to Schneider and tells her that she cannot marry the Jew, "He's not even a German!" She will not be safe if she does. She broken heartedly decides to call off the engagement. She will be alone again.
She will not be safe if she does. She decides to and Kost begins the beautiful song Tomorrow Belongs to Me, and then converts it to a Nazi marching song.
The feeling is seedy, it's sad, yet it's beautiful.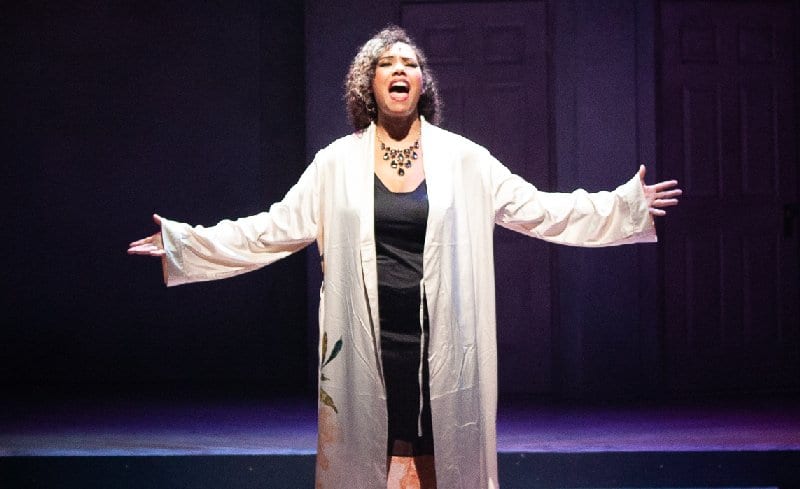 The staging by Burton Yuen in interesting with the Kit Kat Klub sign writ large in black letters lit with rows of bulbs. It's topped by a balcony which conceals the excellent band (Brandon Peck, Music Director). In front and a step down is another stage; two steps away is a third small stage which serves as Cliff's bedroom and room for guests at the engagement party. The dancers proved their agility by going up and down and back up while keeping in step.
There are eight two top tables around the stage for the Klub guests. On opening night we were served glasses of champagne, a real treat. These great seats may be had for an additional charge. AND you may get invited to dance on the stage, also.
Jon Albritton's dancers' costumes were very good. The Klub girls came out in pink glittery bras with flirty tulle skirts, very dramatic. The Emcee's clothes ranged from the various tuxes mostly with false shirt collars and a jabot of dramatic sparkling beads and glitter and colored top hats with feathers and decorations to a pair of grey lederhosen with green sequined botanical elements to a pair of black underpants and crossed black belts across his chest. Very interesting, although I must say that I was dismayed by several of Sally's dresses which did not flatter her.
Cabaret plays through December 15 at 12the Avenue Arts on Capital Hill. Call 206-682-0796 for tickets of visit the website – seattlegilbertandsullivan.com