Captions that go nicely with this photo…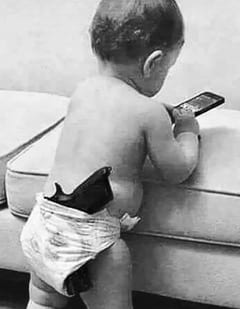 #1: There is absolutely no reason kids as young as this should have cell phones.
#2. The photo gives new meaning to an old child care pronouncement. "Hey, your son's diaper is loaded".
DISCLOSURE: I did not write or create this piece, nor did I take the photo. It probably came from the net and was sent to me by one of my readers.
With all the news about the gun haters vs. the 2A citizens, I just had to share it so we can lighten up just a bit before our holiday. It will be much better to share my column on Thanksgiving for a couple of holiday laughs vs. getting into a big food fight with your Uncle Louie regarding gun rights vs. gun confiscation.
Maybe you can create your own comical captions for the photo. If appropriate, feel free to share your caption(s) in our article comments section.
Have a great Thanksgiving and please save me some pumpkin pie.