It's time for the annual display of anti-holiday cheer.
A Texas HOA has taken a rather frosty attitude toward a family in their community, demanding they take down Frosty, their inflatable snowman, on their front yard because it's too early to be happy for the upcoming holiday.
Thumpety-thump-thump stormed the homeowner's association higher-ups to the offending jolly happy soul (which Christmas song fan favorite character is celebrating his 50th birthday this December 7 by the way) and in effect knocked his old silk hat on down the road.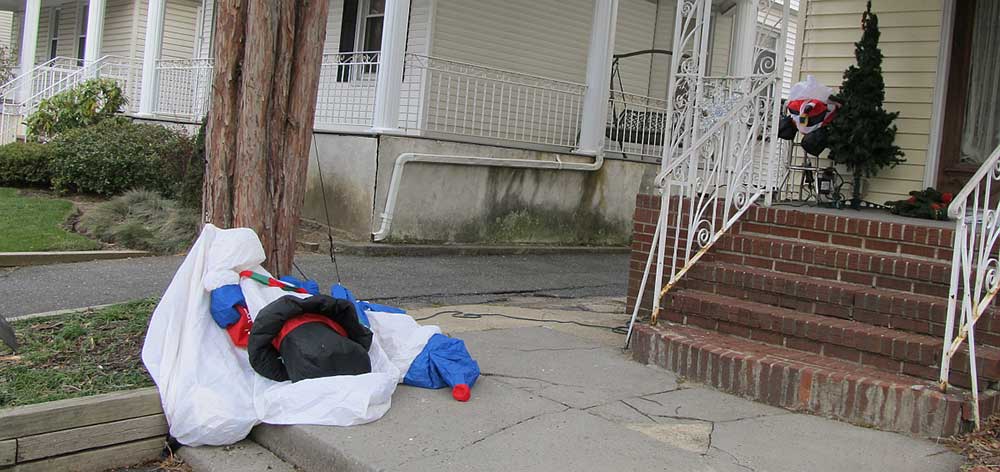 There was no mention by the bah humbuggers of what the family should do with the reindeer or Santa helicopter which they had also installed.
Turns out the family is expecting child number three in December and with all the planning a baby entails, especially at Christmas, they thought – evidently wrongly – that Frosty should come first so that their two boys, 7 and 3, wouldn't think the new arrival had somehow deflated their traditional inflatable friend.
In this hap- hap-happiest time of year, the ho-ho-horror stories appear.
A pastor shouted at kids waiting to see Santa in the Amarillo, Texas mall saying he wasn't real; nothing but a red suit. Angry parents, leaving their toddlers behind, stepped out of line to confront the preacher, some protesting to Westgate Mall representatives that the Santa Claus Grinch should be banned.
Banned, as it turns out, is what Jesus was from public property in Gig Harbor, Washington, the tiny figurine, along with the rest of the privately owned Nativity, sent packing.
But evidently under cover of darkness, and unbeknownst to authorities while residents appealed to the City Council at its regularly scheduled meeting, the baby Jesus cradled in the arms of a statue of the Virgin Mary made a surprise reappearance to the site from which all had been recently booted.
"Jingle Bells", blasted "like 700 or 800 times a day" from a Christmas display boasting a loudspeaker in New York City resulted in a lawsuit, the neighbor saying "all he wants for Christmas is some peace and quiet."
The colors red and green and Christmas trees too for that matter were erased from an elementary school holiday program in Frisco, Texas. One teacher, although nervous of possible repercussions, put an elf on the shelf anyway.
The singing of "Silent Night" was reportedly silenced at a Vancouver, Washington grocery store over fears shoppers might be offended. The two young carolers were "depressed that we couldn't spread anymore love, joy and cheer."
A front-yard inflatable Frosty got stabbed in Soulard, Missouri. Deflated over the "mean spirited" vandalism of his Christmas yard display, the owner established a GoFundMe account to cover Frosty's medical expenses.
Meanwhile the neighbors of Frosty and the family in the Texas HOA story, in a display of solidarity, have been firing up their own generators, running extension cords, and it is rumored that stores have sold out on snowmen.