There's been an interesting development in pop culture in recent years, most notably how a lot of content has been clearly inspired by 80's culture. You only have to look at TV shows like Stranger Things, movies like Atomic Blonde or It Follows or even an entire modern musical genre like synthwave, which takes direct influence from 80's films and video games, as proof of that. But here's a question to consider: What time period did the 80's like to use as inspiration? The 1950's, naturally! There were a multitude of films made in the 80's that all revisit the 50's in a respectful and nostalgic way like Stand By Me or Back to the Future, among others. Streets of Fire is one of those films, though it throws in a visual twist that sets it apart from other films with a 1950's style setting. That doesn't necessarily make it a good movie, but it goes a long way with me.
In a city and time period that looks like a distorted 1950's setting. (or "another time, another place" as the film labels it), a biker gang called The Bombers led by Raven Shaddock (Willem Dafoe) kidnaps sexy rock and roll singer Ellen Aim (Diane Lane). Ellen's manager and boyfriend Billy Fish (Rick Moranis) hires Tom Cody (Michael Paré), a vagabond gun for hire, ex soldier and Ellen's ex-boyfriend, to find and rescue Ellen. Along with Billy and a tomboy street urchin named McCoy (Amy Madigan), Tom must brave Raven, his gang and the streets where they dwell to get Ellen back.
Honestly, summarizing the story is kind of a pointless gesture because the story doesn't really matter. It's filled with clichés from top to bottom and only exists as an excuse for cool stuff to happen. You've got the rebel hero, the jerk boyfriend, the songbird in distress, the sidekick, the irredeemable villain, the ex-lovers denying their love for each other and the climactic showdown between the protagonist and antagonist. It's very straight forward and isn't anything you haven't seen before, and it's made even worse by the atrocious dialogue. I think the screenwriters were trying to go for an emulation of the dialogue you might have heard in a Marlon Brando or James Dean movie, which is why it oftentimes sounds really corny. But those movies have dialogue thats meaningful and sticks with you. Streets of Fire doesn't have meaningful or deep dialogue for the actors to chew on, and everybody sounds as if they're either saying their lines for the first time or can't decide whether to take the material seriously or not. I'm reminded of a quote from Harrison Ford concerning clunky dialogue: "You can type this ****, but you sure as hell can't say it." That being said, I immensely enjoy the dialogue, but in an ironic sense. It's good for a laugh.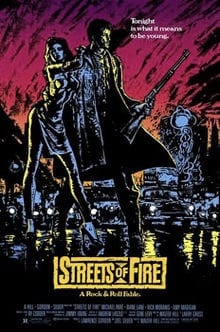 The story clearly isn't the strongest aspect of the film. The setting, however, is worth the price of admission. Streets of Fire was marketed at the time as a "rock and roll fable," and that's exactly what it is. As much as I love to tear apart its story, the movie practically admits that the story is secondary. Fables rarely make sense or involve characters that sound like real people. Rather, they're meant to elicit a response through their themes, events and settings. Which is exactly what Streets of Fire does, albeit in an incredibly cheesy manner. The setting is a strange but remarkably detailed fusion of 1950's and 1980's culture. It's as if the style of the 50's never went away and adapted to the grittiness and sexiness of the 80's. Cops, gangs, soda jerks and rock and roll run rampant on every corner of the street, people still drive Studebakers and go to diners, neon lights up the street, people dress like they're halfway between Buddy Holly and Rob Halford and every other building in the city is a bar that plays blues rock. The production for the movie is astoundingly good, and it's the true star of the show.
The movie also features musical breaks scattered throughout the runtime. And I don't mean musical numbers that have to do with the story. I mean random musical numbers that are meant to show off the production value if nothing else. It feels as though the movie is taking a break from all of the explosions, swearing and bad dialogue. Thankfully, these songs are really good, and the film manages to frame these song sequences in a way that works. The filmmakers clearly have a love for rock and roll imagery and history, and seeing the concert and song sequences captured in an innovative and visually stunning way is nice to see. The soundtrack has an extensive list of songwriters, including Stevie Nicks, Tom Petty and Jim Steinmann of Meat loaf fame. Which is fitting, considering some of these songs wouldn't feel out of place in a Meat Loaf or Bonnie Tyler album.
In short, I really like Streets of Fire, but I'll admit it's technically not a good movie. Every other scene has abysmally cheesy dialogue and focuses on a story that barely feels like it's there. On the other hand, every other scene has great production value and cinematography, great action, some badass moments and boasts some really good rock music (provided you like the kind of rock they're offering, and why wouldn't you?). I'll admit the movie is a mixed (if not three quarters empty) bag, and I understand that it can turn off a lot of people because of the negative points I pointed out. If you hear the words "rock and roll fable" and don't like the sound of that, then Streets of Fire isn't for you. I decided a long time ago that it's up my alley, and if I'm destined to be alone in the middle of that alley rocking out to "Nowhere Fast," then so be it.