For years a small body of water in the City of Lakewood, known as Waughop Lake located inside Fort Steilacoom Park, has been the focal point of many news stories, comments, scientific studies, and alternative solutions to fix its toxic algae bloom problem.
Knowledgable citizens have generated much of this information. The opinions of these commentators are made more credible by their scientific background, engineering background, aquatic scientific background and by the inside knowledge of City of Lakewood staff. The record shows a significant number of these articles and comments to have been contributed by Tom McClellan, Don Russell, Ken Karch, and City of Lakewood staff member, Paul Bucich along with a multitude of thoughtful public comments. Our community certainly benefits from considering what all these helpful and knowledgeable individuals have to say about the Waughop Lake problem. Given the opportunity, we should thank them for their effort.
For more details on the raging debate click LINK: Waughop Lake – the rest of the story or Tom McClellan's rebuttal.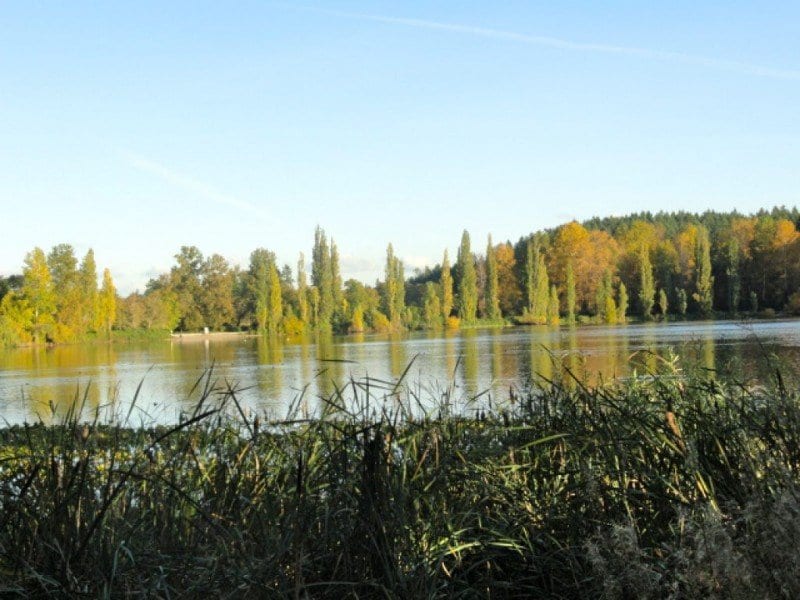 I am not a scientist and admit that my top science grade was only a paltry "B" in physical geology, which we referred to as "Rocks One." This fact means I am not in a position to tender any solid opinions or suggestions as to what the perfect answer might be for preserving Waughop Lake — chemicals or dredging.
There is another "off the wall" way of looking at the Waughop Lake.
Everyone seems to agree that Waughop Lake has a big problem; yet to date, we have only considered using small government solutions. We should all appreciate our small government, Lakewood City Council's, effort to graciously spend time and energy in their attempt to solve the Waughop Lake problem. Conversely, because we have a big problem, maybe we should consider a big government solution.
Why not harness the power of big government to solve a big problem?
Based on that line of thinking I pose a simple question. What would big government's President, Donald Trump, do? President Trump's solution would look something like the following; I am certain.
1. Trump would divert 100% of the sewage that might flow into the lake to our now existing sewer system.
2. Trump would divert any clear water that flows into the lake to our now existing stormwater drainage.
3. After diverting the sources of water flowing into the lake, the next step would be to drain the lake altogether. All that nutrient-rich water could be used to irrigate the sports fields at the park.
4. Lakewood could then use the free fill dirt created by the post holes dug for President Trump's brand new Mexican Border Wall project to fill in Waughop Lake.
5. After burying the big hole where Waughop Lake once stood with the free fill from the Trump Wall, we could install a giant lake-size waterproof concrete cover over the top of the entire lake with a 10" high curbing along the whole circumference of the lake.
6. With the concrete lake cap in place, say "goodbye" Waughop Lake troubles and expense. Say "Hello" to the Fort Steilacoom Park's Waughop Skating Rink & Skateboard Park.
7. In the winter Lakewood could flood the concrete lake cap; and after freezing the water 10" thick, we could enjoy the Fort Steilacoom Park's Waughop Ice Skating Rink which would replace the Lake Steilacoom Ice Skating rink of long ago (1939 – 1982 – Norton Clapp inspired).
8. In answer to those Waughop nay-sayers who might ask, "How much will the Trump plan cost and how do you expect us battered taxpayers to pay for it?" Trump would readily reply, I will make The Town of Steilacoom pay for it.
And this, ladies and gentlemen will provide us with some rock solid big government solutions for a small government's big problems.
If one expunges all elements of humor from today's column, the net result is a serious thought for the reader.
If Waughop Lake is what we could describe as terminal, would we not be better off as a community capitalizing on the long term view which might well cause us to creatively change the use and direction of this old Lakewood asset? If we took this solution route, we positively could view this difficult action as a part of the careful and longterm management of Fort Steilacoom Park.
Because I am personally aware that my Uncle Dale created his own lake on the Puyallup's North Hill, I am confident that it should be possible to move Waughop Lake inside Fort Steilacoom Park. The dirt excavated to create the new lake could be used as clean fill to cover the original Waughop Lake problem.
Now I ask you. "Does not today's column make you feel abundantly joyous that Joe Boyle is not a member of our Lakewood City Council?"