"Not One Less is a 1999 drama film by Chinese director Zhang Yimou, adapted from Shi Xiangsheng's 1997 story 'A Sun in the Sky.' . . . The film addresses education reform in China, the economic gap between urban and rural populations, and the prevalence of bureaucracy and authority figures in everyday life." – https://en.wikipedia.org/wiki/Not_One_Less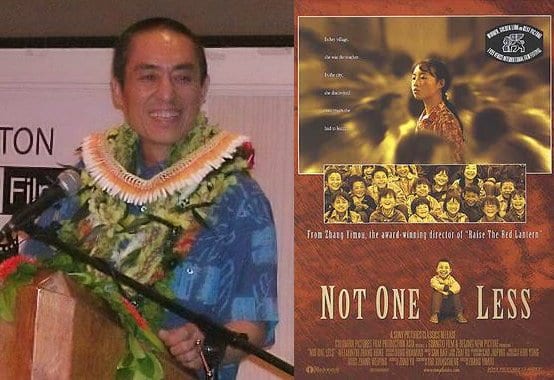 For every movie I stream I probably start four or five before I find one that seems worthwhile and pays off. Not One Less is so successful I watched it by myself and then re-watched with Peggy.
The story takes place in rural China during the 1990s. The teacher in a poor farming community gets word that his mother is gravely ill. He arranges to take a thirty-day leave. The only replacement the mayor of the village can talk into the job as substitute is Wei Minzhi, a shy and bewildered thirteen-year old girl with no teaching experience. The leaving teacher gives her minimal instructions and leaves her with the order to maintain the number of the students: "Not one less."
Within days she is one student down. A gavernment run training camp for athletes has found out that one of Teacher Wei's students runs daily and is fast. Teacher Wei refuses to give her up and hides the child when the coach returns to pick her up. The students help hide their friend, but the mayor bribes Zhang Huike, a young troublemaker, who reveals her hiding place.
Soon Teacher Wei is down another student. Zhang Huike has runaway and left for the city (Zhangjiakou) to find work.
The film is about rural education and the movement from the country to larger cities, but the main focus is on Teacher Wei and her persistence. She is doggedly determined to find Zhang Huike and return him to the fold. The story is beautifully shot with the feel of documentary reality. The actors are real people who are in similar circumstances to the characters they portray. Throughout the film you are pulling for the teacher and the students as they work together against the odds.