Please do not allow my borrowed title to discourage you from reading my column today. This column has nothing to do with pornography or any other topic that relates to the terminology, prurient interest.
Any time my wife and I are compelled to travel into the big city of Tacoma, Washington, we try to incorporate an element of fun which frequently leads us to two of our favorite Tacoma hangouts on the corner of 6th Avenue and South Fawcett Street.
What's on the corner, you ask? Corina's Bakery (and espresso shop) is located at 602 Fawcett St, Tacoma, Washington 98402. T: 253-627-5070. Often, we combine our fun at Corina's with a movie at The Grand Cinema which is right next door at 606 Fawcett St, Tacoma, Washington 98402. T: 253-593-4474.
Today we pulled it off once again. After finishing up our compulsory Tacoma business, we scored some free street parking near the above-referenced favorite hangouts.
Typically our first action step following my standard tactical parking maneuver is to stop in at The Grand Cinema to buy our movie tickets ahead of time. Then we go next door to enjoy a wet cappuccino and a tasty bakery treat.
BIG TIME OPERATOR / MAN ABOUT TOWN TIP #1: We buy our movie tickets first for two reasons.
Early ticket buying helps us avoid the clerk giving us any bad news later, such as, "Sorry, that movie is sold out."
If we present our show ticket to Corina's, we get 10% off our beverage and bakery bill. Over the years I have used my 10% espresso and bakery savings to buy a BMW convertible sports car.
Here comes the part of my story that motivated me to write this column in the first place.
While I will be first to admit that I am not an official theatrical critic; you know, like Don Doman, I feel compelled to tell you about the movie we watched this afternoon. The film carries the catchy title of On The Basis of Sex. No, it is not a porn movie. In fact, the movie is rated PG13. They could have used the title, On The Basis of Gender, but most of us know, the word SEX is more attention-grabbing than the word GENDER. Sex sells. Gender typically leaves us asking, "Huh? What now?"
The movie is based on the real-life story of Judge Ruth Bader Ginsberg known as RBG.
Because the legal profession, law school, our US Constitution, equality and fairness have been so important to me all my life, the movie which has to do with RBG winning a big court case everyone said she would lose really moved me. I could feel the emotion welling up in my chest, running up through my neck and then squirting out through my eye sockets in the form of tears.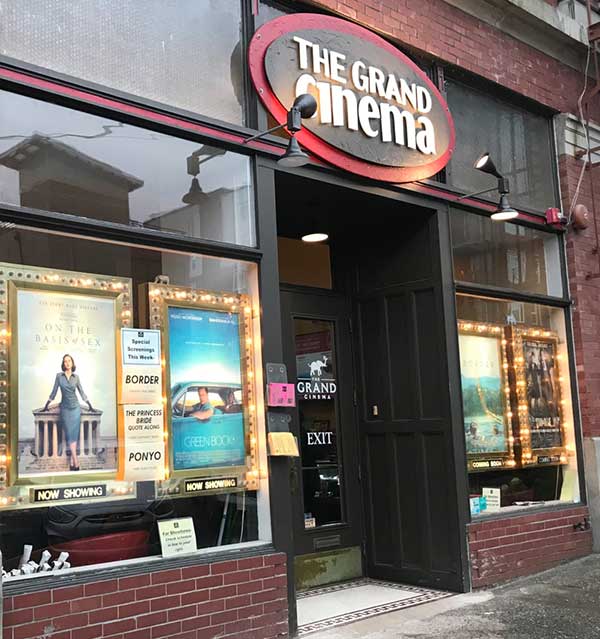 I know, I am supposed to be a tough old cop, but at times I can be an emotional Irishman too. You see, I do not like to see anyone suffer from discrimination or mistreated based on color, race, religion, or gender.
RBG is a fantastic woman, who became a lawyer, a law professor, an appellate court judge and then an Associate Justice of the Supreme Court of the United States. She is the second female to become a judge on the Supreme Court during a time in our history when highly qualified women were not allowed such achievements. In doing so, she creatively and intelligently served as a force for change allowing our laws to conform with our US Constitution thereby opening the door to equal opportunity women in spite of their female gender.
Click the LINK for a preview trailer of the movie, On The Basis Of Sex.
Click the LINK for movie details, NOW PLAYING AT THE GRAND.
BIG TIME OPERATOR / MAN ABOUT TOWN TIP #2: If you are a Supporting Member of The Grand Cinema, then be sure to enjoy a free popcorn with or without butter at no extra charge.
LINK: Check out 8 Reasons To Become A Member Of The Grand Cinema.
If you have time and interest in learning more about one of our legendary American females, click the LINK Wikipedia – Ruth Bader Ginsberg.