At the end of November a secret Santa paid off dozens of Walmart layaway tabs in New York. In May someone paid off $10,000 in school lunch debts in Maine. In 2014 an anonymous benefactor paid off everyone's layaway accounts ($24,000) at a Toys R Us outlet. These benefactors aren't Bill or Melinda Gates. You don't have to give millions or billions of dollars to make an impact on people's lives. These people just lend a helping hand with what they can afford. There is no tax benefit to helping individuals.
In 1968, my wife Peggy and I were living at my parents' small vacation home on Long Lake near Port Orchard. We were trying to save money to buy our first home. Although I was working at Boeing, they didn't pay anything near what they are paying today. I worked the afternoon shift in Auburn. I would arrive home about 11:30. Peg would have dinner ready. The kids would be asleep in bed. We splurged and purchased a small black and white TV at White Front (Jafco Plaza) on 38th Street in Tacoma. It cost $99. We made payments. It was worth it. The television gave Peg the choice of reading, playing records, or watching TV while she waited for me to come home. Once home we ate and watched Steve Allen do crazy things with his guests on our little black and white.
We splurged and purchased a small black and white TV at White Front (Jafco Plaza) on 38th Street in Tacoma.
We still owed $69 when one morning I walked up the driveway to get our mail. There was a letter from White Front with a statement that said our television was paid off. We knew we hadn't paid it, so we called to tell White Front of their error. They were adamant that we owed nothing and that the bill had been paid. No one knew we were making payments on the TV, so it had to have been a stranger who paid life forward for us. I think we were making payments of seven dollars a month. With two babies under the age of two, the seven dollars a month we didn't have to spend surely helped us.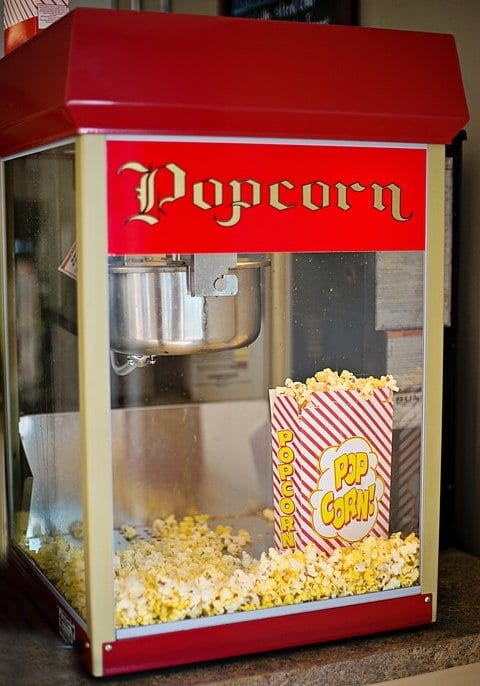 The next year we bought a house and moved to Tacoma. A year later Boeing layoffs finally found me. Peg remembers the times . . . now with three children, "When our kids were preschoolers, I took them to KMart. I had to stand it line to get my check approved. This was done right next to the freshly popped popcorn stand. My son Del asked for popcorn. I had no cash and had to tell him no. His little face crumpled." There was a man in front of them, dressed in jeans and a work coat. He turned around and said, "I'm in construction and I have enough money to buy this store, but I still have to stand in line to verify my check! I'll buy the popcorn." "The popcorn was not a big purchase, probably just a quarter but the kids were so pleased. His little act of kindness made their day."
Every time I read of someone being generous I think of White Front, that little TV, KMart, a little bag of popcorn, and the small weight that was lifted off our shoulders to make life just a little bit better.