Our granddaughter is in kindergarten.
Before she entered those hallowed halls of higher learning – though the color of the tiles has changed they're still the same halls down which I walked, and it's still the very same classroom where I sat over 60 years ago where she now sits – I jokingly reminded her that her teacher should be given an opportunity to talk too.
She has learned her shapes and, having drawn them for me one day after school, she wondered if I could identify what they were.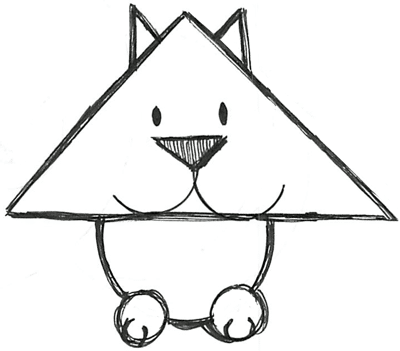 Pointing at the first she said, "What shape is this?"
"Triangle!" I blurted out, really a pretty good kindergartner's rendition.
"Did I call on you?" she said, hands on her hips, gaze stern.
"You must first raise your hand and be recognized."
Just two months into kindergarten, she's already decided she wants to be a teacher.
Duly chastised, I meekly raised my hand.
"Yes, grandpa?"
"That's a triangle."
"Correct. Now let's move on."
There's an interesting article in this past October 2 edition of the Deseret News in which author Jennifer Graham investigates when and where character is formed in kids.
While there are several factors – personality, environment, and time – and many who play a part – teachers, coaches, and peers – the predominate influence and common denominator by which kids with character are raised, are parents.
Elizabeth Vozzola, psychology professor at the University of St. Joseph in West Hartford, Connecticut said that "children who have particularly close relationships with parents, and teens who are religious, tend to hold to the norms of their church and their parents, and withstand social pressure of the teen years."
I am reminded of the warning posted on the reader board sign out front of our granddaughter's school: 'Children will be released early' followed by the date at which this early release – hence the warning – would occur.
And it is a warning, winsome and warm that brings a smile but a warning nonetheless.
When these children – and grandchildren – of ours are released one day to the community, the character shaped in the home – and yes, the school and in sports and in churches – will one day serve us so well when faced with choices difficult to make, and crises we could not have imagined.