During the 1970s my wife and I were deeply involved with the Tacoma Junior Chamber of Commerce (Jaycees). Tacoma was a great chapter and most of my friends were members. After all these years I can still recite the Jaycee Creed. We ran projects that helped Tacoma and Pierce County . . . and beyond. A member and his wife from Minnesota moved here after visiting the area for the Jaycee National Conference in Seattle. Soon John Trueman and his wife Karen were also deeply involved in our community.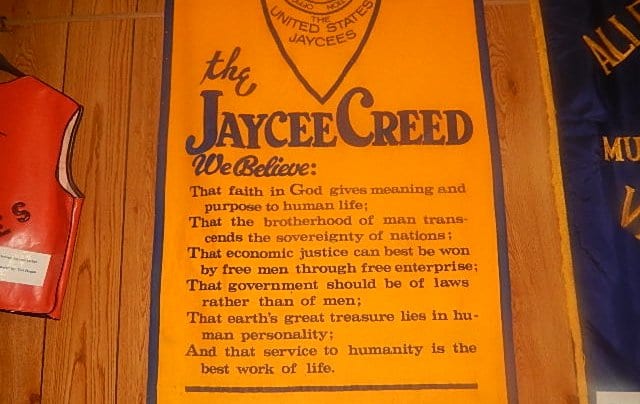 John became president and soon volunteered to start a new chapter in Silverdale. He had a few people in that area ready to join. We needed twenty members to start a new chapter. I raised my hand when he asked for volunteers to go door-to-door in a Silverdale neighborhood.
We were welcomed into homes and backyards.
As the two of us drove to Silverdale one Saturday morning, I casually mentioned that I hated going door-to-door. Soon we were knocking on doors and telling young adults (men 18 to 35 of age) about Jaycees. We were welcomed into homes and backyards. When we finished in the afternoon, we had enough interest from the people we met to hold a meeting for the potential new club.
On our return to Tacoma, John confessed, "When you said that you hated going door-to-door I was devastated. I thought we were doomed. I thought I would have to do all the talking, but when we met people you jumped right in and gave them reasons for joining and encouraged them to sign up." I looked at John and laughed, "I said I hated it, I didn't say I couldn't do it." Eventually, John was able to form a new chapter, the Silverdale Jaycees.
"It doesn't matter how cold the water is if your goal is to cross the river." – (Photo source: panoramio.com/photo/110503883)
In life, we can't just do the things we like; we have to do things we don't like and often hate in order to succeed. One of my favorite quotations is "It doesn't matter how cold the water is if your goal is to cross the river." I don't know where I read it, but it sounds like classic Roman or Greek phrasing. And the adage is so true. There are things we just have to do. My wife Peg once asked why we were working so hard on a project for a client and I said, "One: I promised I would meet their deadline. Two: They already paid us. Three: We've already spent the money." "Ahhhhh," she said. We crossed the river.