It was marked down. And it needed help. A lot of help. And it didn't help that in moving it into the house the unwieldy, top-heavy, glass cabinet got away from me and tipped off the porch and crashed to the rocks bordering the garden below where shattered glass told its future: firewood.
Nope.
My wife restored it. Hours and hours of repairing, sanding and painting. Then, knowing all along what it could be, in it she mounted all her Dutch (she's full-blooded Dutch – stubborn that way – this china cabinet had potential if she had anything to do with it, smashed and all) dishes.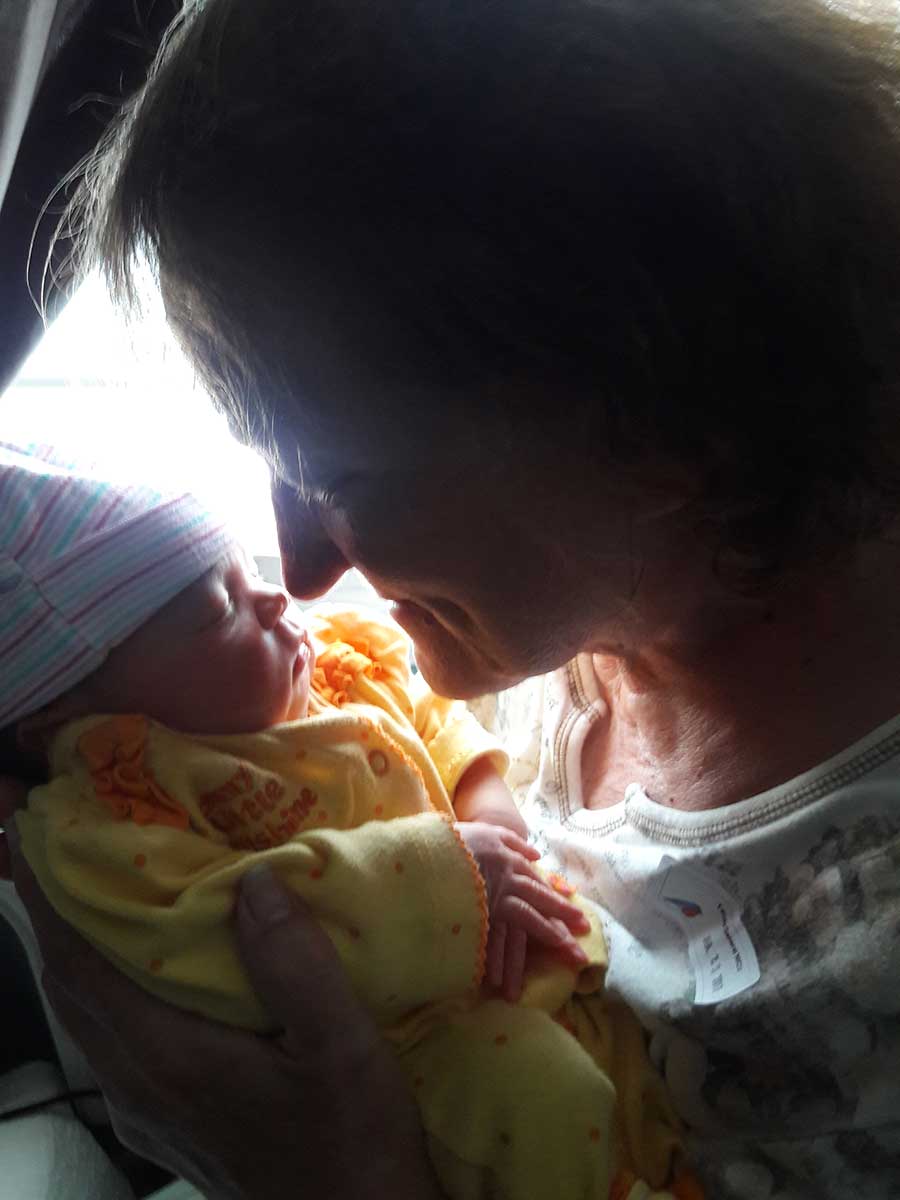 Today, it is without a doubt the second-most beautiful feature of our home.
The first, however, without question, are the grandchildren she has the privilege of caring for every day: admiring their Kindergarten artwork ("No, that's a tree grandma!"); congratulating the older brother on being accepted as Elementary School crossing guard (following in his grandfather's footsteps – same school, same crosswalk protection of fellow classmates); cheering on their oldest brother as he crossed the finish line, first in his school, fifth overall in his first cross country meet just the other day.
The last of them, he's only three, sat in my lap as we awaited the appearance of her oncologist at the hospital.
She's quite friendly, the doctor is, and we knew she would do as she always did when she entered the room: shake each of our hands.
So, we practiced prior to her arrival.
"How are you?" (hand extended).
"Fine, and you?" ('Little firmer with that handshake. You're not a dishrag.' Let's practice again.')
Each time he'd take grandma's hand and say "Fine, and you?"
The she entered.
The doctor herself. The head of the entire department.
Sure enough she extended her hand to both of us, our grandson last of all.
"And, how are you?"
Silence. Spellbound. She had his little hand in hers. Awestruck.
"You provide childcare for your grandchildren?"
And then, almost wistfully, she said, "I wish my parents were close enough to be able to do that for mine."
There's a proverb, according to the Aramaic translation, that reads: "A house is built by wisdom and by understanding it is entirely put in good order. And the inner chambers are filled by knowledge with every possession, honor and delight."
But it's not china cabinets, furniture, or trinkets of one kind or another that are here referred to.
It's children and grandchildren, described as "rare and beautiful treasures."
To have them adorn grandma's home, while all the rest of us are off at work, is to be rich indeed.