Recently I have seen a ton of articles in our local papers including The Suburban Times talking about the advantages and disadvantages of trains racing through our Lakewood neighborhoods at close to 80 miles per hour. The last article I am aware of was published in The Suburban Times on Friday, September 21, 2018. The report was titled, Train testing continues on Lakewood Subdivision tracks.
While I have the life experience of responding as a police officer to train involved fatalities, I feel there are plenty of people already talking about both sides of this fast train topic. I am not going to add to either side of that conversation in this article.
All of this debate is between citizens and politicians and citizens and train administrators.
In the end, after the debate is over, one side or the other will win. We will have trains blowing through Lakewood at 80 mph or not.
What I have to say today is not directed towards politicians or train administrators. I am addressing my comment to individual vehicle operators to motivate them to think about and become personally responsible for the life and death decisions they make while driving around railroad tracks.
Most any single driver lacks the power and influence to control the highly charged decision regarding whether trains blast through Lakewood at 80 mph.
Each and every driver controls 100% of the decision making related to how defensive driving decisions are made or not made when operating around trains. Trains are fast enough and powerful enough to snuff out a driver's life like a bug on a windshield.
Take a close look at my photo below. Both the white car ahead of me in the eastbound lane of 108th St SW and the red vehicle along with the "sheep" drivers parked too closely behind the red car driver in the westbound lane are on, and please allow me to use a play on words, "On The Wrong Track."
Most of the drivers in this photo are unnecessarily parked in the "kill zone." They are stopped as close to the tracks as they can get. If a train derails at this intersection, all that will be left of these drivers is a stain on their seat cover.
Visualize what happens in another common scenario. The train is coming, at about 80 miles per hour. Some mediocre driver, high on legal Washington weed, while deeply engrossed in a cell phone conversation, and following too closely strikes the white car from behind thereby pushing the white vehicle onto the tracks where it stalls just in time to be cut in two by the speeding train.
I know it will surprise some of my readers to observe me being so outspoken, frank, and opinionated, but I have to say, the white and red cars are "On The Wrong Track" assuming they have a healthy desire to live.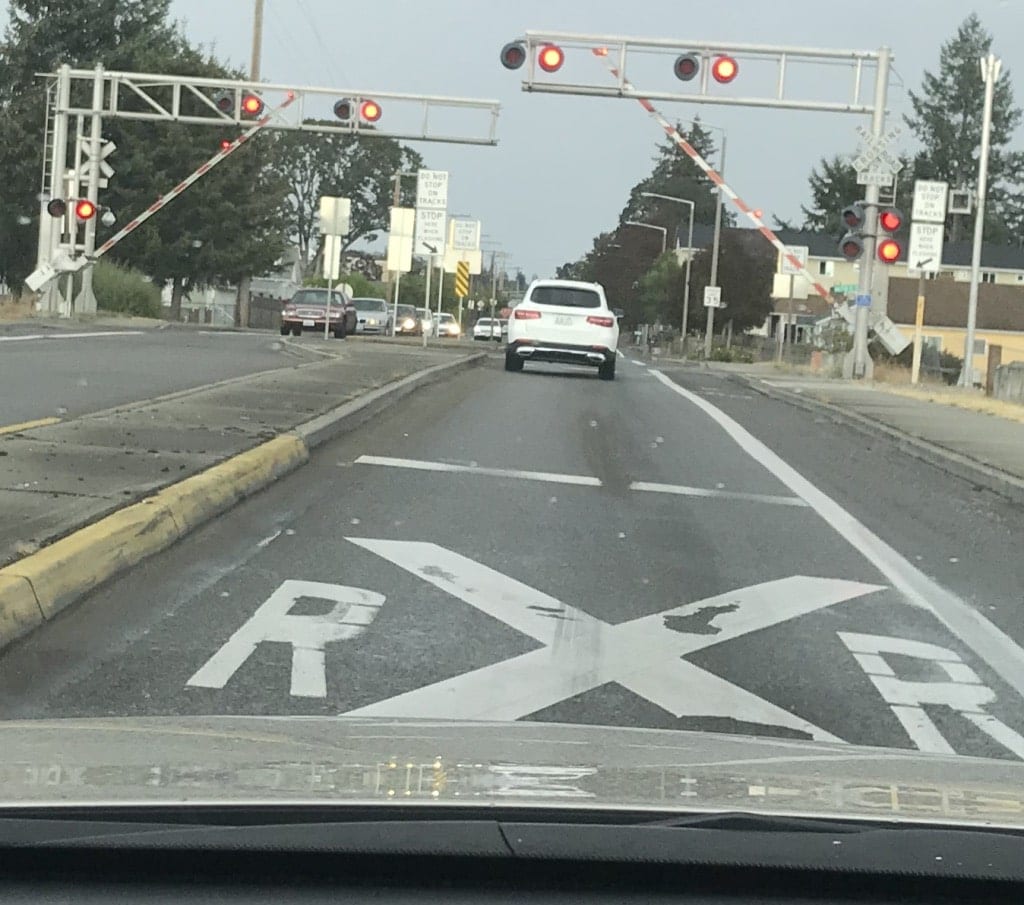 I was following the white SUV as we both drove northbound on Lakeview Avenue SW. We both turned right on 108th Street SW. The white car moved up as close to the kill zone as possible. I hung back and stopped a reasonable distance from the track. I treated the R X R design pattern painted on the roadway as a stop bar. You can see a part of my dashboard and hood at the bottom of the photo framed with the R X R.
While my stopped position does not guarantee I will not be struck in the event of a derailment, at least I have made defensive driving decisions that will reduce the likelihood of my being injured or killed in the next train crash. You might say, "Joe, Is On The Right Track" which is to say I am away from the track.
I doubt the drivers of the white and red cars would drive down the road sucking on the end of a gun barrel. So why are they crowding the train tracks? There really is no difference in the potential outcome other than perception and the fact that each driver has probably never thought about the issue.
If you start now, you have time to think about it before suffering a traumatic brain injury after being struck by an 80 mph train.