Submitted by David Anderson.
Yes and no, maybe and maybe not, in other words some clarity would be helpful.
Lakewood has published its amendments to the sign code and is offering an opportunity for feedback.
Click to view version with edits noted or click to view proposed changes without track changes shown.
A slight change it would appear – a recommendation by the Planning Commission – is that A-frame signs are now even more A-OK than they were in 2011.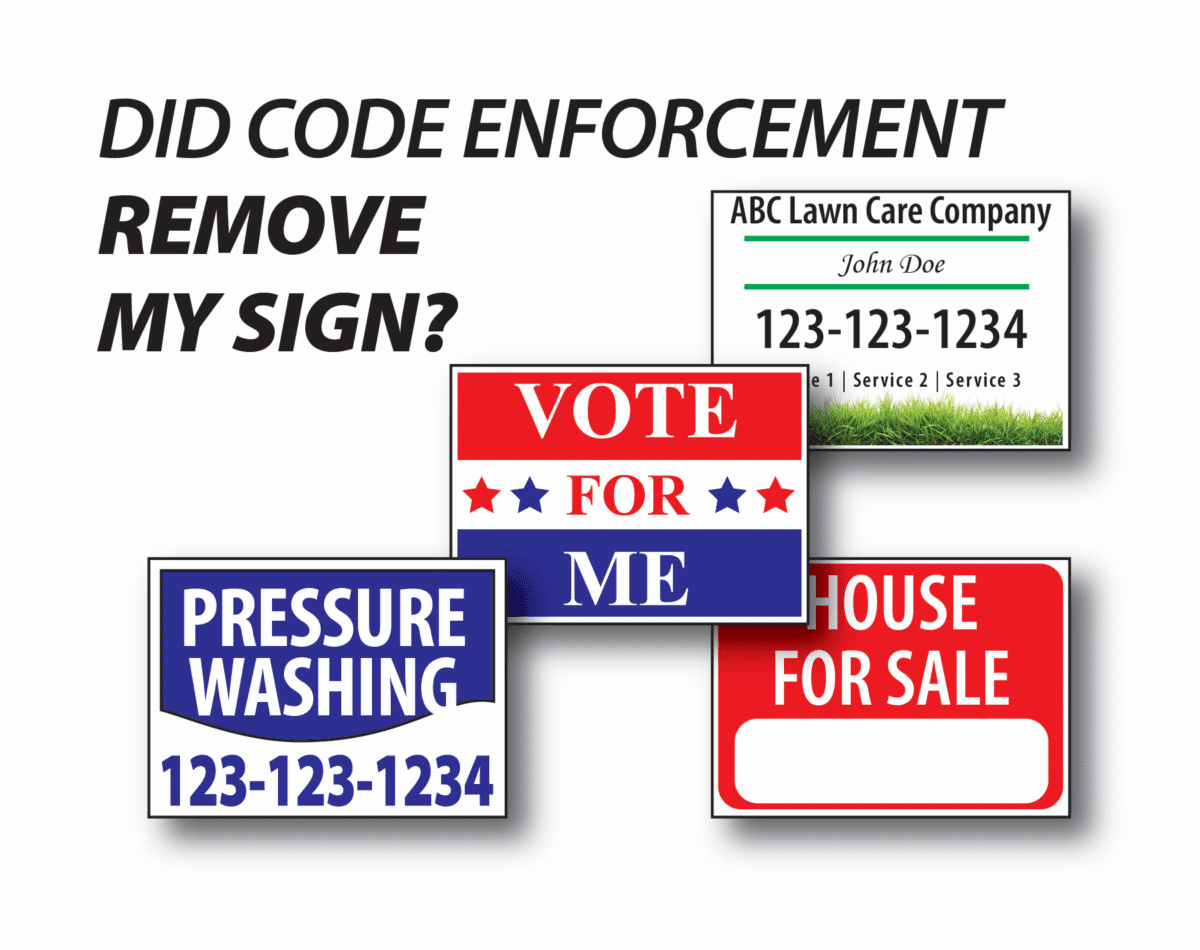 Seven years ago, the Lakewood City Council revised the City's sign regulations to make them "more business-friendly allowing each business to continuously display one portable sign without a permit, as long as the sign is an A-frame, T-frame, or banner attached flat against the wall of the business."
"We understand it is a tough economy for businesses right now and we wanted to provide them with the tools to increase visibility," said then-City Manager Andrew Neiditz. Under prior law, similar signage required a permit.
The new proposal would allow sandwich boards on city sidewalks. No permit required.
At next Farmer's Market for example, if you are selling tomatoes and the next vendor over is hawking onions – or whatever (except marijuana, that's illegal in Lakewood) – you can each have a sandwich board sign if you allow 36 inches of clearance on the sidewalk to allow passers-by to pass by.
Pending your understanding of what appears to be a contradiction however in what is planned in the immediate future for signs in Lakewood, you may not have a sandwich board sign out in front of your business on the city right-of-way, even though your sign would be nowhere near the sidewalk let alone on it per the proposed new regs.
"One (1) sandwich board sign is permitted per establishment. For the purposes of this subsection, a parking garage or parking lot, and each vendor at an outdoor marketplace or like event, shall be considered an establishment."
On the public sidewalk.
Presumably an established business is an establishment.
But for them, apparently, "signs shall not be placed within the public right-of-way except as specifically allowed in this section."
Vendors and parking lots yes, everyone else no?
Should it be right for an established business to have a sandwich board sign in the right of way even as a vendor would have one on a city sidewalk?
Seems some clarity would be helpful there.
Then there's the matter of enforcement.
There was a time when "mobile reader boards" were prohibited wherever they were found in the city.
And the city was on the prowl.
Especially when signs were found on city rights-of-way.
That anathema now, however, for the last half-dozen years anyway, seems to be of less concern to the city.
If true, chalk up a victory for the public.
On June 1, 1998 – just two years into incorporation – city code enforcers confiscated and discarded one of what would later be estimated as thousands of what the city determined were offending signs, this one, on this date, an A-frame sign pointing customers to a place of business.
According to The Tacoma News Tribune story published January 8, 2000, "Lakewood officials say all signs placed illegally on public right of way get the same treatment."
No notice, it was not expedient. Too many violators, not enough time. No opportunity by the owner to move the offending sign. But rather a city snatch-and-smash.
Back then the City Code Enforcement Policy was 20-some pages long.
Clearly stated – then – in that document, at that time, were the steps by which to resolve property violations: (1) notify the owner; (2) provide a 30-day correction period; (3) court summons.
Now, the new proposed sign code states "The City of Lakewood is not responsible for notifying sign owners of confiscation of an illegal sign."
That may be a sign – speaking of signs – either of trouble to come, or a sign that the Planning Commission needs to uphold due process.
In an article for "National Review", August 24, 2018, Orrin Hatch writes in support of Supreme Court nominee Judge Brett Kavanaugh based upon Kavanaugh's firmly held – and acted upon – belief that "convenience and efficiency are not the primary objectives — or the hallmarks — of democratic government."
It may not be convenient, nor efficient, to follow Code Enforcement Policy – notify the owner, etc., but that, per Kavanaugh, is neither here nor there.
There were – once – in leadership here those who agreed.
In a Lakewood council candidate forum, years ago, the question was asked by the moderator 'what was the worst mistake the city ever made?' And the answer of the one who would become mayor was, in light of the sign-code wars of those early years: "The sign code. We really blew the sign code."
Indeed.
The uproar that followed the city's sign-blitzkrieg included a rally at Pierce College with over 500 citizens in attendance, likely the largest crowd before or since that gathered in one place for purposes of protest in Lakewood.
From the rally emerged an organization of citizens that would win three seats on the City Council and there was likewise set in motion what would become the largest margin of votes ever cast in favor of any issue or any candidate in city history, a record that still stands, winning for the people of Lakewood the rights of Initiative and Referendum.
And all of that began when the city decided it was "not responsible for notifying sign owners of confiscation of an illegal sign."
Verbiage that continues to this day.
This latest version of what have been a few revisions of the sign code since those early days, is a hopeful sign that reasonable people can do and expect reasonable things.
"Reasonable person", is even defined by the Planning Commission, as one the courts would view as having followed a legitimate, reasonable process in arriving at the decision they made and the action they took.
Not what is convenient. Not what is efficient. But rather what is even messy. Because that's democracy.