Submitted by David Anderson.
"One of the hidden glories of Victorian engineering is proper drains. Isolating a city's effluent and shipping it away in underground sewers has probably saved more lives than any medical procedure except vaccination" (The Economist?, volume 411, number 8891).
Now, those same sewers are increasingly clogged with cannabis growers' waste products.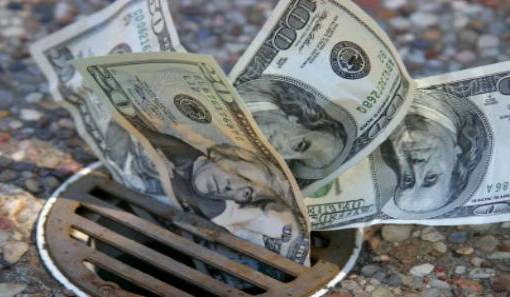 Meanwhile, above ground, and in many, many cases collapsing to the ground, are lives increasingly swept away forever, victims of a new, often-deadly, synthetic marijuana.
Into this mix of addictive products and their causalities, add casinos, dependent governments, and gambling junkies.
Looking ahead to the year 2020, and in the spirit of visual and intellectual acuity which 2020 conjures up, the tea leaves – and marijuana leaves – have been consulted; palm readers' prognostications considered; hundreds of fortune cookies consumed; and horoscope and astrology forecasters conferred with in order to see what the stars have in store.
It's not good.
The headline in "The Washington Post" for August 14, 2018 read "Garbage from Washington State's booming pot industry clogs gutters, sewers and landfills."
Kristen Millares Young reports that "Washington state's penchant for getting high is trashing the place.
"Pot packaging for legal retail sale is being tossed in the streets, and it's not recyclable. Cannabis growing operations' sewer waste is a concern, and so is millions of pounds of weed harvest waste that could be composted but isn't."
Just the opposite of gutters along arterials being clogged, the arteries of synthetic marijuana users across the country are being stripped of their anticoagulant properties, the severe bleeding the result of consuming K2 and "the drug's unpredictability and its tendency to be cut with potent opioids" or the blood-thinning ingredients used in rat poison.
Just two days after Young's exposé in the Post of Washington's litter problem associated with marijuana, Samantha Schmidt reported in "The Washington Post" of so many overdoses – "people passed out, vomiting, convulsing — that emergency workers (literally) could hardly sprint fast enough to keep up."
Sometimes including "a synthetic opioid that's roughly 50 times more potent than heroin," K2 – or "fake marijuana" – can be purchased for as little as $2.
The law of unintended consequences (pot is popularized but with the influence of pernicious perpetrators more interested in profit than people, pot products clog storm drains even while draining consumers literally of life), is also illustrated when those getting high take to the highways.
The Washington Traffic Safety Commission (WTSC) said that "drivers under the influence of alcohol, marijuana and other drugs are involved in almost half of all traffic deaths in Washington, and that in 2017, 250 were killed in such accidents."
Undesirable outcomes – akin to the wry, witty warning of Murphy's Law were it not so serious – happen, more often than not, every time the following are not taken into account: "perverse incentives, human stupidity, self-deception, and human nature."
Take gambling as another example.
In the 2008 gambit to ban gambling in Lakewood, Washington, supporters of the convenience of local casinos on – at that time – five different corners of the city said that if casinos were shown the door, "everyone will have to pay $1,500 in extra real estate taxes to make up the difference."
The Tacoma News Tribune reported in its October 3, 2007 edition (B1) that Lakewood City leaders "would have to cut 25 police officers" if gambling revenue went away.
But now – or soon, with the opening of Vegas I-5 just in time for Christmas, 2019 – the fears above might become reality.
The Puyallup Tribe's $370 million new mega casino will include 110,000 square feet of gambling tables, slot machines, and other money-sucking venues inside a 310,000 square foot building.
A 2,000-seat event center; buffet and upscale restaurants, one with a view of Mt. Rainier; two sports bars; 3,500 video gaming machines and this "hulking presence along the freeway", "a jewel along I-5", "will rival in size the other casinos in the state."
And, by December of 2020, add another $65 million for an attached hotel with spa, conference rooms, of a 3.5-4-star caliber boasting 150-200 rooms.
Vegas I-5 will be "a landmark, like the Narrows Bridge and the Tacoma Dome."
"You hate to say gaming is going to identify Tacoma," said general manager Frank Wright. "But gaming will identify Tacoma."
The plan of course is to capture travelers but also to entice an ever-increasing Puget Sound population.
Like Lakewood's.
"In recent years, many card rooms have closed, and more are afraid that the power of Indian gaming will simply overwhelm them. For instance, the Cowlitz Indian Tribe is planning to open a new resort near La Center, which is currently home to three successful card room operations – including The Palace, one of the most profitable rooms in the state. Owners are worried that customers will flock to the new casino, while town officials worry about reduced revenues, as taxes from the rooms make up the majority of their budget."
Update: As of March 2017, one of those three card rooms in La Center is gone, blaming its departure on the Cowlitz Tribe's ilani casino which opened one month later. Though the New Phoenix Casino had been open since 1992, it is no more, not able to compete with the 100,000 square feet of gambling floor space intended to draw 4.5 million gamblers annually.
Chips had already closed. Once there were four. Now there are two.
In a 45-page report concerning the influence upon La Center of the ilani, officials predicted a 66-percent drop in gaming taxes paid to the city.
"The biggest impact the opening of a new casino will have is on other casinos," say gaming experts who project one-half of the new casino's revenue coming from existing customers who now frequent other casinos."
"The pool of gamblers isn't likely to increase that much, so it's the same people splitting their money at different casinos."
It's survival of the fittest.
Will the Loyal of Lakewood (lol) prove to be an exception to the trend?
Will Lakewood's non-tribal card rooms once again beseech the legislature to allow slots to even the playing field with the tribes?
Will your call to the police be prioritized for urgency should an understaffed department suffer the loss of local gambling tax revenue?
Will Lakewood change it's vote on marijuana to allow local sales to make up the shortfall?
Do undesirable outcomes – unintended consequences – occur when "perverse incentives, human stupidity, self-deception, and human nature" are not considered?