Submitted by Don Doman.
Can you think of a better location for a nursery than the rich, bountiful, beautiful Puyallup Valley? Can you think of a better place for a Café serving fresh ingredients, than in a nursery in the Puyallup Valley? I fought it until my wife Peggy asked me to take her to Anton's Café, located in Watson's Greenhouse and Nursery on Pioneer Way (6211 Pioneer Way E, Puyallup, WA 98371) on the floor of the Puyallup Valley. Always listen to wives. We walked past plants, Buddha fountains, household decorative objects d'art and more before we saw the welcoming open Café.
It was an August day around noon and I just knew I was going to roast. Instead I got spritzed. Far above us, a constant mist saved us from the heat. Although sometimes you can feel a light touch of vapor, I never saw it on my arm . . . it was lovely, though. We walked into the Café and made a bee-line to the glass case filled with desserts. I knew we would be buying at least one. We chose a table far from the entrance. Soon Peg ordered water and I ordered a small Watermelon Italian Soda. I chose wrong. I should have ordered the larger version. It was wonderful.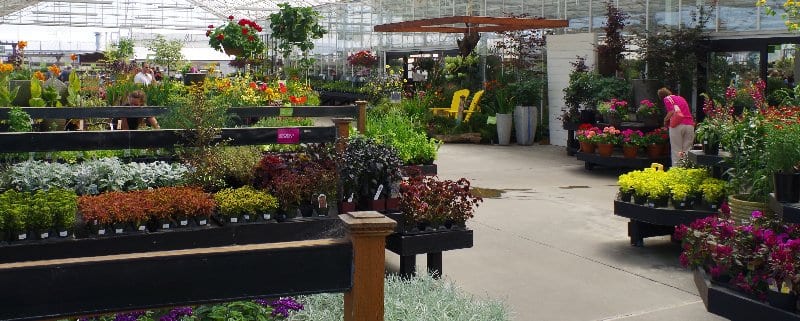 Peg ordered the Quiche Lorraine with a Caesar salad . . . and a piece of pineapple-coconut layer cake. The quiche was excellent. The custard stood up nicely and the crust was melt-in-your-mouth. At my favorite restaurants I always order their signature salad, but everywhere else I order the Caesar, which Peg doesn't usually order, so I had quite a bit of the salad, but was careful to save the croûtons, which she loves, for Peg.
I had the cherry from the pineapple-coconut layer cake and several bites of frosting. Peg loves cake, so between the two of us, we can usually make short work of any dessert that features layers. In the glass case there were numerous slices of various cakes. I'm pretty sure we will be having a second date involving cake and Anton's Café.
I ordered the BLT Club Croissant, which was served with a small slice of watermelon to echo the color and flavor of my Italian soda. I chose a cup of clam chowder to accompany my lunch. The chowder had a distinctive flavor beyond clams and bacon . . . basil perhaps. My croissant was excellent. There was plenty of bacon and turkey as well as tomato and lettuce. There was nothing served for lunch that I would rate less than a nine or ten . . . and it was such a nice day . . . we enjoyed looking at the plants . . . I give the whole experience a ten, nay . . . a ten plus!