Submitted by Joe Boyle.
READER COURTESY NOTE: If you have at least an 8th-grade education, it should take you 1 minute and 28 seconds to read today's, Westside Story.
Readers from all over the United States have asked a prominent burning question. What happened to Joe Boyle? We have not read any Westside Story articles since May 22, 2018.
If you think about it, there are several possible answers to this probing question.
If you will allow me to slip into the third person writing style I will share some of the possibilities.
Joe may have moved to an exotic location and has now replaced his Westside Story, with a new article titled Tahiti Story.
Joe may be serving 10 to 15 years of hard prison time for having embezzled $27.32 from The Suburban Times employee coffee fund.
Joe may have pretended he was Evil Knievel.
Joe may have been caught in the clutches of the Grim Reaper a third time since having retired April Fools' Day 2013.
If you guessed answers 3 and 4, you are close to the truth.
How many people do you know who have ridden a BMW motorcycle to the Arctic Ocean? If you know Joe, you know at least one guy who rode a BMW motorcycle to the Arctic Ocean. That in itself might well make you happy to be able to say you know Joe Boyle.
The good news is Joe successfully made it to the Arctic Ocean and now has coffee shop bragging rights because he accomplished what might seem impossible.
The problem is on his return trip, Joe hit some one-inch ball bearing gravel and flew over his handlebars like he was Evil Knievel.
Joe's death-defying crash resulted in a four-day coma, broken bones to his left eye socket, left cheekbone, broken pointer finger, and broken right wrist along with a traumatic brain injury.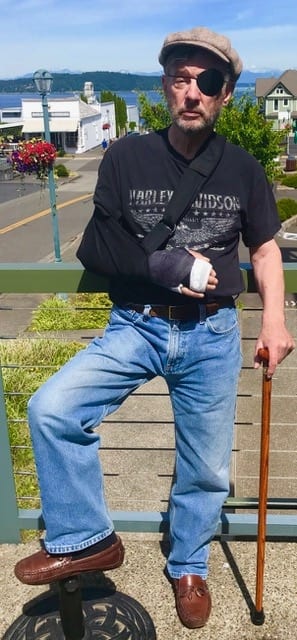 Joe soon discovered trying to type Westside Story articles with only a left-hand quickly creates a story backlog.
Now that you know Joe was on an Alaska motorcycle vacation ride and suffered a high-speed crash which put him into the hospital for 11 days you can conclude why there have not been any Westside Story articles published recently.
To return to writing Westside Story on a regular basis, Joe has started to experiment with laptop verbal dictation.
If you are interested in learning more details about Joe's Alaska adventure, look for his forthcoming article titled Westside Story – Almost Dead in Deadhorse Alaska.
Almost Dead In Deadhorse, Alaska may remind you of that old TV show, The Twilight Zone hosted by Rod Sterling.