Submitted by David Anderson.
Is citizenship determined by satisfactorily completing Form I-90, N-400, N-565, I-765, etc., paperwork seemingly without end?
Or is citizenship about something else?
We live in a community – a one-square mile community – that is quite poor, sometimes called the poorest square mile in all the county.
And yet, there are gated communities within this community whose residents have waterfront views, waterfront access, and pay property taxes accordingly.
With automated, voice-activated, gates.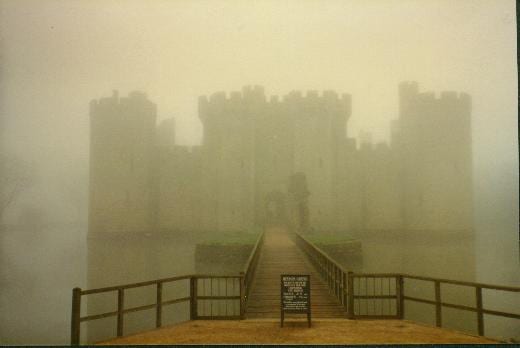 Would the removal of those dividers that separate the higher-end homes from the rest of the community create a more interconnected and diverse neighborhood?
Would disallowing the gating of private roads reduce socioeconomic divisiveness?
Is it the walls, the fences, the gates, the locks, the doors, or, for that matter, the draw-bridges, the alligator-infested moats, 'this-property-protected-by-surveillance' threatening signs indicating high-resolution screens are being monitored 24/7 thanks to remote-viewing Internet capability – is this what keeps us from connecting?
Is it the trailered communities with porches in need of repair surrounded by graffitied- and-foreboding fences with beware-the-dog signs warning that the bared-fanged snarling-creature pictured 'can reach the fence in 1.9 seconds, can you?' – does that define who lives inside?
No.
And no.
'That's the rumor,' the fellow smiled who answered my knock at his door.
Was he aware, I wanted to know, that to hear the words 'Access Granted' causing his wrought-iron gate to magically swing open, he first had to pass through "the rest of the community" to get there?
And to be so privileged to live as he did that he also had the responsibility – and the privilege – to lend whatever skills, gifts, talents and abilities he had to benefit the community through which he quickly passed?
For that matter, do those subsisting on impoverished lots, in darkened hovels of humanity, have likewise a role to play, possessing as they do skills, gifts, talents and abilities, in the community in which they live?
Yes.
And yes.
I had no sooner reached this point on paper in my musings this morning than walking in the door was a gentleman whose name I would learn is Michael Stegman. For whatever reason he was here, and was as quickly gone, he rattled off from memory something he said he'd written for his high school yearbook upon graduation 36 years ago, which he entitled "A Timeless Thought Within Our Reach":
"It's all in the time,
And how hard I work,
To face life's challenges
To stay alert.
"For the good and reward
That I may find,
To be unique, unusual,
One of a kind.
"For if I don't learn
To independently think,
The world may go by me
In a meaningless blink.
"So, I'll continue my search
To look, find and see,
That special individual
Inside of me."
And what if I never find me? Then what will be the chances I'll have contributed to my community?
If either of the folks described here – the well-to-do and the not-so-much – both to be found in Any City, USA – if either never left his neighborhood, how many would know either was even here?
Regardless of where we live, the more important question is how will we live? What will be our contribution? For that matter, what kind of man or woman or youth is qualified to be a citizen of the most holy of hills – heaven itself, not as in earning a place but as a participant who rightly values his citizenship in such esteemed company?
Interestingly, and perhaps ironically, the answer has nothing – as in nothing – to do with the kind of religious language we might expect, but rather everything – as in everything – to do with how we view, and thus how we treat, and thus how involved we are in, the lives of others.
That's citizenship.