Submitted by Susanne Bacon
Hot summer days in my German 70s childhood are connected with the taste of juicy, tangy peaches and – ice cream. I will never forget the cold strawberry taste on Sunday afternoons when my parents took my brother and me for walks, usually dipping into a tiny corner pub just to buy popsicles. What bliss to get one of those 25-Pfennig-delicacies! Or the fun of making popsicles at home, pouring orange juice into molds and freezing them. I remember bugging my mom for hours about when they would be ready – and the joy of sucking the cold sweetness out of the fragile ice block, while my little hands became all sticky.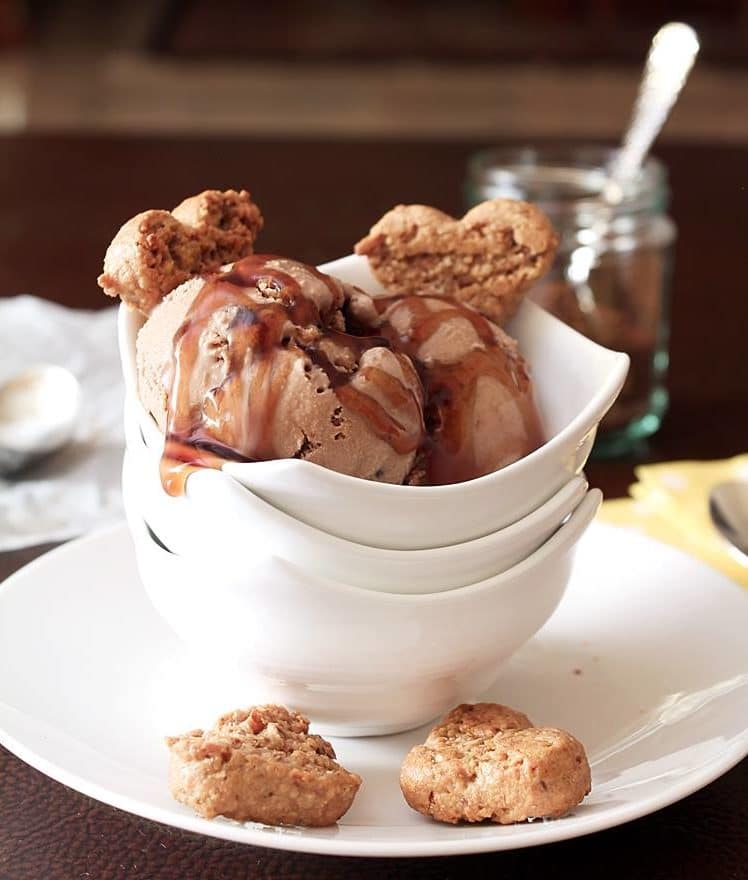 Later, I spent some of my pocket money on popsicles called Capri, or Miami, or Dolomiti, all of them sorbets. Until I stopped having popsicles at all and fell for ice coffee (the German kind with vanilla ice cream and whipped cream). In the end, I stopped eating ice cream almost at all, but enjoyed a few binges of eating up to eight Italian-café-sized scoops of all different kinds of colors and flavors at one time. Boy, I was cold after that!
Funny enough, I never thought I'd ever run an ice cream place myself, one day. Or better – an ice cream social. I guess, ice cream socials are specifically American thing, and mine was at the 4th July at the start of my second year after I came over here. Actually, I was quite surprised when the Steilacoom Historical Museum director – with whom I worked as an office manager and docent at the time – asked me to chair the event. I was flattered big-time. An immigrant chairing one of the museum events on the national holiday?! I also was scared big-time. What if I messed up?
I started out with creating to-do-lists with a time line. I actually got myself a food worker license for Washington State. Then I called in my board, among them a very cheerful lady who turned out to be not just super-efficient, but also the one who would keep smiling through the toughest of heat and business on the day. We had about three meetings resulting in more lists. We went doing groceries and storing away things in the museum's freezers. I made dozens of phone calls to people who had signed up to help with the ice cream social and would show, to people who had signed up only to withdraw, and to people I knew, but who hadn't signed up and were game. At nights I felt butterflies in my tummy growing to the size of dolphins, almost making me sick by the time 4th July actually came.
I woke to a cloudless day, the hottest of that whole year. I grabbed some last-minute-requisites, and off I went through our sleepy small-town that was just slowly waking up. The newly re-opened corner café at one of the main crossings had already set out their garden furniture and put up umbrellas, the pub people across were setting up a stage and long beer tables, further on the non-denominational church people were setting up their decorations. All of a sudden, I felt so much more part of this national holiday!
Long story short: We had the best 4th July Ice Cream Social in the museum's history by then. Not only did it stay hot. The patio with its tent, chairs, and tables was crowded with people. Even the museum's lawn became part of the event. People showed up in fancy costumes – one lady was dressed up as Lady Liberty herself! There were lines around the block, even though my ice cream teams were selling tickets, scraping scoops, decorating sundaes, and filling up root beer floats as if their life counted upon it. All day long more people showed up to volunteer if needed, people I knew I could rely on. The parade went past the museum, and I could only catch glimpses from the point of coordination. I was bustling around the grounds for ten hours without realizing it. Not a single health inspector showed up, but – oh! – my teams were adamant about keeping up standards. And we were clean sold out of ice cream and root beer half an hour before closing time.
Only hours later – after I had helped clean up, done the books, cooked dinner, and walked down to the harbor to watch the fireworks – did I find that I had missed out on one essential thing that Independence Day. In the glory of rockets bursting in air and coloring the smooth water in the Sound with their brilliant reflections, I realized I had not had a single scoop of ice cream myself!