In general the drama Macbeth takes place in Scotland centuries ago . . . in this version the setting is a dystopian reality where World War I never finished.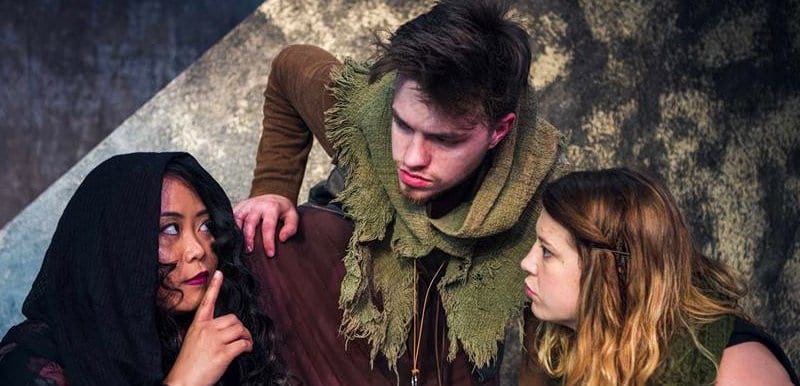 The house lights go down and the stage lights go up . . . and seconds later the stage is littered with writhing and twisting bodies amidst explosions of mustard gas.
Three witches meet and share their thoughts and warnings. What's interesting about this production is blurred gender roles. We have a male witch and warriors are both male and female.
The story:
Macbeth is a brave and loyal Thane to King Duncan. After hearing a prophecy that he will become king himself, Macbeth is overcome by ambition and greed. Bolstered by the prophecy and his wife's encouragement, he kills King Duncan and takes the throne. Afterward, Macbeth's guilt, fear, and paranoia lead him to commit even more murders to secure his power. His confidence in the prophecies eventually leads to his downfall and he is overthrown and killed by those he has wronged.
The play is well acted and well directed (pug Bujeaud), but if you are not up on your Shakespearean delivery, you may want to review some of the quotes below.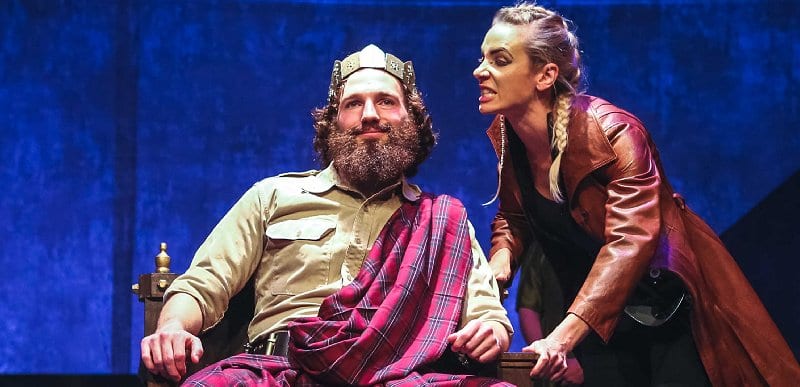 The play told in famous quotations:
"Fair is foul, and foul is fair". – (Act I, Scene I)
"When shall we three meet again in thunder, lightning, or in rain? When the hurlyburly 's done,
When the battle 's lost and won". – (Act I, Scene I).
"Look like the innocent flower, but be the serpent under 't." – (Act I, Scene V)
"Yet do I fear thy nature; It is too full o' the milk of human kindness." – (Act I, Scene V)
"I have no spur to prick the sides of my intent, but only vaulting ambition, which o'erleaps itself, and falls on the other." – (Act I, Scene VII)
"Is this a dagger which I see before me, The handle toward my hand?" – (Act II, Scene I)
"There's daggers in men's smiles". – (Act II, Scene III)
"What's done is done". – (Act III, Scene II)
"Double, double toil and trouble; Fire burn, and cauldron bubble." – (Act IV, Scene I)
"Out, damned spot! out, I say!" – (Act V, Scene I)
"All the perfumes of Arabia will not sweeten this little hand." – (Act V, Scene I)
"Out, out, brief candle! Life's but a walking shadow, a poor player that struts and frets his hour upon the stage and then is heard no more: it is a tale told by an idiot, full of sound and fury, signifying nothing." – (Act V, Scene V)
"I bear a charmed life". – (Act V, Scene VIII)
The production:
A prophecy discloses that Macbeth will become king, but the reality is that Lady Macbeth is the agent of change. Dylan Twiner as Macbeth and Kathryn Philbrook give commanding performances. The bloody hands were a nice touch. Costumes throughout were well-thought out and fit the tone . . . and action.
Power changes a person. They hold god-like powers for people in their own little world. Banquo's hour's are numbered. Once he is king, Macbeth sees Banquo not as a friend any more, but as a threat.
Worries about his future are unsettling to Macbeth. He must have answers. He is less a leader . . . less and man than he once was. Where he once left things to chance, now he wants to control his future. Promises and pledges . . . incantations and wishful thinking. Seeking assurance King Macbeth searches for confidence and meaning.
To Macbeth the prophecies seem to say he is unstoppable, but no . . . there is only one man who can stop him. Macduff holds the secret and delivers it to the hilt.
The fight scenes and misdirection and the action of ghosts was excellent. Dances are choreographed with movements and interaction. This is doubly important in fight scenes with people swinging swords and bashing of shields. If the movements of the fighters don't look realistic you lose the audience. In the days of Shakespeare when people wore swords and daggers fight scenes had to look real. The only thing missing from this production was blood. In 1606, the year Macbeth was written competition between theaters was fierce. "The better the plays and the more dramatic the special effects resulted in bigger audiences and greater profits. The Elizabethan audience must have looked at the brightly decorated Globe Theatre in awe – but the special effects would have held a far greater impact. Bladders filled with the blood of animals such as sheep or bulls were concealed beneath the actor's costumes which could be pierced by the points of daggers or swords used in stage fights, or just a thump to the chest could produce a gruesome death scene." – http://www.william-shakespeare.info
Macbeth plays Fridays & Saturdays at 7:30pm, Sundays at 2:00pm – through June 17th. Get your tickets at https://www.tix4.centerstageticketing.com/sites/tacomalittletheatre/showdates.php?s_id=184
Photos courtesy of Dennis K Photography