The outboard engine idled smoothly, quietly, barely above a whisper.
Water circulation was instantaneous with the turn of the key, the handy visual spray squirting jet-like from the housing indicating all was good in the cooling department.
All hands were on deck, picnic table with umbrella ready to be unfurled; pre-rigged fishing poles inserted in the rail mounted sleeves; fishing net: check; ice-chest: check; happy, smiling faces of family members seated and life-jacketed (those under 12): check.
The sun was shining, the sky was blue, the water too.
The boat just didn't go anywhere.
Pushing the throttle handle forward the motor just roared. Ditto in reverse.
Plenty of potential, just no directional capability.
The problem?
Part Number 3C8-63733-0, a keeper, also known as a rod snap.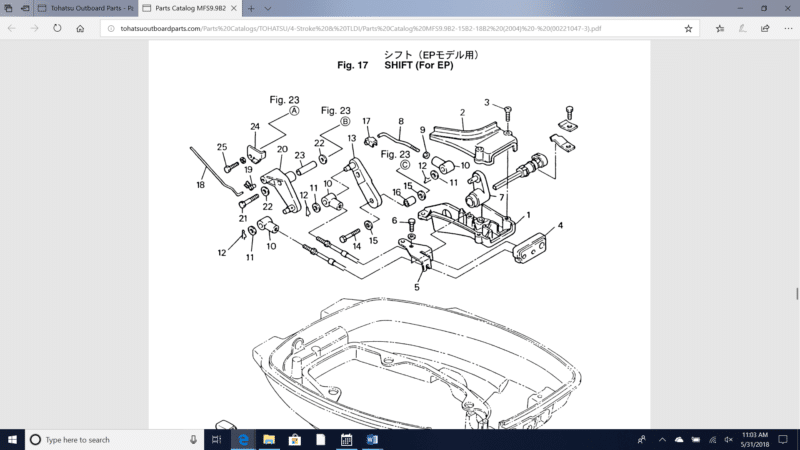 The friendly dealer guy said the rod snap was readily available.
For $1.00 (one dollar).
For lack of a one-dollar rod snap, the outboard's internal shifting mechanism would not recognize the action of the boat's captain (husband and father) at the wheel.
For lack of a simple plastic part which served to keep the Shift Lever Rod connected to the Shift Arm Remote Control which in turn was linked with the cables running to the console where clearly spelled out were the designations for Neutral, Forward and Reverse, nothing happened.
And a fun outing on the water wasn't going to happen either.
The engine, purring along happily, just sat there.
The family, no longer as happy as they had hoped to be, just sat there.
And with regards homelessness, while at risk of oversimplifying what so many are declaring is a crisis of growing proportions given the litany of 'missing parts' (the reasons for, and means by which to solve, homelessness appears to be as variegated – to mix metaphors – as the colors and patterns of a kaleidoscope, all while millions upon millions of dollars are spent on these alleged missing parts), what appears to be singularly absent is certainly not compassion (that's what's costing all the money), but rather confrontation.
Without which – confrontation – we will, figuratively speaking, allow the homeless to just sit there, whether it is 'sit there' in forested backwoods tarps and tents of their choosing; or sit there in a forest of "tiny home-encampments" tacked here – and taxed there – by government's choosing.
If we had explored the exploded view of the component parts that make this thing perform like it should; if, rather than haul off in frustration this knuckle-busting piece of work to the experts where we'll pay big bucks to fix what might have been embarrassingly simple; if we had only taken the time to confront the primary problem rather than throw money at all manner of solutions, chances are we who are onboard – and they, the homeless who need to get on board, as in with-the-program – will get on with it sooner, and cheaper, than not.
We should care. But we should care enough to confront.
Even as Seattle's Mayor Jenny Durkan prepares to spend another $6.3 million "to create about 500 new beds in basic and enhanced shelters, as well as more tiny-home encampments" – this in addition to $45?million "generated by a controversial new tax on large businesses" which mega-millions Durkan and the City Council have not yet decided how to spend in addressing homelessness – Pierce County appears to have embarked on a somewhat divergent path.
"City rules," in Seattle, "require shelter and services to be offered first," before "unsanctioned tent camps – estimated at 400 citywide – are removed and cleaned up."
The Pierce County Sheriff's Department (PCSD), on the other hand, offered – in a recently completed exorcise (purposeful) – an encampment of at least 30 adult individuals trespassing on 15 wooded acres the choice of either a job or jail.
"Homeless outreach teams offered the encampment residents access to housing and drug treatment, including specialized services for those that identified themselves as veterans."
Laborworks, whose business parking lot bordered that of the wooded enclave, "offered to put 15 of the inhabitants to work each day."
Per the PCSD, not one accepted their offer of job placement.
Not one accepted the services that were offered.
What the homeless did do however was create "90 calls for service" (in 2017) "at just one of the stores" (bordering the homeless encampment) "for crimes including shoplifting, vehicle prowls, loitering/panhandling, littering, trespassing, people sleeping in cars, dumped vehicles, and people urinating on sidewalks.
"Over 300 man hours were required to remove 35 tons of solid waste from the properties – including human feces, shopping carts stolen from local businesses, and eight 1-gallon size containers full of hypodermic needles."
Nowhere, however, was there found among the vagrants, the trespassers, the homeless a rod snap, a keeper, that small piece that holds in place the backbone, the spine, the rod that connects everything else to enable the machinery of life to operate like it's supposed to:
Work.