Submitted by Susanne Bacon
What is it with German-Americans and their love for white asparagus? We keep craving it especially during spring time. We do a dance of joy as soon as we spot some in a supermarket. We talk about it on Facebook when we have found some, and all our German-American friends go "OMG, where?! Got to get some!" Whereas most of my American friends wonder what white asparagus is, what you do with it, and how it tastes.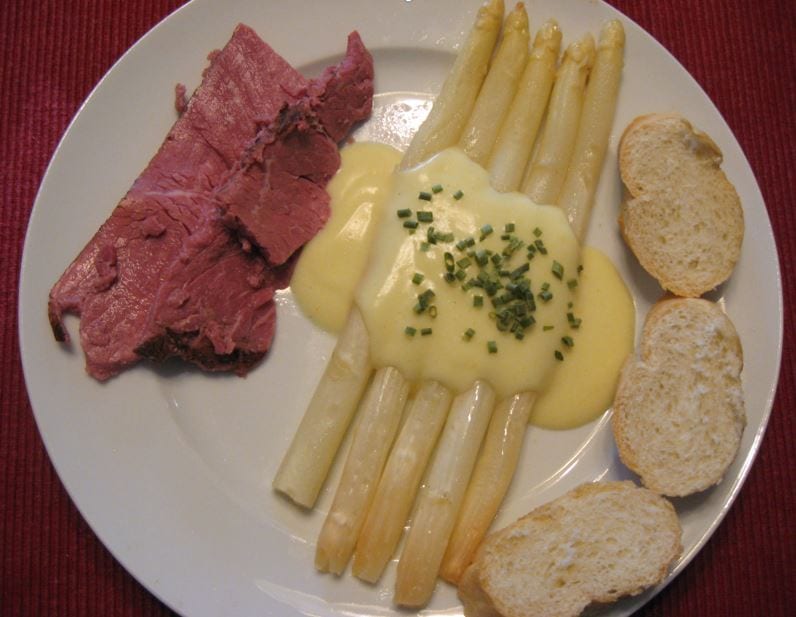 I grew up with a German adage that went along the lines that if you wanted to be highly esteemed, you'd have to make yourself rare. Maybe that is one of the secrets of white asparagus. You don't get it all year long. Its season in Europe is limited from March (in the Mediterranean areas) to early June, whereas green asparagus is available all year long. German white asparagus is harvested only from mid-April through early June. And trust me, it's a delicacy.
But what lends it such status? First of all, not every kind of soil is suitable for growing white asparagus. It needs to be rich and sandy at the same time, making regions like the Rhine valley perfect growing lands. Only the subterranean sprouts are harvested. That's why the stems stay white, sometimes with a touch of purple to their tips, whereas green asparagus has grown out of the earth. You may have guessed already – white asparagus is way juicier and tenderer than its full-grown green version.
Romans had introduced white asparagus to Germania, but with their return to Italy the knowledge of the veggie became extinct. Only in the 16th century white asparagus was rediscovered. A vegetable that grew only in specific areas and was harvested from underground, stem by stem with a knife – such hard-gained produce had to be a dish on aristocratic and very rich people's tables only. Even today white asparagus has its price – a pound of the German variety can cost up to 12 dollars decimal pound at the beginning of the season. The white asparagus we sometimes find here in Western Washington is mostly from Peru, it seems, and not as tender and juicy as what I am used to. But it is not as pricey either and flavor-wise still the real deal.
These days, Germany is white asparagus crazy. There are entire white asparagus menus at restaurants. It usually gets served by the decimal pound. People buy it by the kilogram on Farmers markets, in supermarkets, fresh from the farm. There are countless white asparagus recipes on websites on the internet. And I have found myself checking the produce sections of farmers markets and supermarkets over here for the white delicacy as well – so far in vain.
So, how do you prep these stems? Cut off the cut ends by half an inch or more. You don't want the dry, maybe woodsy ends on your plate. Then you use a knife or potato peeler to carefully and thinly shave the stems. It doesn't matter whether you cook the stems in one piece or cut them up so they fit into your pot. I usually put in a quarter stick of butter per pound and sprinkle the asparagus with a tad of sugar and a tad of salt. I also like to add a bit of tarragon to the dish. Add some water so the asparagus doesn't burn. Then stew gently for five to ten minutes, depending on the thickness of the stems. Boiled jacked potatoes make a perfect companion for white asparagus. And then just let your imagination roll. Have it the vegetarian way – it's perfect. Add a few slices of ham – great. Sauce Hollandaise? A classic. Add Schnitzel or salmon – you will be delighted, too.
As to the peels and ends, you can create a fantastic broth from them. Just simmer them in a bit of salted water, then sieve the broth into a different pot. Bind the broth with a bit of flour or potato starch dissolved in cold water and add a bit of sour cream. Season with a pinch of butter, pepper, and ground nutmeg. Asparagus cream soup is a delicious appetizer. And that way you have made use of the peels as well. No waste, no want.
Ah, white asparagus… I wonder why it seemingly isn't grown on local farms in Western Washington. Maybe we don't have the soil to do so. Maybe it's simply not known to farmers well enough. I'm pretty sure that German-Americans would rip the good stuff out of their hands … Well, maybe next year?