Submitted by Susanne Bacon
If on April 30 you find any of your German co-workers or friends a little restless, it might be because it's that time of the year. In Germany, they are celebrating Walpurgisnacht (pronounce vul-'poor-geese-nuht) and May Day big time … and here there is none of this. Unless you are living in an area where German traditions are highly upheld. My guess is – not so much in Western Washington.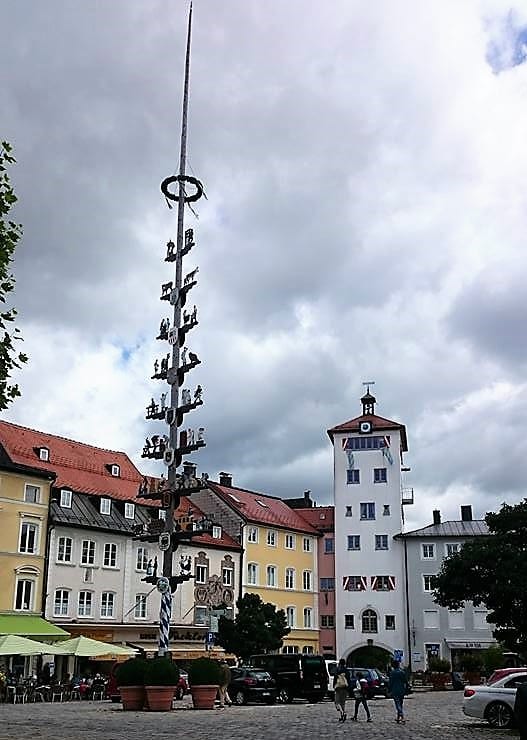 Back in the day, in my last German place I lived at, I used to participate in raising the May pole next to our suburb's townhall. It was a long debranched fir or spruce trunk, decorated with all the trades' symbols on the top and a beribboned wreath finishing off the colorful display. The fire department brought the tree along, and each year it was a breathtaking spectacle to watch, because the angles between adjacent houses it had to conquer until it was locked into its slot in the cobble stones demanded more than a few taxiing skills of the engine driver. The audience usually helped by pulling the ropes until the tree was up and safe.
After that, a tiny fair was opened – stands with regional specialties and all kinds of beverages as well as a beer garden for everybody. No age limits. Children chewing down on fries and burgers next to adults eating their steaks and having a glass of wine or beer. Usually there was an oompah band or a DJ, and people were dancing in the street until late night.
May Day is a bank holiday in Germany, also called Labor Day. Unionists use it for their demonstrations. The rest of the German population celebrates what is felt as the real beginning of spring. With hiking tours, sitting outside in beer gardens, having a glass of May punch, an intriguing mixture of sweet woodruff and bubbly.
Only a minority sticks to the darker roots May Day is associated with. Walpurgisnacht is a night when allegedly the witches are riding to the Blocksberg (which is a real mountain in the Harz region). Indeed, some people celebrate at the Blocksberg itself. Others wreak mischief such as unhinging garden gates or moving your patio furniture to the weirdest locations. It's not about destroying or stealing, it's about playing a prank on somebody. Still, you want to be safe the night of April 30, you better turn everything moveable inside.
There is another custom during that night – planting a tiny May tree or pole into your secret love's vicinity and thereby declaring that she is cherished. It ought to have happened to a school friend of mine once, and she found out only a day after May Day. Her audacious admirer had climbed the second floor of an apartment house somehow and planted a bedecked birch shrub onto the balcony he had entered. It happened that the balcony belonged to an elderly lady who was enchanted that somebody had actually paid her tribute in such a way.
Ah, Walpurgisnacht and May Day – I feel myself getting itchy to join one of those May pole raisings once more and mix with the crowds, to sit next to a total stranger, listening to dreadful oompah music just because it's the thing to do. To chew away on a Swabian flatbread and have a glass of regional Trollinger wine. To dance to songs from the 80s once the stars are out.
I remember walking back home on such nights, elated and yet anticipating havoc. And waking the next morning to what felt to be real spring, finally, even if it was pouring or cold. Somehow, the old Germanic heathen spirit might still lurk in me, I guess … if only for this tiny wrinkle in time.