While my young nephew visited one afternoon he mentioned wanting to write secret notes. I didn't want to delve into his needs for secret notes, and so I changed the subject. But thinking it over since then, I plan to give him a couple of crossword puzzle books for his birthday. Although often in trouble at school, he supposedly does well with numbers and math. His conversation reminded me of a scene in the feature film, "The Imitation Game," based on the life of Alan Turing, the inventor of the modern computer at Bletchley Park during World War II.
As a young teenager Turing and a friend would exchange coded messages (cyphers). As an adult, Turing worked at Bletchley Park, the home of the top secret operation that broke the Enigma Code of Germany, which was used to communicate within German military operations. Some members of the scientific team at Bletchley Park were selected because they did well in a crossword-solving competition.
Jacob may not become a mathematician, but sometimes his actions are an enigma. He just might enjoy crossword puzzles, however. My wife, Peggy and I do. The first crossword puzzle was published December 21, 1913 in a Sunday newspaper, the New York World. Within a few years crosswords were all the rage.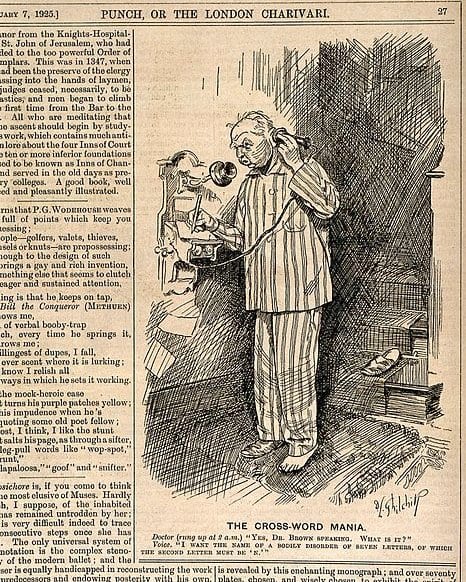 Peggy and I like to start off each morning at the breakfast table working on the crossword puzzle in the News Tribune. It's the main reason for our subscription. We receive both the Tribune and the Seattle Times most mornings. I'm always up well before Peg. I go through the paper drawing red stars on articles she might enjoy and then I begin the puzzle . . . and try to leave enough for her to work on by herself, but we really enjoy working on it together. My cousin Lindy was in town recently for a family wedding and we sat and chatted over coffee and she noted puzzles on the breakfast table from previous days. It turns out she loves them, too. She began working on them when her mom was hospitalized. Lindy would work on puzzles, while waiting to see her mother, Virginia, my mother's twin sister. She confessed to having puzzles squirreled away in-between towels and washcloths in the her bathroom.
Crossword puzzles on the breakfast table from previous days.
I think the main reason I like crosswords puzzles in that the clues themselves are quite often puns. Your mind latches onto a word and a meaning, but the meaning and the usage often are completely different than you thought of originally, so like a pun there is a flipping of reality and perception. I love it . . . and so do other.