Submitted by Susanne Bacon
I grew up on exactly one candy a day as a little child. None if I hadn't behaved. It was not tough. It was what I was used to. Christmas, Easter, and birthdays therefore meant something extraordinary for their mere abundance of sugar treats. And some very rare days I would receive ten Pfennigs as a four-or-five-year-old to walk to the mom-and-pop grocery store in our street to figure how much I could get with it.
Breakfast was German rye bread (by the way, not the American version with caraway seeds that is sold as German) with a spread of butter and home-made jam and a cup or two of hot cocoa. Fridays, my mother baked cake for the weekend. Every once in a while, we had German pancakes, crêpes a little thicker than the French variety, spread with sugar and with a compote on the side. And when we went out – which only happened very rarely – one glass of sweet soda was pretty much the limit (free refills were unheard of in European gastronomy). That was pretty much all the sugar my mother would permit us children to have. Apart from all the seasonal fresh fruit we ate.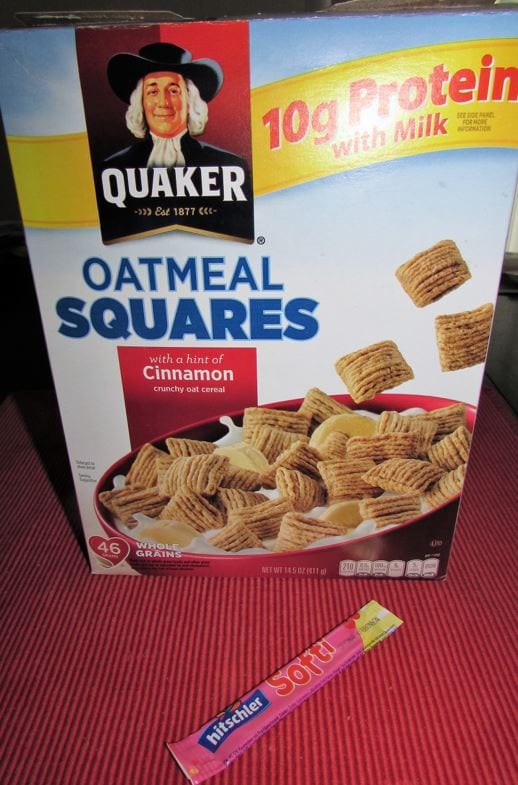 Coming to the US my very first time as a teenager, I was thrown by the variety of sugared cereals that each and every household seemed to keep around – even with colorful marshmallows, oh my! As a teenager, I enjoyed it, of course. Today, I keep it to oatmeal and yoghurt again, maybe with a spoon of jam or some fresh fruit. Rather a savory open sandwich, though. But sugary cereal for me is simply … too sweet. I guess that my body was given an imprint in my childhood as to how much sweetness it can stand. And it isn't very much. You will find that a lot of Mid and Northern European visitors and/or immigrants of my generation feel the same way.
These days, as places in the US raise a tax on sugared sodas to whatever purpose they claim, I still find that a whole lot of sweetness is added to food items that for a German are quite unexpected. Just take a look at bread labels and see how much sugar or corn syrup is added to this staple. And I have had sandwiches where I simply winced about the bread's sweet flavor – it doesn't work for me at all, especially not when eating some savory topping. And, of course, there are the very obvious items as well: honey-glazed ham, maple syrup infused bacon, candied cranberries in salads, thick layers of icing on cakes. I instinctively abstain from these.
I sometimes wonder whether these are remainders of early pioneer day preservation methods, when salt was probably quite rare, but sugar – as in honey or maple syrup – available. For obvious reasons, pioneers would have to have traded for imported salt before greater resources became available through salt mines, Syracuse in New York probably being the oldest. You can only start mining once you are safely settled. In Europe, that tradition goes back to the medieval ages. Salt was that widely used for preservation that it actually is still reflected in the Swabian word "Gesälz" (pronounce guh-'zells), meaning "salted" and signifying jams. Originally it described anything salted down – interestingly it stuck with the least likely to have ever been preserved with salt: fruit!
Whether it is a matter of what we have gotten used to over the centuries, whether adding corn syrup to as many items as possible is in order to support the corn industry, or whether it is just a matter of very individual taste – I find it interesting, because the consumption of sugar in the US is simply striking compared to where I come from. And it is quite hard to evade eating it, unless you check each and every label for the contents.
I have started baking my own bread every once in a while. The German bakery here in Lakewood uses original recipes from overseas, too. Every once in a while, I buy American bread to console my husband's American taste buds. He compromises on my weird tastes a lot, too, as it is. I admit to having baked cupcakes and topped them with icing in the past. I won't pull a face or get picky when I am invited and there is sugary food on the table. But you will never find Ambrosia with marshmallows or Jell-O coming out of my kitchen. My taste buds seem to have made enough sweet memories back when – even with only one piece of candy a day.