My friend Jim picked me up for lunch at 11:30 am. We drove to the North Proctor area in Tacoma. We parked directly across the street in what appeared to be the only available parking spot. This was well before noon on a Friday morning in January. We walked across the street and entered the Waffle Stop (www.eatwafflestop.com). Condos and apartments tower over the street level restaurant. This is becoming a booming area in which to live.

The establishment was full. We put our names on the waiting list. When Jim and I were seated, about ten minutes later, it was at a two top (a small table), which was up against a half-wall dividing the center portion of the room. Alannah was our waitperson. Alannah is a variant of ALANA from the Irish Gaelic phrase "a leanbh" meaning "O child". She was friendly and pointed out the menu item "Wake N Waffle," when I was unable to find a plain or basic waffle dish with eggs and bacon. She also explained that their hashbrowns were shredded. I was relieved.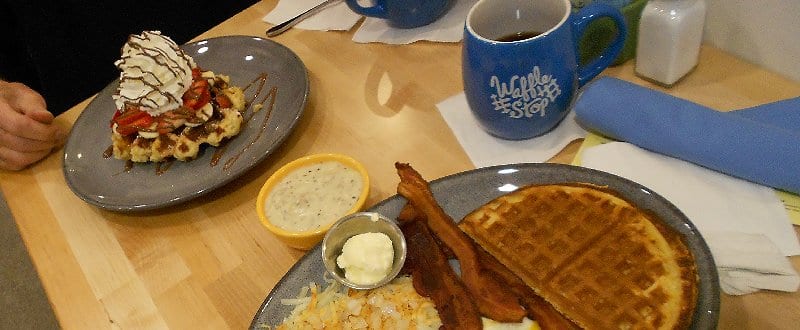 I ordered my basic first time breakfast order: hashbrowns (burnt, burnt, burnt was asked for and light brown/tan was delivered) with an onion cut up in them, and a cup of sausage gravy (very good!) along with the Wake N Waffle (over cooked) made with cornmeal. Two strips of bacon (over cooked) . . . eggs over easy (over cooked) . . . and coffee . . . with tip, just over $26.00 for one person! Jim ordered what looked like a waffle sundae. A Belgium waffle (very dry) with sliced strawberries and bananas . . . with a mountain of whipped cream . . . with tip just over $14.00. He ate it all. A friend, a past owner of a successful restaurant, had already peered though the windows before the Waffle Stop opened and noted that it was mostly set up for one or two people. The two top was basically a one top with a little more room . . . but not that much more.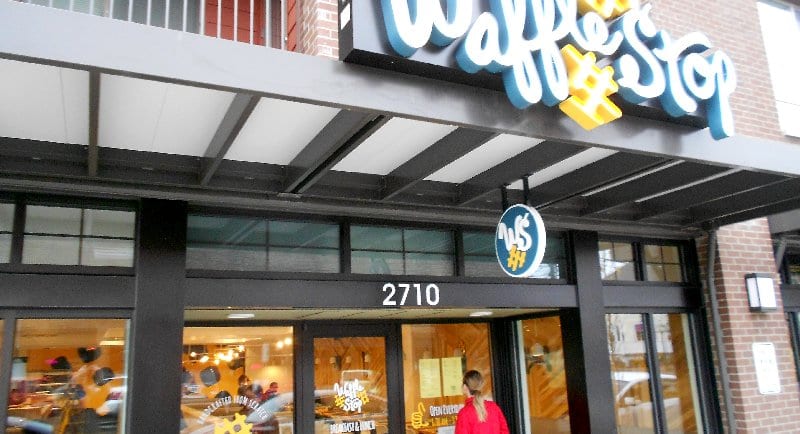 The owners and staff were all pleasant. They weren't operating at a full day speed, yet. With larger tables, more attention to the food and the menu they might survive. The prices were more than I expected. I know at least two places where I can get better waffles for less (and larger tables). I will return for another report in a month or two to see if they adjust and improve.