While I may be a nobody, under the protective umbrella of the First Amendment to our US Constitution, I have the inalienable right to give new names to stuff. This right is affectionately known as Freedom of Speech. A couple of paragraphs from now, I am going to exercise my First Amendment right.
Everyone reading this is probably familiar with that part of our Lakewood roadway system located where Gravelly Lake Drive SW makes a sharp bend between 112th Street SW and Nyanza Road SW. The bend is next to Clover Park High School and the old 1946 vintage Clover Park Shops. The maximum posted speed limit is 30 mph.
I am naming that old bend in the road The Clover Park Bend. The Clover Park Bend is a mildly catchy and memorable name. If enough of us start calling it The Clover Park Bend, then under the theory promoted by the book, The Tipping Point, the curve will become known, far and wide, as The Clover Park Bend. That bend has been there dating all the way back to when Gravelly Lake Drive was a gravel road eventually followed by the road becoming known for having the first Lakewood traffic light.
During my 48+ years in Lakewood I have driven fast sports cars with the top down, SUVs with the top up, sedans with all four doors closed, trucks with the tailgate up, and motorcycles with my hair blowing in the wind.
All of these vehicles and may I add a bicycle, have carried me through The Clover Park Bend hundreds, if not thousands of times.
I have reached top speeds of 20 mph while the school zone lights were activated and then in a much more daring fashion have pushed my speed up to 30 mph when the school zone was inactive.
Try as I might, I have never experienced the adrenaline pumping adventure of leaving the paved roadway, becoming airborne like Starsky and Hutch and smashing through the white brick wall that borders Gravelly Lake Drive.
At a top speed of 30 mph I just can't seem to smash that wall; not even once.
Others, whose judgment and driving skills are different from mine, can smash through the brick wall on a regular basis.
That makes me a bland and boring driver. The brick smashing drivers are the opposite of bland. We might call them adventure drivers.
Over the years, so many brick destroying car crashes have occurred we old-time Lakewood residents have lost count. One of the most recent collisions made it all the way past the front door welcome mat crashing to a stop inside the condo entry. He never even rang the doorbell.
As long as I am naming stuff, I might as well invent a new acronym for these brick wall smashing drivers. Does the acronym IDIOTS seem like a good fit?
I mpaired
D rivers
I nsist
O n
T ort
S peeding
In the lawyer's world, the word tort, which I choose to use as a part of my brand new acronym, means a wrongful act for which a civil liability action can be brought.
I know many might be offended by my acronym, IDIOTS. Here is the deal. If an impaired driver chooses to drive at 50 – 70+ mph in a 30 mph zone, lose control, cross three lanes of oncoming traffic, become airborne, drive across a pedestrian sidewalk, and smash through a brick wall, all the while putting lives in danger, than I get to call that driver anything I want.
Take a close look at the photos below. The Starsky and Hutch style driver was extremely lucky.
I know. I know. At first glance, the photo does not make the driver look lucky, but I say based on my life experience, the driver was extremely lucky.
Before you leap to the conclusion that I am cold-hearted and unfeeling about this impaired 22-year-old destroying his mother's car and everything in front of his hood ornament, let me explain.
The photos document a young man learning something the hard way. Of course, because I do not know the driver, I do not know if the driver learned anything. IDIOTS often repeat their mistakes over and over. Some IDIOTS just keep it up until they kill themselves or someone else.
Before moving on, think for a moment about all the people who might have been using the three lanes of oncoming traffic when the driver crossed at high speed before crashing into the wall.
The photos depict an equation which explains a chain of events and conditions demonstrating what happens when a 4,000+ pound vehicular weapon leaves the roadway.
EQUATION: Youth + Bravado + Inexperience + Poor judgement + Impaired driving which can include alcohol, marijuana, hard drugs, prescription drugs or any combination + speed (50 mph / 60 mph / 70 mph) in a 20 mph school zone / 30 mph standard zone = 1 car smash disaster.
My high school physics teacher, Mr. Prevost, would be able to scientifically prove that breakneck speed is the critical component that causes a vehicle to fly off the roadway in a curve. This driver violated the same laws of physics the train conductor recently violated when the Amtrak passenger train flew off the railroad tracks killing three people in DuPont.
A driver can't accomplish this kind of disaster at 20 – 30 mph because at that speed a car will stick to Gravelly Lake Drive like lint on a velcro watch band.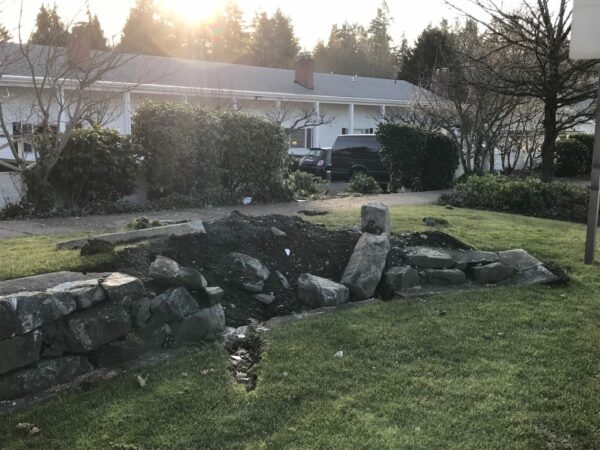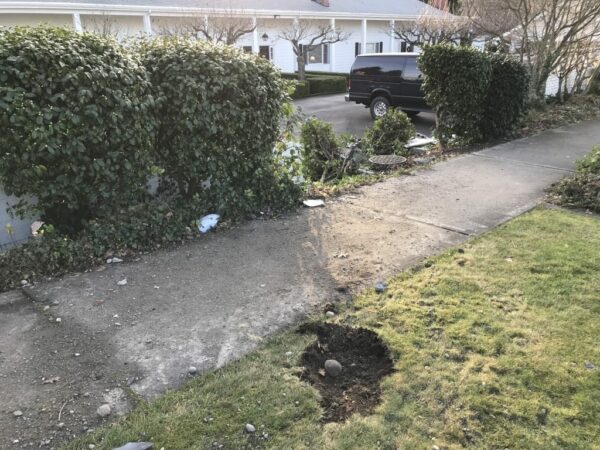 After all, I have written and pictured above; you should be asking, "How can I say the driver was lucky." He was lucky because he was not arrested for vehicular homicide. It is a fact known to me that an extremely productive married couple who save others lives on a daily basis have an exercise regime that takes them down this very sidewalk frequently.
This driver could easily have killed a husband, wife, small child and the unborn child of this family along with their well behaved highly trained family dog.
Additionally, I know a senior citizen who jogs down this same sidewalk at all hours. The driver could have killed him too.
High school athletes in large numbers frequently use this sidewalk. This driver was fortunate he did not wipe out a part of Clover Park High School's athletic team.
Sidewalks are for people, baby strollers, and wheelchairs. Only IDIOTS drive vehicles on the sidewalk.
Yes, while the scene looks bleak, the driver had a lot of good luck.
In closing, I have two things to say.
ONE: I compliment The City of Lakewood and our Lakewood City Council for their effort and expenditure on trying to protect the citizens who live on the other side of the white brick wall at The Clover Park Bend. The landscape berm has stopped efficiently some, but not all of the vehicles from crashing through the wall.
The berm is a good thing, but our city needs to implement more idiot proofing.
TWO: The condo residents who reside on death row just inside the brick wall only wish to live with peace and safety without being killed by IDIOTS. The citizens who walk on the sidewalk do not want to be killed by IDIOTS.
The City of Lakewood needs to provide more IDIOT proofing before an innocent citizen is killed. The potential victims have expressed that they would like a safety guardrail to run the entire length of the kill zone.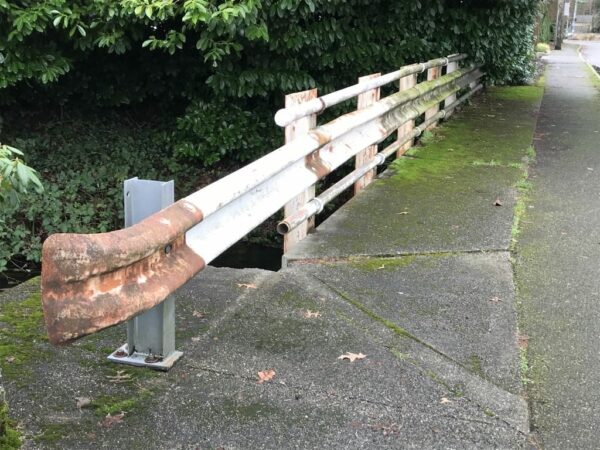 Because I believe in solving problems before they happen rather than after they happen, I plan to send a copy of this published article with any comments you might share to our Lakewood City Manager, Lakewood City Council, and our Lakewood Traffic Engineering Department. I will request that a new traffic guardrail system is designed and installed. It does not have to be old-fashioned or ugly like the guardrail pictured above, but instead can be created in an attractive modern way and at the same time, save lives. Giant landscape boulders are a possibility. At least our city will be on notice.
Our city cannot solve problems if they do not know a problem exists. If you agree with my thoughts and concerns, I encourage you to communicate directly with our city. To make it easy for you to interact with City Council and City Staff, Click my link EMPLOYEE DIRECTORY.