Twenty some years ago Peg and I used to eat at a place on Tacoma Avenue South. I think it was called Mrs. C's. The owner served southern cooking. She later moved on to South Tacoma Way near the intersection of 512. Either the place there had been a failed Burger King, or it became a failed Burger King after Mrs. C's closed. The problem was that you could only get to the restaurant if you were driving north on South Tacoma Way. The point however, is that we enjoy southern cooking. We have eaten at Southern Kitchen before, but didn't like the food. Now, however after changes of owners, a great review and a personal appearance of Guy Fieri in Diners, Drive-ins and Dives, I went back.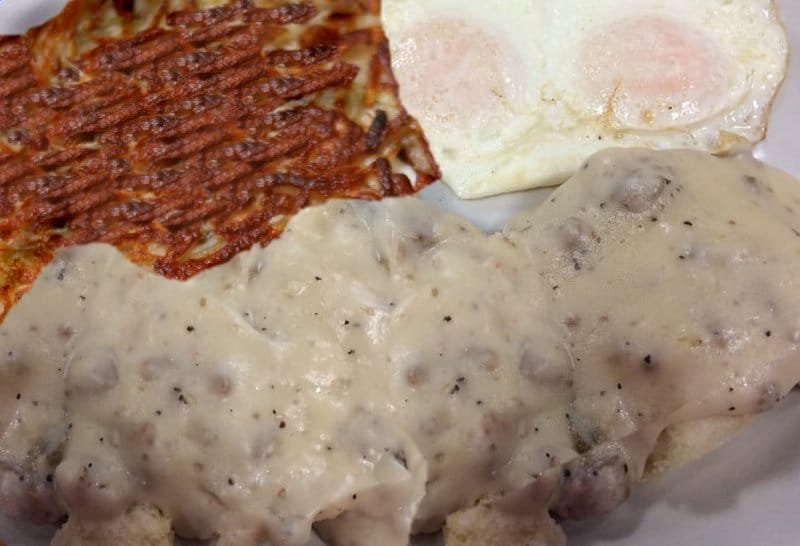 It was Saturday afternoon and parking was still a problem, but I only had to walk up the block a little bit. There were only three empty tables. All were around the corner from the counter. Eventually a waitress walked by and asked if I needed to order.
The Southern Kitchen is known for their fried chicken, dressing and gravy, fried okra, grits, corn cakes, mac and cheese . . . none of which were what I was looking for. One of the reasons I had stayed away from the Southern Kitchen was the hashbrowns. If you know me or have read my reviews, I love crispy hashbrowns. I don't like fried smashed potatoes, I don't like home fries, I don't like little diced potatoes throne into a frying pan, and I really, really, hate hashwhites. I always order hashbrowns the same way, "burnt, burnt, burnt . . . with an onion cut up in them."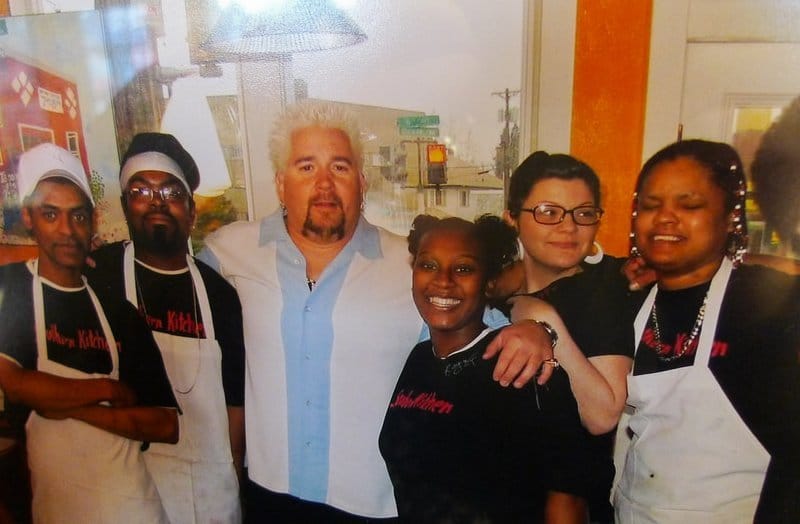 The waitress was super nice as I ordered biscuits and gravy with hashbrowns. Eggs over easy, and my made to order potatoes. They were delivered almost exactly as I wanted. The onions were just sitting on top, but that was close enough.
I might not like the biscuits without the gravy, but with the gravy they were excellent as was the gravy. The eggs were perfect. The hashbrowns were even darker than I had hoped. The next time around I'll bring Peg and we'll eat a regular dinner, but for now. I'm happy and look forward to my next meal at the Southern Kitchen.