We'll light the Official City Christmas Tree this Friday, the day after the deadline to register your rental property for inspection.
Santa will arrive by fire truck at 6 P.M. – skipping the chimney scene – and the government- or government-approved inspector will be knocking on your door – bypassing invited-guest pleasantries – sometime in January.
In the spirit of the holiday, the City of Lakewood, Washington has a list, a rental inspection list. They'll be checking it twice, more often than that even, to ensure compliance with a law that to many in the city is more akin to a program in search of a problem.
In fact, some have threatened to see – and sue – the city in court.
In a word, it's 'complex'.
The city maintains that the wording of their law inserting inspector-types into every rental property means just that: Every. Single. One. At least every single one that is not exempted.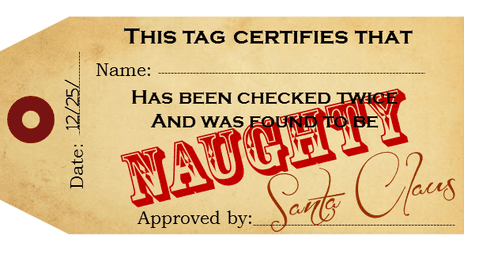 'Not so fast,' say "several individuals," (November 27 Study Session, p.013) who've "interpreted LMC 5.60 as applying only to 'Rental-housing Complexes' due to the language found in LMC 5.60.020, Business License – Fee, which states the following:
"Each multi-housing complex in the City, as defined herein, shall obtain and maintain in good order a Rental-housing Complex license issued by the City in accordance with the procedures of Title 5 of this Code."
Even a cursory rendering of 'complex' is to understand the intended number as many, not singular: "a group of similar buildings or facilities on the same site."
Given these "several individuals have indicated that future legal challenges may follow regarding this issue," city staff are now suggesting "City Council should consider whether the language of LMC 5.60 warrants revisiting at a future date."
Perhaps also at a future date the ACLU of Washington will weigh in as it did in Virginia:
"If there is one thing every American understands" – (at least most Americans) – "it's that government officials don't have the right to enter our homes unless they have a warrant or there's a true emergency," said ACLU of Virginia Executive Director Kent Willis.
"Local governments have wide latitude to enforce building codes," added Willis. "But our Constitution demands checks and balances, and the check on code enforcement officials when they want to enter your home is judicial oversight.
"The Supreme Court has held that the Fourth Amendment protects the right of tenants and owners to refuse warrantless inspections with impunity. In order to pass constitutional muster," (rental inspection ordinances) "must be amended to make it clear that tenants and owners may refuse to consent to inspections and that inspectors must have a warrant when consent is not given."
Similar was the ruling of a U.S. Court of Appeals when it struck down a rental inspection ordinance: "The court fully understands that the City has a valid and important governmental interest in protecting the public, however, the court sees no reason why this should be done at the expense of infringing on rights guaranteed by the Fourth Amendment to the United States Constitution."
"The heavy-handedness of a local government having this kind of power and response is unconscionable."