The program for the November meeting of the Transportation Club of Tacoma (www.transportationcluboftacoma.org) was Major General Bret D. Daugherty. The general is the commander of the Washington National Guard, including both the Washington Army National Guard and the Washington Air National Guard. His program concerned the need to prepare for the probable horrendous earthquake we can expect sometime in the next one hundred and fifty years.
Plate tectonics reveals potential earthquakes. The tectonic theory is that Earth's outer shell is divided into plates that glide over the Earth's rocky inner layer. Our next huge earthquake could result from a major shift in the Cascadia Subduction Zone, which includes the Pacific Plate and Juan De Fuca Plate. This happens every five to six hundred years. We are currently about three hundred and fifty years into that cycle. There is a possibility of that quake being as much as a magnitude 9.0.
The New Yorker magazine in a July 20, 2017 article "The Really Big One" said: Seismologists know that how long an earthquake lasts is a decent proxy for its magnitude. The 1989 earthquake in Loma Prieta, California, which killed sixty-three people and caused six billion dollars' worth of damage, lasted about fifteen seconds and had a magnitude of 6.9. A thirty-second earthquake generally has a magnitude in the mid-sevens. A minute-long quake is in the high sevens, a two-minute quake has entered the eights, and a three-minute quake is in the high eights. By four minutes, an earthquake has hit magnitude 9.0.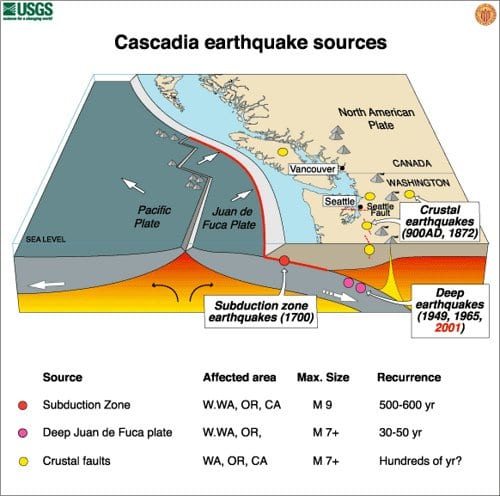 Roughly three thousand people died in San Francisco's 1906 earthquake. Almost two thousand died in Hurricane Katrina. Almost three hundred died in Hurricane Sandy. fema projects that nearly thirteen thousand people will die in the Cascadia earthquake and tsunami. Another twenty-seven thousand will be injured, and the agency expects that it will need to provide shelter for a million displaced people, and food and water for another two and a half million. – www.newyorker.com/magazine/2015/07/20/the-really-big-one
General Daugherty began his program simply talking about his drive from Camp Murray to Fife, where the meeting was held. He mentioned passing bridges, overpasses, and trestles. In a magnitude 9 earthquake all of those structures would cease to exist. Just think of the damage done to transportation avenues across the Puget Sound Region. Now, consider the damage done to homes, hospitals, and multiple story buildings. If the original Narrows Bridge fell in a wind storm, just imagine what might happen to our double version in a mega-earthquake. Think of the isolation caused by destruction of the Puyallup River bridges along with landslides from the Nisqually Delta to Marine View Drive in Northeast Tacoma.
In a huge earthquake we can depend only on ourselves. In the OSO landslide in Snohomish County the National Guard was there to look for survivors and help, but that was with roads and highways open. With freeways, highways, and roadways segmented, transportation would only slowly begin to respond. The same problem would exist for rail service. Airports would probably suffer landing strip failure as well. Food, water, fuel and electricity would be at a minimum.
In other words we need to prepare. How will you meet up with family members? How will you communicate? Cell phones would probably not have signals and would run out of juice in a day or two, anyway. Do you have warm clothing and blankets? How is your food supply? What will you drink? Do you have emergency tools to help you cope?
If we survive a category 9 earthquake we'll need all the help we can get, but everyone should prepare for at least two weeks of surviving on their own. Visit FEMA for information once an emergency strikes – www.fema.gov/. I like the video How to Surive and Prepare for a Major Earthquake, it's from California, but worth the few minutes watching – www.youtube.com/watch?v=1EV1apB_usE. In the mean time, here is a free ebook, "Basic Wind & Winter Storm Emergency Preparedness." I wrote it for a client, it has some great information for residents and businesses of Pierce County. You may share it with friends and keep a copy (printed out) where you can find it when you need it. www.apextreeexperts.com/BasicWindWinterStormEmergencyPreparedness.pdf