Until I came to the United States, I never had a garden. This is not unusual at all. In comparison to this nation, my mother country, Germany, is tiny, and its almost 90 million inhabitants literally live on top of each other in many places. I grew up in apartment houses. Later I rented apartments without any gardens. I have experienced living at half a stair-flight's level to sixth floor, always with a view of green. But none of it mine. Unless you call those boxes you can hang from a balcony banister a mini-garden.
I had such boxes. Always. I was never really good at tending to potted plants. I even manage to drown or dry up cacti. Same difference with boxed plants. But I gave it serious tries. Always. Meanwhile, suburban neighbors with gardens cut roses or harvested zucchini and strawberries, depending on the season. I always consoled myself that they had to mow their lawns and rake leaves, too. So, how much more convenient just to have those small hanging boxes.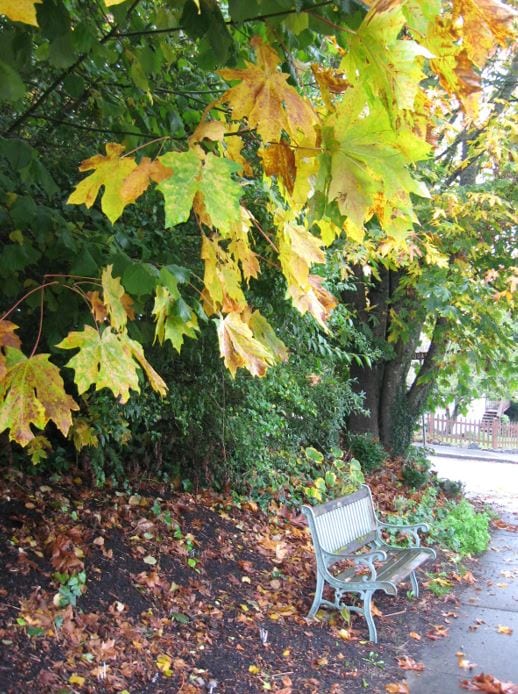 It only occurred to me that I would have a garden (if just rented) when I saw the first pictures my husband emailed me after he had moved to the South Sound. I was stunned. It was a property on a steep hill, with apple trees and a stonewalled pond, it had flagstone steps, and an enormous, partly covered deck. When I arrived almost a year after these first pictures, it was wet and cold with a very late summer beginning only in mid-July. I peered through the windows mostly, huddled in layers of shirts and pullovers, amazed at the rich greens, the brilliant colors of the rhododendrons, the all-conquering brambles and horsetails.
As the year went on, we saw apples grow from tiny hard balls into rich red orbs. I gathered them when they fell to the ground and made the pinkest apple sauce I have ever seen in my life. It was the first time that I was able to reap a harvest from "my" garden. It was incredibly gratifying.
Apart from that, gardening was intensely time-consuming. As soon as I had reached one end of the plot with weeding and cleaning out, I had to return to the other end to start all over again. Fall brought a load of fiery maple leaves onto the sidewalk running outside our rental property – sometimes the town did the cleaning, more often it was us raking and discarding the leaves at a dump.
Winters were quiet and drizzly – our backyard madrone trees with their luscious dark green and the squeaky green lawn at the front of the house gave us a vision of warmer seasons through the dark gray days of the Pacific Northwest. And when the first camellias started blossoming in January, I knew we had made it through to another spring that would shout all the colors of a painter's palette: the gold of daffodils and forsythia, the soft pink shades of Japanese cherry trees, the blues of violets and hyacinths, the abundance of shades in azaleas and tulips.
It is fall again, and we live in another house with another garden in another town. The lawns are flat. We have a circle of nine oak trees (there must have been an entire dozen once) in the back yard. The weather has been lenient so far, and this is one of the first gray and drizzly days, as I'm writing this article. A ray of sunshine makes it through the cloud cover every once in a while, and it enhances the golden foliage from a tree in our neighbor's garden and the garnet red of our Japanese maple in the front yard. Actually, I think the gray October skies create a beautiful backdrop for the stunning gem colors in our fall gardens. The raindrops sparkle in the bushes and the late spider webs. It's like a firework with which Nature waves us good-bye for its winter rest.
I have learned to use a lawn mower, and one of these days might bring the last mowing of the year. I have pruned our vines and cut our roses – except the last one that still springs another bud as if in rebellion against fall. My husband and I have raked hundreds of pounds of leaves and brought them to a composting place; the other half of the foliage is still up in the trees. And as I reflect this, I realize that having a garden has connected me even more with Nature than I used to be. I don't mind the mowing, the bending, the weeding, the pruning, the raking, the heaving. I harvest all these colors with my eyes and so many treats with my hands. Did I really only have a few wilting hanging boxes on a sixth-floor balcony in my former life? And did I just see another pound of golden and brown leaves sailing down onto our painfully raked lawn?