It's true. The landlord registration program will not move forward after all. The City Council has decided they will not enforce it.
Though "supporters of the program said it would help the city crack down on dilapidated rental properties while also gathering contact information on landlords," by far the majority of landlords and tenants complained "the program would amount to government intrusion in their private lives, raising rents and business costs along the way."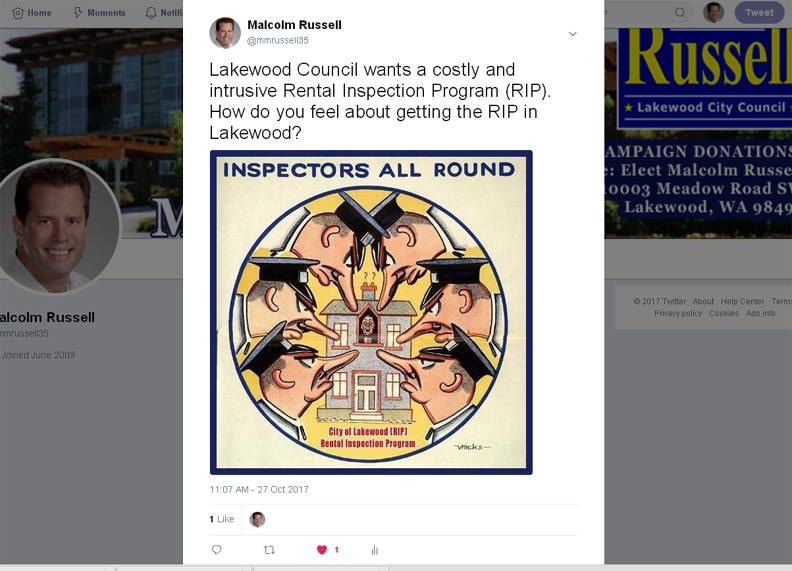 Said one landlord, "I am really unhappy about my Fourth Amendment rights being proposed to be invaded."
Like the official's announcement stopping play until an important, possibly game-deciding verdict is announced – 'the ruling on the field is under further review' – the city council heard, reflected, reviewed, and overturned the call.
The "city's push to implement a mandatory registration program" is over.
Unfortunately, for now, that's not our city of Lakewood, Washington. It's Woodstock, Illinois where Katelyn Stanek reports in the "Woodstock Independent" this past October 13, the city council tossed their Rental Inspection Program (RIP).
If elected in Lakewood, however, Malcolm Russell would do the same.
"Had I been on the council I would have opposed it," said Russell recently of Ordinance No. 644 that was passed 6-1 August 1, 2016.
"That is my public position. In my mailer I invite voters to contact me with questions, comments or opinions. The two questions I have received the most are (1) was my grandfather Admiral Russell (yes); and (2) how do I stand on the RIP?
"I was asked by the Tacoma News Tribune Editorial Board and I told them I opposed the RIP. We have regulations and code enforcement for all that already in Lakewood. I have experienced the Tacoma RIP and it's a disaster, a waste of time, money, resources, and added bureaucracy.
"If elected I'd be willing to take action and measures to potentially overturn the RIP."