Some people collect art because they appreciate the image, or they see it as a good investment. Art is sometimes a good investment, but most people really should only invest in art if they truly appreciate the work. A great painting from an unknown artist that catches your eye may end up only as decor. A great painting by a known artist has potential. Collectibles however, are not art.
"A collectible (collectible or collector's item) is any object regarded as being of value or interest to a collector (not necessarily monetarily valuable or antique). There are numerous types of Collectibles and terms to denote those types. An antique is a that is old. A curio is a small, usually fascinating or unusual item sought after by collectors. A manufactured collectible is an item made specifically for people to collect." – Wikipedia
In today's world Collectibles have become easier to describe using either of these terms: garbage or crap. Boomers who have inherited or purchased beautiful antiques and curios find themselves with a houseful of items that no one wants to buy and their kids don't even want for free. Tastes change. However, the worst of Collectibles has the designation of "manufactured collectible." Manufactured Collectibles were either the trend or rage at one time or they were designed to be sold on late night TV or cable for their beauty or value. Both were questionable commodities.
In a recent posting, according to "The Street" on MSN there was a listing of fifteen collectible that are almost completely worthless – http://www.msn.com/en-us/money/other/15-collectibles-that-are-completely-worthless-such-as-your-mcdonalds-toys/ar-BBE4hkD
In case you have been unaware of declining values, you may want to sit down before reading the following list of worthless "crap." Hummel Figurines, Lladro Statues, Thomas Kinkade Paintings, Precious Moments Figurines, Norman Rockwell Plates, Beanie Babies, Hot Wheels, Happy Meal Toys, Trading Cards, Cabbage Patch Kids, Franklin Mint Collectibles, Marbles, DVDs/CDs, Hess Trucks, and Pogs.
Here are three of the worst offenders with the highest value and the lowest prices sought:
Franklin Mint Collectibles
Market Value variances
Highest: $3,999.00
Lowest: $19.97
Thomas Kinkade Paintings
Market Value variances
Highest: $24,000.00
Lowest: $39.95
Hot Wheels
Market Value variances
Highest: $8,500.00
Lowest: $.01
Personally, I was surprised that Barbie Dolls are not on the list, but before you start praising your own investment smarts, I think you would find the prices of current Barbie values far removed from the realm of striking it rich. There is a market, however.
After looking at the list and regarding possibilities I came up with an idea that offered solution, profit, and fun. As I explained my idea to my friends at Tacoma Rotary they just stared at me as if I were crazy. I've seen this look before. I didn't abandon my idea, however. I brought it up during lunch with another friend. We both roared with laughter as I explained, but in the end he saw merit in it. Therefore, I will pass it along to you.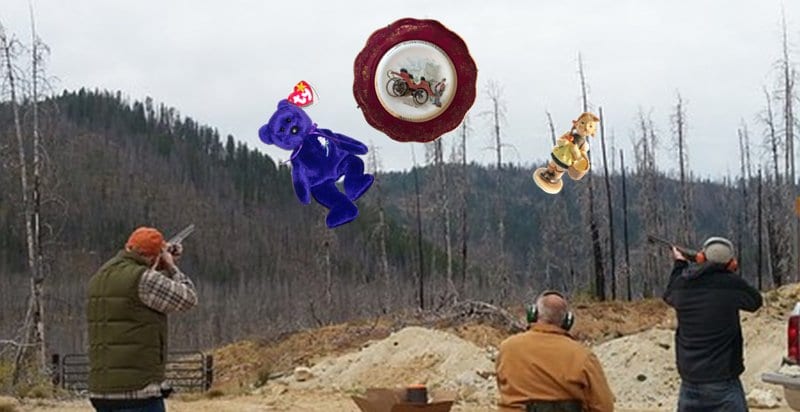 Step One
A local non-profit would ask for donations of these Collectibles and issue receipts based on value from the owners. People are always looking for write-offs on their income tax.
Step Two
We offer the best donations to Toys for Tots and local non-profits for their fundraisers.
Step Three
We promote a special old fashion carnival – "Blow It All Away" Day at a local firing range. For donors we would provide free tickets to play our special carny games like Collectible Skeet Shooting, target practice, collectible Frisbee throw, and hammer smashing of the collectible of your choice. For everyone else we would charge a fee to pulverize, smash, or blow away once valuable keepsakes.
Step Four
We offer remnants and pieces to local artists as mosaic or collage pieces of new works of art.
Well, there you go. We help people with their taxes, we reduce a world of crap to a pile of crap, we help children and our community. What could be better than to blow it all away?
Complete list:
Hummel Figurines
Market Value variances
Highest: $7,000.00
Lowest: $19.12
Lladro Statues
Market Value variances
Highest: $15,000.00
Lowest: $59.00
Thomas Kinkade Paintings
Market Value variances
Highest: $24,000.00
Lowest: $39.95
Precious Moments Figurines
Market Value variances
Highest: $1,250.00
Lowest: $2.95
Norman Rockwell Plates
Market Value variances
Highest: $560.00
Lowest: $15.99
Beanie Babies
Market Value variances
Highest: $500.00
Lowest: $.01
Hot Wheels
Market Value variances
Highest: $8,500.00
Lowest: $.01
Happy Meal Toys
Market Value variances
Highest: $235.00
Lowest: $.01
Trading Cards
Market Value variances
Highest: $299,999.99
Lowest: $.01
Cabbage Patch Kids
Market Value variances
Highest: $1,200.00
Lowest: $5.25
Franklin Mint Collectibles
Market Value variances
Highest: $3,999.00
Lowest: $19.97
Marbles
Market Value variances
Highest: $5,000.00
Lowest: $.84
DVDs/CDs
Market Value variances
Highest: $595.00
Lowest: $1.99
Hess Trucks
Market Value variances
Highest: $1,999.99
Lowest: $2.49
Pogs
Market Value variances
Highest: $1,595.00
Lowest: $.05