During a heavy, persistent mist outside, hundreds gathered Friday, Sept 29, to say goodbye to Major General Timothy Lowenberg (Ret.) and express their own bereavement. MG Lowenberg died working in his garden only a couple weeks before his 71st birthday and the day before his 49th anniversary.
MG Lowenberg's accomplishments seem without end. But he will be remembered as exactly the Adjutant General of the Washington National Guard we needed in the tragedy and turmoil of 9/11.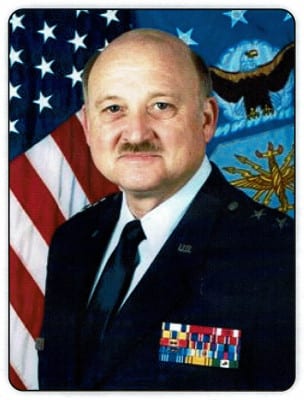 Among guest speakers, heartfelt first-hand tribute was given by Congressman Derek Kilmer, Congressman Denny Heck, Governor Gary Locke, Governor Christine Gregoire. Upon the announcement that Gregoire had become elected Governor of Washington State, her first call for Cabinet positions was to MG Lowenberg. But Representative Heck may have caught the most crucial impact of MG Lowenberg, "…He made everyone around him want to be better".
So it was for me.
As a Public Affairs specialist, I worked down the hall from MG Lowenberg for a few years. On one occasion, he needed someone to meet him to set up and provide AV support for a VIP presentation. MG Lowenberg was often in his blues and so I would have to be in dress uniform as well. No one ever held me up as an example of a textbook troop, but I changed into my dress uniform and went. I could not disappoint The General. It was only at the gate of Bangor Naval Base, one of the most secure facilities in the United States, that I realized my ID was still in my BDU outfit, an hour away.
This was all before 9/11, so only by the testimony of a colonel was I finally allowed on. I felt I deserved to wait at that gate until all were finished, then I should walk back home. Trying not to sweat, I set it up while the colonel updated The General. He nodded, then we proceeded. We had not yet had remotes, so I was the 'clicker', advancing the slides every time he wagged his finger. Like a runner in the starting blocks, I was now poised to be better, driven to be better. And so I am.
Sometimes in memoriam services, in the Guard we say 'God calls his favorites home a little sooner'. After the service, all departed to find the mist had lifted. Soft clouds laced a gentle blue sky.
Among the guest speakers, one pointed out that Patton was ideologically opposite MG Lowenberg, but no less revered in history. So he recalled Patton's admonishment that it is "…wrong to mourn the men who died. Rather we should thank God that such men lived."