Mid July 2017 marked the beginning of our 20th annual cross country motorcycle trip called the BAMR. The Suburban Times is a family friendly newspaper, so lets just say my acronym BAMR stands for Big Annual Motorcycle Ride.
Seven of us from Washington State, California, Montana, Kentucky and Indiana meet once a year for this motorcycle riding event. We are known as The Magnificent 7. This year two of our pals could not join us, so we changed our name to the Geriatric 5.
I want to show you the DOUBLE TAKES we spotted during our 3,300 mile ride.
Check out my video, which features professional actor, Tim Hoban, to get an idea what I mean by "Double Take". Tim is the actor who has played Edgar Allan Poe in many locations around the planet.
TOP DOZEN DOUBLE TAKES
DOUBLE TAKE 1
This public restroom is designed so people of all orientations will feel welcome without suffering any indignity or prejudice. In an effort to fight insidious discrimination, the restroom will serve right handed, left handed or ambidextrous patrons thereby marching forward towards equality.
DOUBLE TAKE 2
It is wise to check references before hiring a painter.
DOUBLE TAKE 3
It is not illegal to practice for your next DUI by walking the line. I wonder if the yellow paint came out of the same bucket as Double Take #2.
DOUBLE TAKE 4
Scene adds new meaning to the term "Business or Pleasure".
DOUBLE TAKE 5
Obvious double standard creates animal discrimination. Pets must be on a leash while snakes roam free.
DOUBLE TAKE 6
Woman on left celebrates her 18 birthday with her friend by having the two of them eat an entire Dairy Queen ice cream cake in one sitting. The two ladies admitted to having done this before.
DOUBLE TAKE 7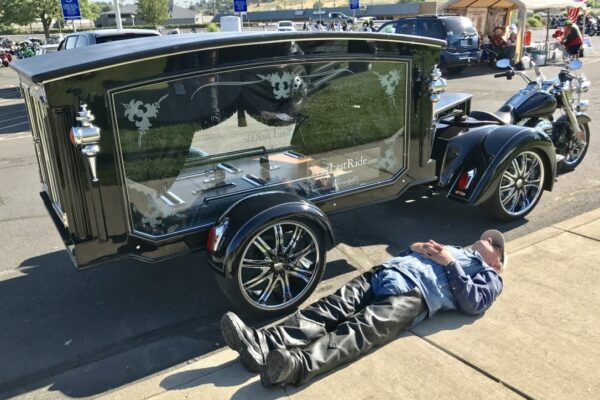 DOUBLE TAKE 8
Sign reads 50 pound weight limit on a baby changing table. I could not imagine a 50 pound baby. Then a father explained to me that his child's diaper is rated to hold 40 pounds. Combine a 40 pound diaper with a 10 pound baby and the weight limit becomes understandable.
DOUBLE TAKE 9
Reverse migration for direct descendants of the Clampett family known as the Beverly Hillbillies. Two saddles stowed in wheel wells confirm the Clampetts are returning to the Appalachian Mountains for good.
DOUBLE TAKE 10
For a moment, I thought I was caught in the Twilight Zone when I saw this 35mm film shop in a digital world. I did not go inside the shop for fear of what might develop.
DOUBLE TAKE 11
This photo gives new meaning to the term, "Gas stop."
DOUBLE TAKE 12
Mixed message displayed at stock broker's office. Really. I am not making this up. "A place for all people, except those who embrace our Second Amendment."
That is it for double takes. Well I do have more double takes, but don't you have something else to do today?