I thought I had set the parking brake.
Evidently not.
Yesterday, I submitted to this publication a letter referencing an article entitled "What returning your shopping cart says about you." At Lowe's that same evening, there were four of the derelict four-wheelers left right in parking places by people too much in a hurry (benefit of the doubt) to take the few extra steps necessary to put them back where they belonged.
Someone else will do it. That would be me. Well, at least three of the four anyway. I don't want to be 'most people.' Besides, I'd just written about it.
But then this.
My wife and I saved a lot of money (at least at the counter) early this morning by being one of the very first in line and among the very last to obtain two of the remaining "America the Beautiful Lifetime National Parks and Federal Lands Pass." Happy to have saved $140 (they won't last through the day we're told – see link here), we understand the on-line August 28 deadline-then-wait-for-three-months-to-get-'em-price goes up from $10 to $80.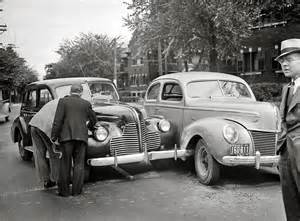 Happy we were until exiting the Visitor's Center at which time I discovered the truck was not where I'd parked it.
The parking brake quite evidently having not been set, the truck had rolled down the slight incline, across the small grass divider, hopped the ditch and gently nudged the front bumper of another car, whose owner – happy that he also had just purchased a Lifetime Pass – showed up shortly after I'd re-parked the truck to inspect the damage.
He was no longer happy. Which made three of us.
As we exchanged paperwork, my dear wife said sweetly, pointing at the vehicle parked in the next stall, "Too bad you didn't hit that car." 'That car' was a jeep, complete with the kind of brush-whacking, cable-winch hauling, small-tree crushing bumper that probably doubles as an Air Force landing strip bulldozer ATV.
Even the owner of the car I hit smiled as he took a moment from writing down all my information to look.
The problem was I didn't hit the jeep. I hit a late-model Infinity, Nissan's luxury car. And I want to share with you the owner's last words to me.
I write this because there's an ancient proverb that reads: "It is a joy to the just to do what is right."
"Joy," wasn't exactly what I was feeling as I stood there looking at the damage. "Joy" is rather what I felt in saving $140 just minutes before.
However, "joy" here, according to one commentator, is taking "real pleasure in doing what is right; having the answer of a good conscience."
I'm sure we'll hear from the owner of the Infinity. "I take good care of my car," he said. "So, this matters to me."
And then he said this: "Most people would have driven away without waiting to take responsibility."
And I said, "We like to think we're not most people."
I'd also like to think most people would own up. Most people would take ownership. Most people would not continue to repeat a mistake simply because it took so long to make it.
Most people return their shopping carts.
Btw, don't forget. If you're over 62 the last opportunity you might have to get your lifetime pass to access "America the Beautiful" parks may be today.
Just be sure to set the parking brake.