Dog owners and their furry friends will enjoy a new and expanded off leash dog area at the Chambers Creek Regional Park with a Grand Opening Sunday, July 23 (1-3 pm).
SUNDogs, a nonprofit volunteer group, recently partnered with Pierce County to expand the existing off leash area (OLA) near Central Meadow as well as adding a new area for Small, Shy and Senior dogs.  The expansion will almost double the existing OLA, located near Central Meadow, to two acres.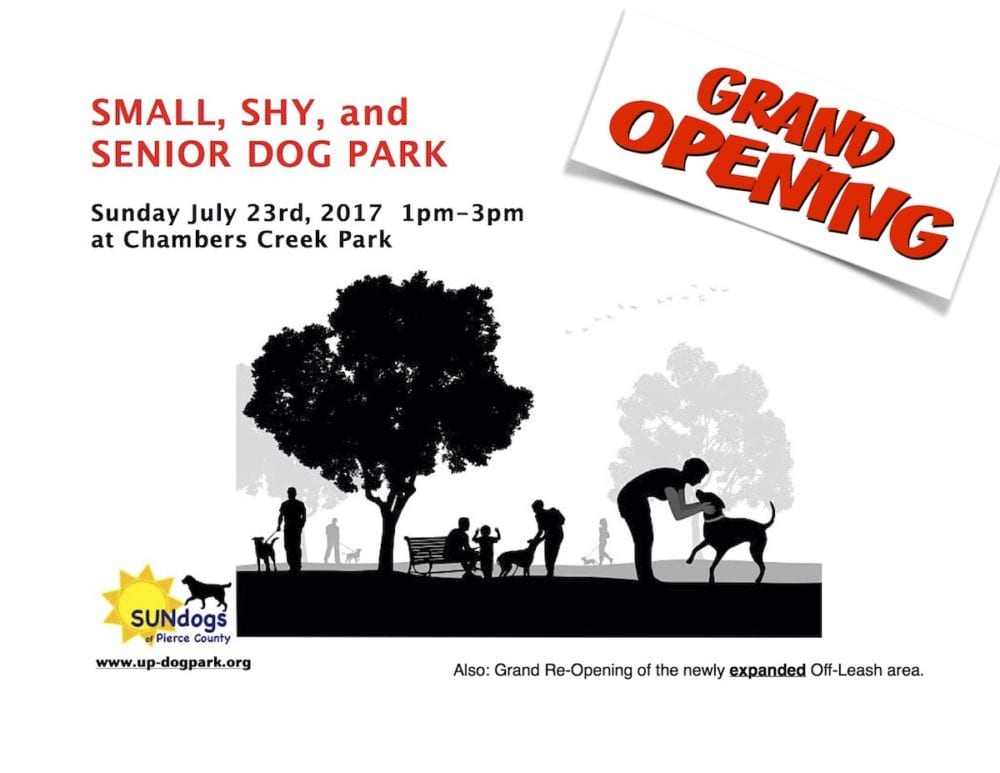 "After years of hard work, we are delighted that our new County Executive Bruce Dammeier understood the need to provide an enhanced area for people and their pets to socialize, exercise and further enjoy the Chambers Creek Properties," said SUNDogs President Bill Long.  Everyone is invited to the grand opening on Sunday, July 23, from 1pm to 3pm.
SUNDog members will be on hand to distribute goody bags for the first 50 dogs. SUNDogs raised the $14,250 to purchase additional fencing and gates to increase the size of the existing OLA along with designating a separate area for small, shy and senior dogs.
"Many dog owners with smaller and shy dogs often expressed a desire for a separate area so we are happy to fulfill that need," Long said.  "Although our ultimate goal is to obtain the county's permission to further expand this site to 5-7 acres, this is certainly a step in the right direction."     (A larger off leash area located in the southern portion of the Chambers Creek Properties is included within the Master Site Plan; however, it is likely that this will take numerous years to implement).  For more information, please visit www.up-dogpark.org.