When I was 16 years old in 1959, my parents moved from South Seattle to Firwood just north of the Puyallup River. It took a few days, but eventually, I found where my parents had gone and I moved in with them.
Our Firwood home was an interesting spot on the planet. One square acre which included a Joe Vanderschelden 1930s vintage farmhouse built as solid as a bomb shelter, a giant 2-story chicken barn with an elevator and silo, and an assortment of small outbuildings along with two wells.
When I walked out the front door, and turned left, I could catch the bus to Fife High School. If I turned right, I could catch a different bus to Puyallup High School. It was a bit confusing because both buses were yellow, but by the time I was 16, I pretty well knew my left from my right.
Most of the kids in the neighborhood attended Fife High School, so I caught a lot of social pressure to choose Fife. After making a field trip to each school I decided to attend Puyallup High School. Even back then, I was an independent thinker.
Choosing Puyallup brought all kinds of good fortune my way…
High school counselor, Miss Gertrude Hansen, set me up with a Rotary college scholarship.
During my senior year, I met a young lady, who was only 17. Five years later she became my first wife. We are still married and she has been my best friend for 57 years.
During my junior year, I met my best high school pal, Larry King.
Larry was about 16 when we met. After graduation, our paths continued to cross through the years. Now we are two old guys in our mid-seventies, but we do not rule and we do not carry our wives' purses. (Call-back to recent article Westside Story – Old Guys Rule).
Realizing life is short, we meet once a week for lunch. One of our favorite places is Harbor Lights Restaurant on Ruston Way in Tacoma, Washington. Our friend, Jon Robinson Moss, who died in 1991, introduced us to Harbor Lights.
Harbor Lights was founded by Anton Barcott in 1959, the same year my family moved to Puyallup without telling me. Dwight David "Ike" Eisenhower was our president.
So Larry says, "Hey, Joe, it was nice of you to volunteer to be our designated driver for our last lunch, but, my oh my, were you ever boring. There has to be a way we can both enjoy a Harbor Lights "strong pour" and still not pick up one of those ugly $10,000 DUIs.
Just then, Larry's face lit up. "Joe, I got it. Uber." We both agreed that age should not be an excuse for not trying Uber, so I dropped the Uber app on my iPhone. Larry is sticking with his flip-phone so the only thing he could drop is his cell phone itself.
The morning of our lunch appointment, I used the Uber app to order our ride. My app told me the ride was 5 minutes out and displayed a map detailing where the Uber car was in relation to my house including plotting the Uber car's progress.
Because my house is on the way to nowhere, GPS often misdirects drivers by sending them to a street next to my house on the other side of a perimeter fence, but not directly to my front door. This is a mapping problem, not an Uber problem.
I circumvented the 8' barrier and met my Uber driver on the street next to my house.
Boy was I surprised. See, I was dreadfully fearful that after ordering an Uber ride, a dreg, who recently broke out of prison before completing his anger management program, would drive up to my front door. I told Larry if things did not go well with our first time Uber market test, I might end up a kidnap victim on my way to Tijuana. Larry realized he might never hear from me again unless I called asking for help with my ransom.
Uber driver, Anna Hayner, showed up. Anna is the antithesis of "dreg of the earth". She is an amazing young woman and our visit was a pure delight. She informed me Uber drivers must pass a criminal background check.
Anna is originally from Göttingen, Germany. During her senior year of high school, 2011 – 2012, she was a foreign exchange student at Mount Tahoma High School in Tacoma, Washington.
While romance is not an official part of the student exchange program, Anna met her future husband, who was also a senior at Mount Tahoma High School. They are now married and both are working on college degrees. Anna is close to having her Masters in Business.
We motored over to Larry's house and then off to Harbor Lights.
Anna & Larry King. This photo is before we had any of the world famous Harbor Lights "toots". Notice Larry is standing all by himself.
Upon our arrival at Harbor Lights, no money changed hands other than our cash tip. Payment for the ride is automatic via the iPhone app. Shortly after each ride ended, the app asked me to rate each driver and their service. Larry and I agreed both drivers earned an easy 5-star rating.
Harbor Lights has long been known for the "toot", alternatively called the "strong pour". When you order a cocktail at Harbor Lights, they serve you a fistful. Larry told me after a couple of toots at Harbor Lights I would no longer be boring and he was right. While a couple of "toots" had me laughing and having fun, Larry failed to warn me about being careful when I tried to stand up.
After enjoying lunch, a couple of toots and dessert, (That is dessert, not desert, Mary Hammond.) we used my iPhone to request an Uber ride back home.
A fascinating gentleman, named Aziz, picked us up at Harbor Lights.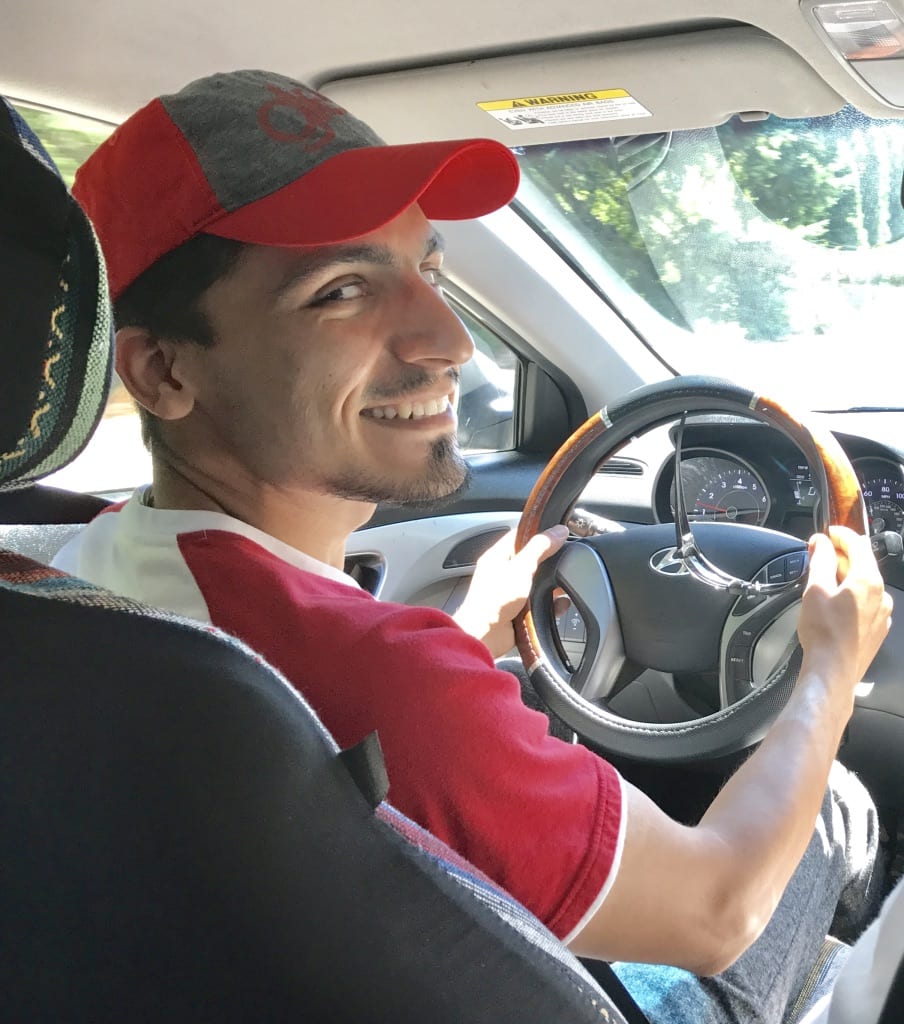 Aziz is from Afghanistan. He worked for the U.S. Army for three years. Following his service, he was able to bring his family to the United States where he is working hard to make a new life.
Aziz told us he is blessed to be in our country because his old country is not stable and he faced many hazards making life expectancy a big gamble. The U.S., on the other hand, is a land of many opportunities.
When he first arrived, he did not know anyone and he did not have a job. He had to learn how to apply for a job. His first job was working with Goodwill. He then captured a job working in a retirement home. He added a part-time Uber driver job to his full-time job.
Aziz is attending college and is working towards earning his Commercial Drivers License (CDL). He wants to purchase two tractor trailer rigs. He will drive one and he will hire an employee to drive the second rig thereby creating a job opportunity for someone else.
Aziz purchased a brand new $190,000 home where he lives with his wife, mother-in-law, and two sons, ages 9 and 14. Aziz says, "What a country."
Aziz was not only telling us his life story, we could easily see he was excited about America. He appreciates the blessing of living in peace; both peace outside his body and peace inside his body.
Uber driver, Aziz and my high school buddy, Larry King. Larry threw his arm around Aziz for two reasons. #1. Larry likes Aziz. #2. Larry enjoyed two "toots" at Harbor Lights and wanted help standing up for the photo.
Let's talk money. Anna charged us $22.29 plus we gave a $5.00 tip. Aziz charged us $32.99 plus we gave a $5.00 tip. The total ride was $55.28 plus $10.00 in tips for a grand total of $65.28 or $32.64 each. We saved $9,967.36 in drunk driving fees and we enjoy the added bonus of having not killed anyone while drinking and driving. I know Larry would hate Ubering down to the Pierce County Jail to see his pal, Joe, on visiting day. We think $32.64 is cheap.
Consider giving Uber a try. Our two trips were reasonably priced, fun, entertaining and educational. Plus we met two wonderful hardworking young people who were a pleasure to spend time with.
Larry and Joe, who have an opinion on each and every subject, say, "We like tripping with Uber."