Submitted by Don Doman
Have you ever driven around the block downtown repeatedly looking for a place to park? Tacoma, Seattle, Portland and other cities in the U.S. have been reducing parking spots for years. Sometimes you can't even find spaces in parking lots. Eventually car owners will get the message that cities are for driving through, but not for parking in. Now, in order to deliver affordable city apartments developers are building new complexes without parking spaces.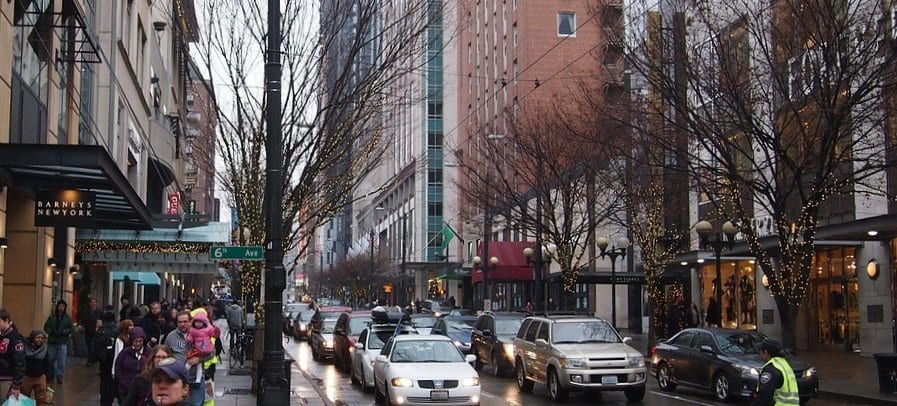 For many people used to driving into to town anytime they want, this sounds like the end of the world. For those living in the urban core, however this has become survival . . . affordable survival.
When my wife and I travel to Portland for a weekend, we take Amtrak and stay downtown a few blocks from the train station. We get around on Portland's trolly system. When we go to Seattle for a concert or a play, we usually stay two or three days to make the trip from Tacoma north seem more worthwhile. We used to stay downtown in hotels, but the charge for their parking has become a burden. To park at the Mayflower Park the charge is $35 per night for valet parking. The Warwick is $39 per night and the Renaissance Seattle on Madison is $40. For us, paying growing hotel rates plus parking meant making changes. We abandoned downtown and embraced Capitol Hill. We can stay at a Bed & Breakfast there, park our car for free and then cab to where we need to go. With a taxi or Uber we eliminate the hotel daily parking fee, the hassle of driving around, and the charge for a paid parking lot at our destination. Instead, we now get dropped off right at the door of the Fifth Avenue or the Paramount and when we want to return to our bedroom, we simply call and we're picked up wherever we request. Making transportation work for you, is the difference.
Uber and taxi cabs are a great convenience. They save time and money . . . downtown.
Developers across the country including Portland, Seattle and Tacoma as well as the wide-open plains of Texas are building new apartment buildings without those pesky parking spaces. A few years ago this would have been unthinkable, but now as prices for affordable living space is pushing both buyers and renters out of downtown and in many cases out of the county, new solutions have arisen. Seattle Times business reporter Mike Rosenberg in an article on apartments and fewer parking spots, says "Seattle apartments used to feature one parking space per unit, but more recently only about half of new rentals near downtown or transit have a parking stall. The trade-off is supposed to be more — and more affordable — apartments." Richard Suttle Jr. an Austin, Texas attorney who represents developers, says "There are a lot of people living downtown now that don't have a car. The downtown workforce is getting younger, and the younger generation is moving away from having to have a car."
If you live downtown, work downtown, and are entertained downtown, then public transportation and occasional cab or Uber rides can get you where you need to go. If not having a car saves you money for an apartment it's an even better deal.
Reality is fewer and fewer parking spaces.
Rick Pinkley, a Washington state commercial real estate appraiser and owner of GPA Valuation says, "Commercial real estate in most large cities is extremely expensive. The estimate for building just one parking space for an apartment or condo is between $20,000 – $55,000. If you multiply that by even just ten apartments you've added up to half a million dollars for a small apartment building. The costs of course are passed along to the consumer. Without parking, the savings are also passed along."
Ten years ago my wife and I traveled to Barcelona with friends and we all stayed in a three-bedroom apartment downtown. The rental car was left nearby on the street. We bought groceries, went shopping, and visited museums for a week, mostly without the use of a car. It stayed parked. We walked or took transit. Restaurants, coffee shops, and a bakery were within a block or two. Life was good. It can be done here in the Pacific Northwest, too . . . for some people.