'Enters', as in crossing the threshold.  To inspect stuff.  For safety, or so we're told.  Which inspections include tidiness of the closets and cleanliness of the kitchen and bathrooms.
Without probable cause.
Steam-rolled, and we're not talking potholes but people.
As Lakewood, Washington prepares to roll out its rental inspection program (and, given the controversy, roll over landlords and renters throughout the entire city), recently Lakewood's Mayor Don Anderson spoke to fellow councilmembers "about his meeting with Congressman Heck on the City's rental housing safety program" (p.026).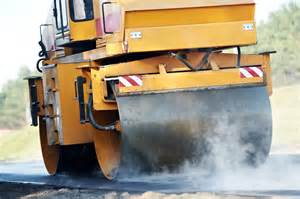 While there is nothing further in the minutes of the March 20 City Council Agenda Packet, given Heck is Washington's 10th District Representative with an office in the other Washington, the conversation may have concerned the legal challenges to programs like Lakewood's that are occurring across the country.
Take Pottstown, Pennsylvania for example.
There, the Institute for Justice has teamed up with a Pottstown landlord and his tenants to file a lawsuit, this past March 13, "challenging the government's use of administrative warrants to search the homes of ordinary people who do not want inspectors inside."
Like Lakewood, Pottstown "has a rental inspection law that forces landlords and tenants to open their properties and homes to submit to intrusive inspections. This ordinance allows the government to enter the most intimate confines of tenants' homes—including bedrooms, bathrooms, kitchens and closets—in search of housing code violations, even when landlords and tenants object."
Without "any evidence that anything is wrong with the home," the local government "can  get into the homes of ordinary, law-abiding citizens," easier "than the homes of suspected criminals."
Such rental inspection programs, says the Institute for Justice, "give the government the green light to conduct blanket searches of innocent people's homes without their consent and are an end-run around constitutional protections for property rights."
Meanwhile, in a familiar rental refrain sung by Lakewood's duet with its big city to the north – whose rental inspection program Lakewood referenced in creating its own – headlines of another law suit strike a similar discordant, sour and off-key note, or two, or three:
'City robs landlords of basic rights,' read in-part the headline of a March 15 article in American Thinker, a conservative daily online magazine which bills itself as providing "thoughtful exploration of issues of importance to Americans."
Some excerpts of what's happening in Seattle, according to Brian T. Hodges in his opinion piece, and the haunting melodic sense that we've heard this tune before:
"The city decided to treat every landlord as if he were . . . incapable . . . without government oversight.  It's like trying to prevent fistfights by shackling everybody's hands."
"With a heavy-handed new law . . . (the city) has set its regulatory crosshairs on landlords . . . regulations that . . . take fundamental freedoms away."
"Landlords, it was alleged, can't be trusted to make decisions . . . the only solution (the government solution) is to take away their right to make . . . decisions altogether . . . ."
"The new rule has just drawn a lawsuit from a number of mom-and-pop landlords, based on its infringement on constitutionally protected property rights.  But its assault on good sense is just as compelling and should serve as a warning to the rest of the country."
In Seattle, "Landlords . . . are simply collateral damage from the city's desire to 'unlearn' its citizens."
But what is good for the goose is good for the gander and in Lakewood, the City Council took it a step further and opted not to 'learn' its citizens at all.
A "robust tenant/landlord educational program" to 'learn' its citizens as to their rights and responsibilities under the already existing and extensive Landlord Tenant Act, was tossed in favor of Lakewood's roll-out of its own version.
But increasingly across the country citizens are not rolling over.