On January 23, 2017, Traffic Officer Mike McGettigan, with close to a decade of service with the Lakewood Police Department, started his day around 5:00a.
The first part of Officer McGettigan's day was devoted to traffic enforcement during the daily commute. Officer McGettigan's next assignment involved keeping our kids safe in Lakewood school zones.
After a busy morning, it was time for a well-earned coffee break.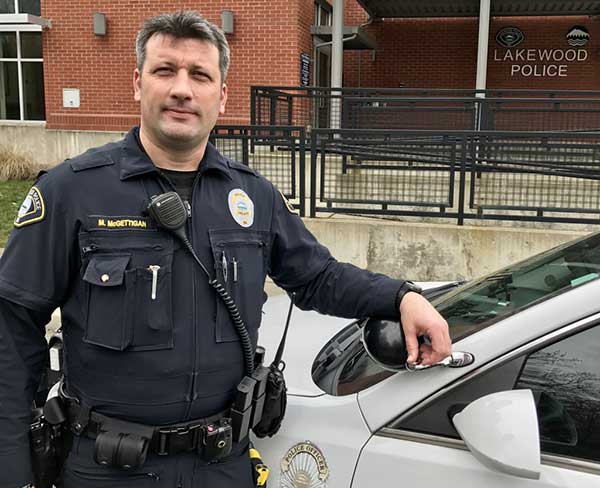 A few officers gathered at a Lakewood Starbucks for a combination coffee break and informal Lakewood Traffic Unit meeting. During a working coffee break, officers are able to match solutions with problems and make plans for the balance of the work day.
When it was time to return to the streets, they all headed out to their patrol cars.
Police officers are "trained observers". It is extremely important that officers observe everything going on around them, especially their immediate surroundings. There are two main reasons for this.
OFFICER SAFETY: When a police officer observes what is going on in their environment, an officer has a better chance of identifying a hostile threat that could cause injury or death to the officer.
CRIME FIGHTING: When a police officer observes what is going on in their environment, the officer can often uncover criminal activity.
Officer McGettigan is obviously an experienced, industrious, and well-trained officer. As he walked toward his patrol car, he observed a suspicious female wandering through the parking lot. Had she simply been walking through the parking lot, there would be no story for me to write.
The question that comes to mind is, how was the woman acting suspiciously? Because it is possible one of my avid Westside Story readers is a criminal, I want to be careful about giving away any of our police crime fighting secrets.
Let me just say this, BODY LANGUAGE. Call it Cop Intuition, which is similar to a citizen's gut level instinct for men or woman's intuition for women.
Police do not normally take aggressive action based on cop intuition, such as arresting an individual simply because they think something is hinky. But what the officer can do is continue to observe, follow-up and investigate. That can lead to arrest action after enough information is gathered.
When a subject is guilty, they often look and behave in a guilty manner, because they are guilty. Once a police officer picks up on the criminal cues, there is not much a criminal can do to prevent the officer from going on alert.
As Officer McGettigan continued to observe the woman, she got into the driver's seat of an unlocked running vehicle.
At this moment Officer McGettigan knows nothing other than the hair is standing up on the back of his neck as he asks the important police question, "What is wrong with this picture?"
One thing that runs through his mind is that she might be stealing an unlocked running vehicle that someone left parked for just a moment or two while they ran inside.
Officer McGettigan radios South Sound 911 – Records Division to request a "registration and stolen vehicle check". Records quickly reports the car as a confirmed stolen.
Officer McGettigan calls for backup officers to assist him.
Asking for more officers is a solid and intelligent police tactic because it increases the likelihood that if Officer McGettgan can outnumber the suspect(s), he will be able to complete police business including the arrest process without injury or death to the suspect, the officer or an innocent member of the public.
The subject was taken into custody without incident. It was soon discovered that a second female suspect was in the passenger seat. She was doing what they call "the nod". It is assumed she was under the influence of heroin and at this juncture was nodding off, falling asleep or passing out.
In this kind of situation, it cannot always be proved that the suspects stole the car, but it can be proved that they were in possession of the car, which is called possession of stolen property or PSP. PSP is a crime with penalties similar to the theft itself.
Miranda warnings were issued. The driver refused to talk to anyone. The other subject, who appeared fearful that going to jail, would cut her off from her daily heroin fix, stated in no uncertain terms that she did not want to go to jail and that she would help the police with something important.
When asked what she had to offer, she volunteered she had information related to the multiple high volume car prowl cases that were plaguing Lakewood. She knew LPD was interested, because of what she had read on the LPD Facebook page.
At this time, Officer McGettigan's instinct caused him to call Lakewood Police Department, Detective Rick Barnard. Detective Barnard was on his day off, but he is another industrious Lakewood Police Officer. Without hesitation, the detective agreed to meet Officer McGettigan and the suspect at the Lakewood Police Station.
Both female suspects were known to local law enforcement having had frequent police contact including crimes involving prostitution.
The more talkative suspect named a well-known felon, Brandon Starks, as the subject police were looking for in connection with the record-breaking rash of car prowls. Mr. Starks is thought to hold a middle management position in an organized crime ring.
Mr. Starks has a crew of runners who spend all day and all night prowling cars up and down the I-5 freeway corridor from Bellevue to Olympia. The crew specializes in high-tech property such as cell phones and laptops along with purses, wallets, guns and identification documents left in cars, often in plain view.
In my day, now called the old days, the crooks used pawn shops to trade stolen goods for cash. In these modern times, crooks abuse selling vendors such as craigslist, OfferUp or LetGo to convert their stolen booty into cash.
The runners do the dirty street work by opening unlocked cars and breaking car windows in order to get inside where the victim left their goods. Their payment from the middleman can be in the form of tax-free cash or drugs. The middleman moves the goods up the chain to the fence for cash.
Later that same night at around 8:00p the Lakewood Police served a search warrant(s) on a City of Fife motel followed by a second motel and a storage unit. The fruit of the warrant(s) included the arrest of Mr. Starks, the arrest of his female accomplice and a truckload of stolen/recovered property found in both motels and the storage unit.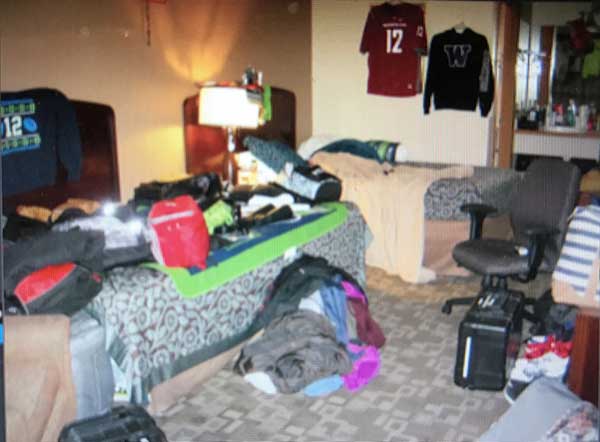 Thirty-seven victims were identified. There is probably another like number of victims that have not yet been identified or successfully contacted.
When all the dust settled including fingerprint dust, two giant cases were opened and investigated. Arrests were made. Property was recovered and returned to the victims.
It all started with Traffic Officer McGettigan creating a case out of the thin air. There was no 911 call. There was no complaint or citizen tip. It was just Officer McGettigan working the streets of Lakewood.
In the end, the list of those assisting in this matter included personnel from LPD Patrol, Detectives, Investigators, Evidence Custodians, and ACE Auto Theft Task Force which is comprised of Lakewood Police Department, Tacoma Police Department, Pierce County Sheriff's Department and Washington State Patrol. A truly glorious team effort.
Detective Barnard told me a special thanks has to go to LPD Investigators Karen Herritt and Nick McClelland for their relentless work in identifying the multiple victims. I know from experience that identifying one victim and then chasing them down to return their property can be hard and time-consuming work. Think of what it takes to help 37 victims.
What happened here? I tell you what happened. Lakewood Police Officer McGettigan created two giant cases out of the thin air simply by being an industrious police officer with an insatiable curiosity when confronted with suspicious behavior.
As a citizen I wish to publicly thank Officer McGettigan, Detective Barnard, along with LPD ProAct, Major Crimes, Special Operations, Evidence Technicians, and ACE Auto Theft Task Force. Your actions solved many crimes and will prevent many new crimes.
This incident proves that when cops have coffee, they are able to do more police work and they can do it faster.
Great work Lakewood Police.