Yes, lean is spelled correctly.
The March 13, 2017 Lakewood City Council Study Session Agenda is 124 pages.  A mere sliver short of half of those pages (54 to be exact), concern just one of five programs Lakewood already has in place (the Rental Housing Safety Program being the sixth), by which to address property issues: the Abatement Program, the "Dangerous & Nuisance Building Abatement Program."
Ten properties are listed, with liens against them totaling over one-quarter million dollars.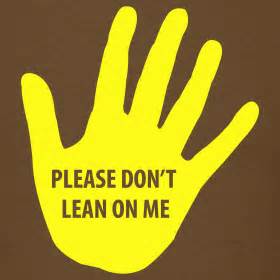 The Rental Housing Safety Program, more unpopularly known as the Rental Inspection Program (RIP) as it was initially called when introduced by city architects and before the name change to include the more innocuous 'safety', represents a different kind of lean, a 'dangerous and nuisance' lean on all rental properties, leveraging, as this lean does, a legal – though ethically questionable – right of city-approved inspectors to override the privacy protection rights of landlords and tenants, all because, the city says, it can't ascertain just how bad things are – or might not be – unless inspectors can set foot inside – and once inside – to inspect every nook and cranny of where everyone lives if they are so unfortunate enough to be a renter.
The city, and some very few (two) proponents, like to show pictures, or reference among the worst of invaders to rationalize these white-glove inspections: mold.
Any number of websites in this 21st Century of easily accessible information, declare mold as an issue for everyone – as in, everyone – presumably 'everyone' including those even who live in San Luis Obispo, California which city – mightily influenced by its citizens – just this last month tossed its two-year-old extremely unpopular RIP: "Almost every homeowner has to brush up on how to kill mold at some point in order to maintain the upkeep of his or her living space."
Note that it is the homeowner – renter, landlord – who is best suited to brush up on (pun intended since it's a brush that is the tool of choice) how to kill mold.
Not the city.  Not inspectors approved by the city.  Not related fees imposed by the city.
You.  Unless you're homeless.  Which you might be once RIP gets up-and-running.
Mold – truth be known and one would think the City had the wherewithal to share the truth given it has a full-time communications specialist – is relatively easily addressed if maintenance is stressed early and often.
The city could have, should have, played an integral part in citizen safety prior to imposing its so-called safety program by communicating where mold – as one example – can be found and how to treat it.
Could have, should have.