On February 23, 2017, an article titled, ACLU raises concerns with Lakewood's rewrite of panhandling law, was published in The News Tribune and later in The Suburban Times.
Our Lakewood City Council deserves praise for their efforts to eliminate the festering homeless panhandling problem that has attacked our communities like a societal cancer.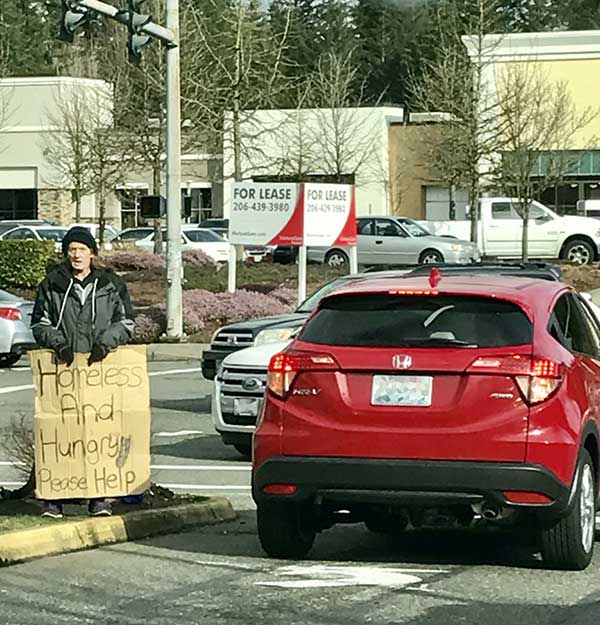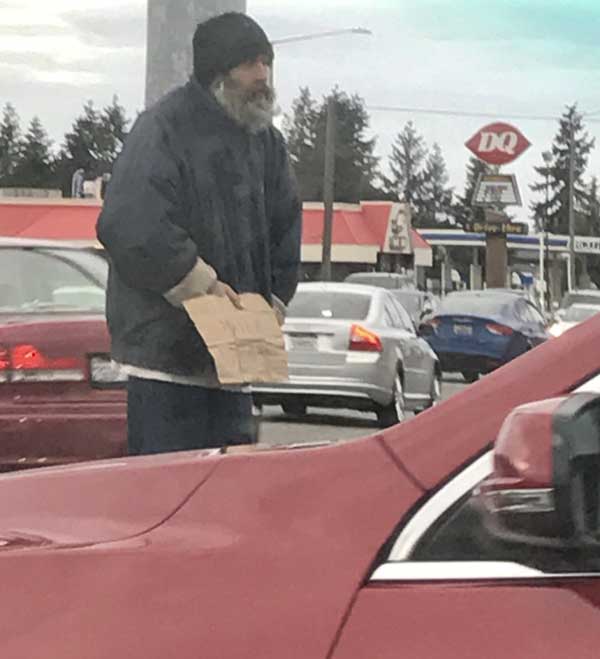 Street begging and parking-lot panhandling can cause serious problems.
I know, I know, thousands of these tax-free transactions occur every day without any problem. I get that.
Conversely, some of these street people attack innocent citizens including armed police officers in uniform. At best, panhandlers intimidate people and make them feel uncomfortable when confronted with unwanted begging. Responsible citizens lose their freedom to shop and patronize various businesses around our city when they see beggars roaming around the parking lot.
Let's hold a positive thought that the ACLU and the City of Lakewood can come to a reasonable agreement regarding a solution. If ACLU blocks Lakewood City Council, there will be problems.
TRAFFIC PROBLEMS: Years ago while serving Lakewood as a police officer, I was helping a couple of citizens. As all three of us stood in Galloping Gerties' parking lot in Tillicum, we heard screeching tires coming from the I-5 freeway offramp next to where we were parked.
When we looked up, we saw a car illegally stopped in the middle of the offramp. The driver was attempting to give a homeless cardboard sign holding panhandler some money.
In the meantime, the driver coming from behind was following too closely and did not expect the first driver to stop before the end of the offramp. The second car slammed into the back of the first car resulting in a two-car collision.
Back in those days, the freeway panhandler was subject to receiving a criminal citation or being booked into jail for panhandling on the freeway.
A criminal citation is equivalent to a custodial arrest with a release on personal recognizance in exchange for a promise to appear in court. Homeless people typically convert the citation into more litter and ignore the court date which is why we were strongly encouraged to book panhandlers into jail.
The first driver was subject to a traffic ticket for stopping in the roadway for no lawful purpose. The second driver was subject to a traffic ticket for Negligent Driving for crashing into another driver.
What an unnecessary mess caused by a homeless panhandler. Street people do cause problems.
At that time, we had a zero tolerance policy in Lakewood for panhandling on freeway ramps. We started with verbal warnings and then began booking panhandlers into jail. The word spread on the street and the begging problem completely stopped in Lakewood.
SAFETY PROBLEMS: When I was a small child, my mother, who was driving our family car, stopped at a crosswalk. A street person approached our car and started to bash out the passenger side of our windshield right in front of my tiny kid face. I obviously never forgot the experience. Street people do cause problems.
Some panhandlers may simply be good people down on their luck. Some may be mentally ill, strong-arm robbers, muggers, sex offenders, car jackers or the person who is going to kill you.
Regardless of the panhandler's intention, beggars work like criminals. Their first step is to catch your attention and close in on you until they have invaded your personal space. When that happens, I justifiably feel threatened based on my life experience and police training. I go on high alert.
For any of you who think my concerns are a gross overreaction, I would ask, Have you ever been mugged? Have you ever had anyone try to kill you? From personal experience, I know how criminal predators suck their victims in and trap them like a fly in a spider web.
When a homeless beggar targets me on the freeway ramp or a parking lot, I am prepared to kill or be killed.
The beggar makes a move. You can see them coming. I am quick to tell them to stay away from me. If you rebuff a panhandler, it is not wise to enter the store and leave your car behind to be cared for by the panhandler.
I expect the American Civil Liberties Union must have done some good somewhere in the name of defending our US Constitution. Frequently when I read about the ACLU claiming to be defending the constitution it appears more like the ACLU is on a zealous campaign to disrupt and destroy America.
I often think the ACLU should add another letter U to their acronym ACLU so it reads UACLU or UnAmerican Civil Liberties Union. The UACLU always seems to be undermining the rules and laws of society to strip good citizens of their protections against evil and harm.
If UACLU is successful in getting the courts to agree with their premise that freeway ramps are a legal location or public forum for free speech, then how long will it be before UACLU will support freeway beggars rights to sit next to the HOV with a cardboard sign? As drivers hurdle down the road at 70 mph all of a sudden they will have to stop when the panhandler steps into their path of travel to grab some free money.
The Political Correct Police will probably complain that I am referring to these individuals as panhandlers and street beggars. While I clearly realize it is more politically correct to refer to these unfortunate members of society as Income Tax Evading Cash Gift Recipients, I shall continue, in the interest of brevity, to use the standard terms, panhandler, and beggar.
And now, just when our Lakewood City Council, supported by our Lakewood City Attorney, Ms. Heidi Wachter, are in the process of making a good faith effort to eradicate the panhandler problem, along comes the ACLU to block progress.
Ms. Wachter recommended that before pushing forward with the new proposed ordinance, it would be prudent to sit down with ACLU to see if both sides could agree on a plan that would meet everyone's needs. This approach could save Lakewood time, litigation, frustration, and money.
My compliments to Ms. Wachter and our Lakewood City Council.
Ms. Wachter and Lakewood City Council, please keep up your excellent effort as you pursue intelligent, constructive and helpful solutions to this important community problem.
ACLU, please use your legal talent to support intelligent common sense civil order rather than undermining America.
Lastly, I am not as cold-hearted as some readers may think. I admit America has a severe homeless problem. We do not want any of our citizens to starve or to be harmed in any way. We need to develop intelligent and constructive solutions to help the homeless.
That being said, panhandling is a problem, not a solution.