For anyone who is a longtime espresso hound like me, the death of Starbucks 3rd Place was a serious lifestyle tragedy.
If you yearn for that old Starbucks' 3rd place friendly feeling and atmosphere, the privately owned Forza located at 4828 Suite D, Bridgeport Way W in University Place is where you want to be. The coffee shop faces Cirque just West of Bridgeport Way W. T: 253-564-9122.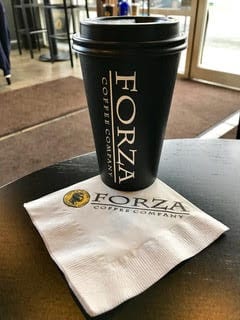 The ambiance, staff, owners and customers are really wonderful. The beverages and food are enjoyable. If you try Forza, I predict you will be so happy, you will want to treat me to a tall cappuccino.
Forza is one of a handful of coffee shops that has successfully captured the great and wonderful feeling I enjoyed for 20 years before Starbucks became Burger King.
I visited Forza today with my pal Jimmy. We noticed Forza has a smart looking brand new cup style. I asked Jimmy why he thought they changed the look of their cup. Jimmy told me, "Because, black cups matter."
WRITERS DISCLOSURE: Any speck of humor discovered in this article was neither promulgated nor endorsed by the owners, management or employees of Forza. It is simply the product of two guys revved up on some tasty espresso. We really did not mean to hurt anyone with our comedic language arts.