As we press forward into our winter season, we have already been caught with some of that white powder. I am talking snow, not cocaine.
Snow can make your day BEAUTIFUL.
Snow can make your day UGLY.
Two December 2016 photos illustrate my point.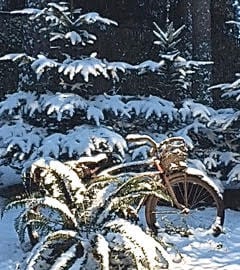 Ugly
If you wish to avoid the ugly when it is snowing, consider benefiting from some unsolicited driving tips shared with you by an old retired traffic officer / crash investigator and 911 Driving School Instructor. That's me and as you know I am full of unsolicited ideas.
Snow Crash Avoidance Tactics:
1) SLOW DOWN: Regardless of the speed limit, slow down. Let me say that again. Slow down. Actually, you can be issued a traffic ticket for driving "too fast for conditions". In plain English, if you are driving 50 mph in a 70 mph zone, you can receive a speeding ticket (for speed too fast for conditions). Did you know that? Worse, you can crash your car. If you are on snow and ice, you want your speedometer to be reading 45 mph or less.
When I say slow down, I am not only referring to ground speed, I want you to slow down everything involved with your driving. Do nothing suddenly. Do everything slowly to include lane changes, corners, braking, and acceleration.
While I abhor undermining my public image as a top professional driver, back in about 1965 I was bopping along in my 1962 Chevrolet Bel Air 2-door post that featured 3 on the tree, (Note: 3 on the tree means a 3-speed manual transmission with the shift lever on the steering column).
I was running at about 35 mph / 56-kph in a posted 50 mph / 80 kph zone which would soon prove to be "speed too fast for conditions". (I am using miles per hour (mph) for US readers and kilometers per hour (kph) for all our loyal Canadian readers of The Suburban Times because this story takes place on a two-lane Canadian mountain road under snowy conditions. When I refer to Canadian readers, I personally know of at least 3. In the interest of US-Canadian relations, it makes sense to include kilometers to prevent anyone from getting lost during my storytelling.)
I was moving through the slush quite nicely without any difficulty. The excitement began when my rather light Chevy traveled into an area that had a steep rock cliff on the left that effectively blocked the sun from the roadway. Because the cliff kept the sun off the road, the roadway was covered with black ice under the slush. On the right was an 110 foot (33.5-meters) drop-off with no guard rail just waiting to suck me into a black hole of death.
After finding the black ice, my Chevy began to fishtail towards the 110 foot (33.5 meters) cliff and then fishtailed back towards the ditch next to the rock cliff. I tried to dump as much speed as I could, but the car kept fishtailing.
I ended up rolling the car over into the deep ditch next to the rock cliff jetting above me. The car came to rest on its top. The ditch was so deep, it swallowed up my car. The rock cliff and the undercarriage of my car were both black, so passing motorists could not easily see me trapped inside.
The roll over seemed to happen in slow motion and the crash seemed ever so gentle. Actually, the car damage was contained to the area of my driver's door. None of the rest of the car, including the top, was scratched or damaged. The accumulated snow protected my car like a crash cocoon.
While hanging upside down I remember thinking while I had some bad luck, I had more good luck than bad. Had my bad luck been followed by more bad luck, I would have ended up flying off the roadway dropping 110 feet (33.5 meters) below. It is a good thing I was not racing along at 50-70 mph (80-112 kph) or faster. It is also fortuitous that the ditch was not full of water. Either one of these bad luck additions and my life may well have ended at age 22.
My 1962 Chevrolet was manufactured before seat belts were required. When seat belts began appearing in more modern cars as required equipment, I had cleverly purchased aftermarket seat belts from AAA Auto up on 38th and Pacific and installed them myself.
There I was, hanging upside down by my lap belt. I pushed the release button and fell to the other side of the car. I was able to lower my manual roll-up window and escape.
Because I was a poor kid trying to keep up with my $35 ($45.93 Canadian at Dec. 12 exchange rate) car payment, I ran that green car with a red driver's door I bought from a Portland auto wrecking yard for several months. I twisted the wrenches myself to replace the door and eventually saved enough to paint the door green.
2) EXTRA SPACE: Leave extra space between you and the car in front of you. This will help you avoid sliding into a car in front of you or sliding into an intersection on a red light. It will also help you avoid being hit from behind, which is what can happen if you make a sudden stop when another driver is following you too closely on ice and snow. You want your stops on slippery surfaces to be slow, deliberate and predictable to other drivers thereby giving them time to react without crashing into you.
3) BE A LONER: (Heh, heh. I outfoxed Mary Hammond this time by not writing "BE A LOANER", but it was close.) Stay away from other cars, especially packs of cars. Driving more slowly than the rest of the drivers will cause those alongside and behind you to blast past you like a scalded dog. You will find yourself driving most of the time with no other cars near you.
I must admit there is some entertainment value in watching a goof-ball driver pass you by at a break-neck speed and then a few miles ahead, you see that same driver is actually going to reach his destination after you because his car is now jammed into a guard rail.
4) SNOW TEST: Test your car's performance, steering and braking including emergency braking in a safe off-road location like a large vacant parking lot. Choose your location wisely and don't hit one of the parking lot lamp posts or planter curbs.
5) TURN WHEELS: Turn your wheel into the skid. I am awarding a 5-star rating for an article and video you can link to by clicking STOP THE SKID. Don't miss this. It could save your life.
6) SNOW TIRES: Use snow tires or all-weather tires designed for inclement weather.
7) WEATHER APP: Make use of a weather app on your smartphone to help you predict weather conditions coming up in your path of travel. As important as snow and ice are, you can benefit from being informed about severe weather conditions such as tornadoes, hurricanes and hail storms along with brush and forest fires.
If you do not wish to bother with my seven safety tactics, it might be a better idea to simply stay home and gaze out your window at something like the beauty of snow falling on Uncle Melvin's bicycle.
Be safe this winter season. Embrace the BEAUTY and avoid the UGLY.