Snow White, Prince Charming, Geppetto, Grumpy and many, many other fictional fairy tale characters are ripped from the pages of every child's bedtime reading and relocated to a fast-forwarded future where they no longer know how their plot is supposed to end.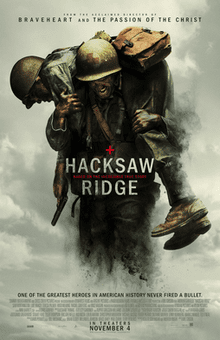 Their lives are interrupted.  They no longer have a script to follow.  Having begun idyllically "Once Upon a Time," all have been robbed of living happily ever after.
In theaters November 4, 2016 "Hacksaw Ridge" tells the true story of how one man stayed true to his script, remaining behind when the order was given to retreat.
"The film is based on the true story of United States Army medic Desmond T. Doss, awarded the Medal of Honor by President Harry S. Truman for single-handedly saving the lives of over 75 of his comrades while under constant enemy fire during the Battle of Okinawa in World War II."
Andrew Garfield, who plays Desmond Doss, "admitted that he cried the first time he read the screenplay."
"Hacksaw Ridge" had its world premiere on September 4, 2016 at the 73rd Venice Film Festival, "where it received a 10-minute standing ovation."
During the filming of the war scenes, Director Mel Gibson "would yell to the actors reminding them constantly of what they were fighting for."
"Hacksaw Ridge," said one review, is "a gripping wartime tribute to faith, valor, and the courage of remaining true to one's convictions."
Being reminded of what we're fighting for.  Doing what you know to do when you don't know what to do. Staying on script. 
Its how all great stories end.
Postscript: In memory of our dad who died 12 years ago this day, Nov.4.  Fought in the 10th Mountain Division, Italy, WWII.  A soldier who knew what he was fighting for – our country and our family, his legacy.