Lakewood city government leaders want the Clover Park School District's Board and Facilities Advisory Committee (FAC) to hurry up and decide to do what all apparently say is inevitable: demolish and relocate Woodbrook Middle School.
Lakewood Mayor Don Anderson called the school's demise and the redevelopment of its property a "one-minute opportunity."  Quoting Shakespeare the mayor said: "There is a tide in the affairs of men . . . and we must take the current when it serves.  Or lose our ventures."
But Shakespeare also said, "'Tis all men's office to speak patience."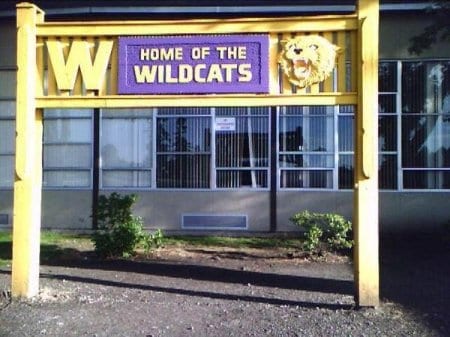 Lakewood City government wants a "fast-paced decision" made by the CPSD to the end that a Woodbrook Business Park could be developed on the site currently occupied by  Woodbrook Middle School, a school that three-years-ago-this-November celebrated its 50th anniversary.
Government leaders want the school gone "sooner than later." 
"The longer we delay," said Councilmember John Simpson, "could mean walking away" from what Simpson estimated were "1,600 jobs paying $57 per hour."
The CPSD and its FAC say they have a process for such matters and plan on following it. 
Government sees the economic potential of the property. 
School leaders emphasized location as a valued priority.  "Every community needs a quality school," said CPSD Board President Marty Shafer. 
With a nod to the City Council, Shafer said that while "a better facility can sometimes make a person hold their head up," staff too can play that role.
Indeed Woodbrook Middle School, now all of 53 years old, has for the second consecutive year received a School of Distinction Award presented by the Center for Educational Effectiveness.
In 2009 the FAC thought perhaps federal funds might be made available to build a replacement school on JBLM.  That turns out not to be the case and thus a new school would require the district to pursue a new bond campaign "which means additional taxes for citizens."
But the city countered that "an increase in commercial opportunities in Lakewood (as envisioned with the redevelopment of the Woodbrook campus) would help get more bonds passed."
The controversial Rental Housing Safety Program (RHSP) the City Council created in a 6-1 vote this past August 1 "could reduce the total number of available rental units in that area," according to the minutes of the Joint School Board/City Council Meeting June 11, 2016.
The RHSP thus appears, at least in this context, to serve as much the purpose of the boon it presents to the economy than concern for public safety.   
Several years ago, former City of Lakewood Economic Development Director Ellie Chambers stated that "economic development should reflect community values – what we want to be known for – what is important to the people that live there." 
Business expansion and the growth of governmental services as its companion, or excellence in education by virtue of its dedicated staff and convenience of location?
More to come as the discussion continues, or, as Shakespeare would say, 'Wherefore art thou Woodbrook Middle School?'